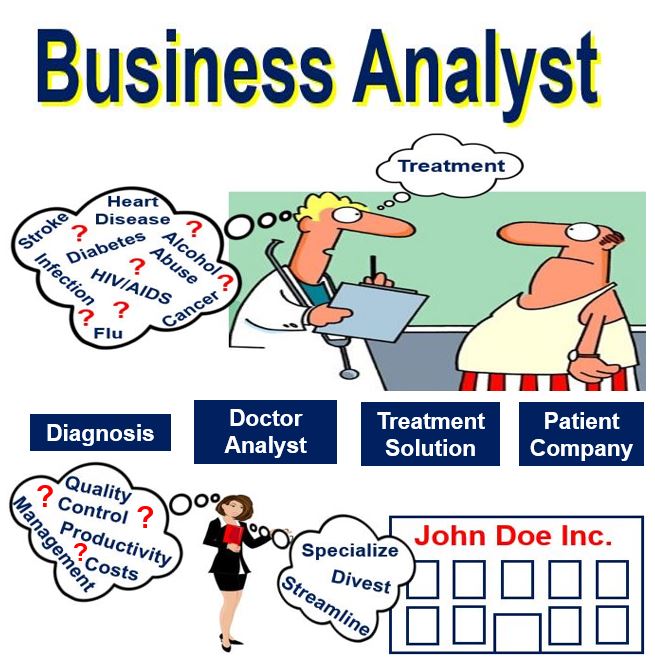 Analyst – definition and meaning
The term analyst has many meanings, depending on the situation. However, in all cases it is a person who analyzes and is skilled in analysis. In the world of business, an analyst is a person who analyzes an organization or business domain and documents its processes, systems or business, assessing its integration with technology or how it generates revenue.
According to the IIBA (International Institute of Business Analysis), a business analysis is:
"A liaison among stakeholders in order to understand the structure, policies, and operations of an organization, and to recommend solutions that enable the organization to achieve its goals."
---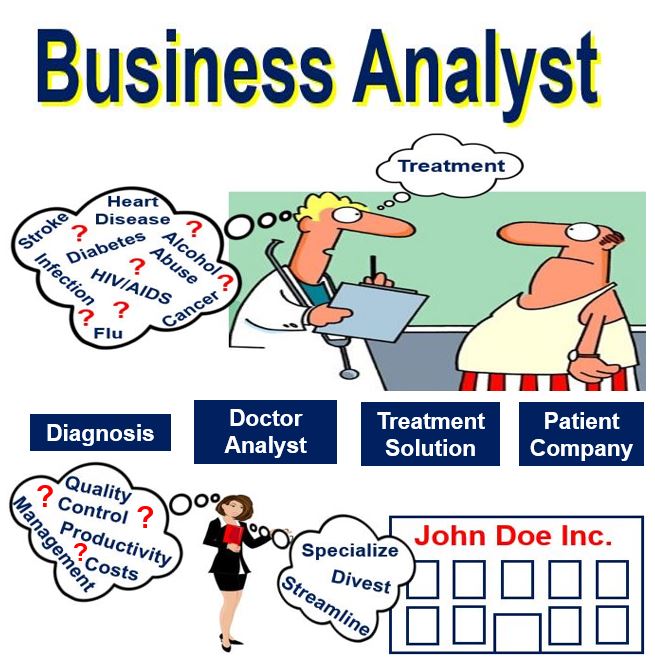 Business analysts and doctors follow similar routes when going about their work. Imagine the analyst is the doctor, who examines the company (patient), goes through a list of possible problems (illnesses), and proposes a solution (treatment).
---
A business analyst may cover one or more of these areas:
– Strategic Planning: identifying the company's business requirements.
– Business Model Analysis: defining the commercial enterprise's policies and marketing approaches.
– Process Design: – standardizing the company's workflows.
– Systems Analysis: usually within within IT, the interpretation of business rules and requirements for technical systems.
---
---
Business analysts may also be involved in supporting training development material and possibly the training itself, including its implementation.
Investment analyst
An investment analyst provides reports and information to help investors – stockbrokers, stock market traders, and fund managers – make decisions regarding investments.
---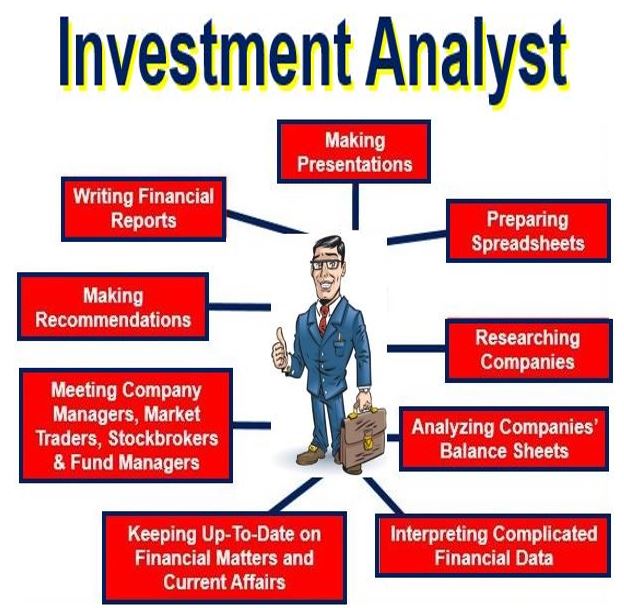 If you want to become an investment analyst, you must be good at preparing spreadsheets, enjoy and be good with numbers, be an investment expert, have excellent people skills, and know how to think on your feet.
---
In this role, their research would highlight new investment opportunities or show when certain funds are beginning to lose some of their value.
Investment analysts need good math, communication and IT skills. They must enjoy research and analysis and be interested in financial markets.
To become an investment analyst, you will need to first get a degree in business or economics. Most people start off as graduate trainees in a stockbroking firm or investment bank and work their way up from there.
According to The Free Dictionary, investment analysts are:
"Persons who conduct research into data relating to the stability and profitability of businesses, especially to guide one's investing practices. At their most basic, investment analysts look at financial statements to determine if a company is healthy."
---
---
Systems analyst
Systems analysts use computers and related systems to design novel IT solutions, integrate new features or improvements, and modify, enhance or adapt existing systems – the aim being to improve *productivity and business efficiency. *Productivity focuses on quantity while efficiency is more about eliminating wastefulness and maximizing quality.
They must:
– examine the organization's current IT systems and business models
– analyze systems requirements
– embark on product development
– configure, test and implement feasible solutions
Systems analysts must liaise between and report to internal and external clients and stakeholders, including colleagues and other developers, throughout the whole development process.
The systems analyst conducts a cost analysis and agrees the timeframe required to implement the proposed solution. He or she specifies and shapes the system requirements and operations, and presents the proposal to the client.
Research analyst
Research analysts appear in all sectors. Exactly what they do depends on the company they work for. In all cases, they gather market intelligence and present it in a way that all interested parties understand.
Market intelligence is a combination of consultancy and research – helping commercial enterprises to make decisions and set priorities.
Research analysts are experts in their very specific sectors. If they work for, for example, the Coca-Cola Company, they will be researching the beverage market.
Experts say the best training to become a top research analyst is to work for a market intelligence company – they specialize in gathering information and then selling it to clients.
Some of the major market intelligence firms, such as Datamonitor, cover a vast range of topics. They report on everything from needles and pins to car fleets and aircraft. Wood Mackenzie, on the other hand, covers metals and energy, while Gartner and Forrester covers technology.
In each market intelligence firm, the individual research analyst has his or her own patch. Clients come to them for advice and solutions regarding issues in the marketplace.
Good research analysts need to be good at math, know how to make some software programs such as Excel dance and sing, and have good writing skills. However, accuracy and attention to detail matter more than knowing how to write well.
In an article in the Guardian, Stephen Roberts and Harriet Minter make the followng comments regarding research analysts:
"If you're detail-orientated and enjoy being an expert on your sector, then a research analyst job might just suit you."

"It doesn't come with a fancy title and most people won't know what you do but for those that do, you'll be a invaluable part of their business. And for those that don't know, well, maybe they need to do a little research of their own."
An analyst could also be a licensed practitioner of psychoanalysis. Psychoanalysis is a set of psychotherapeutic and psychological theories and associated techniques.
Video – What is a business analyst?
In this video, Angelo Kalevela explains in easy-to-understand terms what business analysts are.