The definition and meaning of automation is the use of electronics and computer-controlled devices to assume control of processes in order to boost efficiency and reliability, in most cases through the replacement of labor. In many manufacturing plants today, robotic assembly lines are progressively carrying out functions that used to be done by humans.
Automation encompasses many key elements, systems and job functions in virtually all industries, including manufacturing, transportation, facility operations, utilities and defense.
Automation today exists in all functions within industry from integration, installation, procurement, maintenance, and even marketing and sales.
According to PC Magazine, automation by definition is:
"Replacing manual operations with electronics and computer-controlled devices. For example, "office automation" replaced manual typewriters, filing cabinets and paper appointment books with computer applications."
"Tape and disk libraries have been called "automation systems" because robotic arms pick cartridges out of a stacker and move them to the drives."
---
---
Automation and the office environment
Over the past forty years, information technology has completely changed the office environment. Such functions as communication, documenting, correspondence, and filing have become fully automated. Offices today even feel and look completely different from what used to exist in the 1950s.
Apart from the huge difference in decibel levels – the non-stop din of typewriters in the past – our offices today have much less furniture. If you could travel in a time machine to the 1950s or 1960s, you would have been amazed by the number of filing cabinets and the amount of paper.
In the top image I can see one human (yellow circle) and six cars. In the bottom picture I counted six people working on one car. Automation has dramatically changed manufacturing in car plants across the world. (Images: Today – autoalliance.org. 1920 – tchaunationalhistoryday.weebly.com)
The average office desk used to be jam-packed with a wide array of materials and equipment, such as folders full of paper documents, calculators, phone books, staplers, diaries, post-it-notes, Filofaxes, sticky tape, pens, and even paper maps and atlases.
While some traditional office workers still keep a number of these items in their desks, technology and automation has eliminated the need for most of them.
---
---
How many of us today use a map made of paper to find directions compared to thirty years ago? When you wanted to find somebody's phone number, you had to look it up in a book or call a human being – now we go online or talk to a robot programmed with voice-recognition software.
Automation and technology have shifted most office workers from a fixed 9-to-5 routine to flexible working. Thanks to the Internet, the Cloud, laptops, tablets and smartphones, we can now work from anywhere at any time.
This added flexibility means that people are now better able to manage their work/life balance, but cannot completely switch off from work anymore.
Bank branches used to have lots of staff and customers in them. Today, fewer and fewer of us do our banking physically inside a branch – most of it is done online using automatic systems or by phone talking to robots.
Even if we go into a branch, the majority today are full of machines and technology inside, which allow us to complete most of our banking tasks without having to talk to a person face-to-face.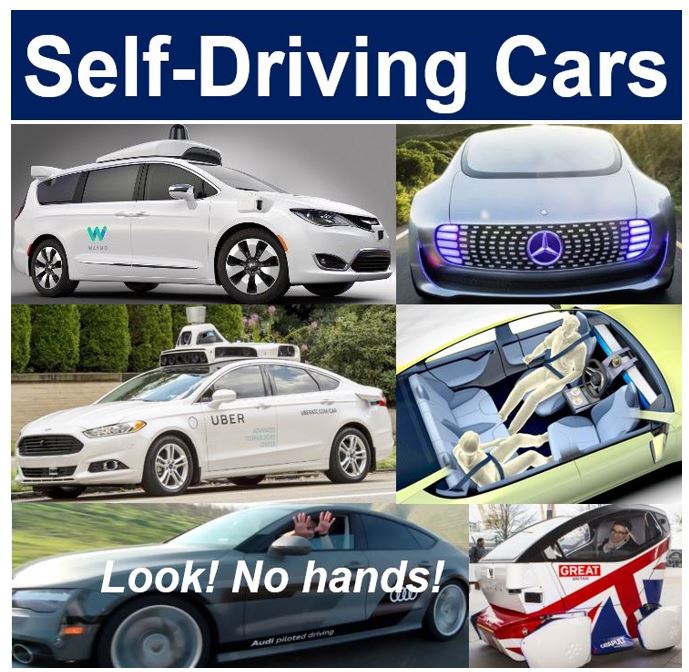 Professor Henrik Christensen, from the University of California San Diego's Contextual Robotics Institute believes that babies born today will never drive. Self-driving cars will be everywhere. He also predicts that a wave of companion robots will serve as health care and home companions for our aging population.
Automating the manufacturing environment
Manufacturing has undergone enormous changes over the past few decades. Employment in that sector in the advanced economies has declined considerably. In 1996, fourteen percent of the US workforce worked in manufacturing, compared to just 8% today – in just two decades!
While some of that employment loss has occurred because jobs have shifted abroad into countries with lower labor costs, a sizable proportion has been due to automation.
In the United States, the number of robots rose from 1.2 million in factories and warehouses in 2014, to 1.5 million in 2014. The Brookings Institution predicted that this number would rise to 1.9 million by the end of 2016.
Robots are becoming more sophisticated and skilled at performing complicated tasks. The high costs associated with transforming a labor-intensive factory to an automated one is changing – the cost differential with human workers is narrowing rapidly, to the robots' advantage.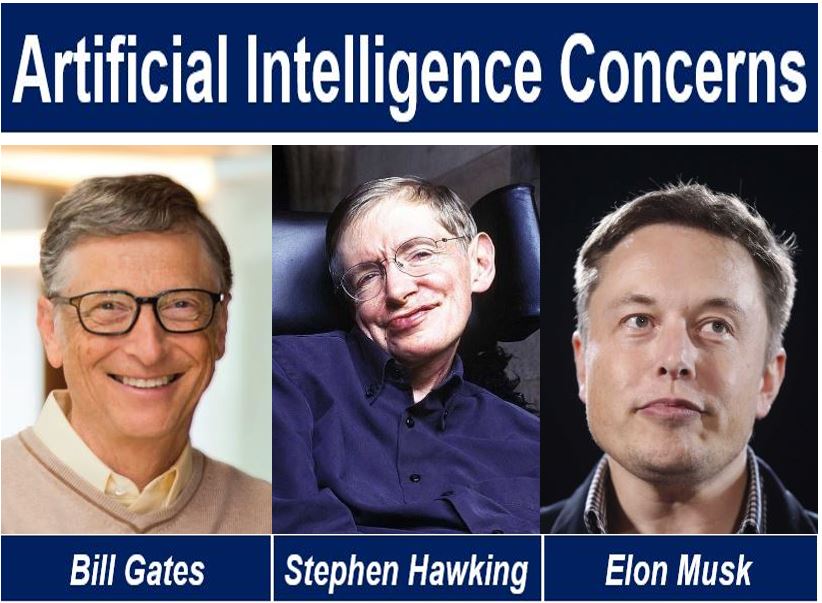 Professor Stephen Hawking, Bill Gates and Elon Musk have often expressed concern regarding artificial intelligence (AI), and what will happen to us as it becomes more sophisticated and smarter. Prof. Hawking said: "It [AI] would take off on its own, and re-design itself at an ever increasing rate. Humans, who are limited by slow biological evolution, couldn't compete, and would be superseded." The three men were nominated for Luddite of the Year, mainly because of their worries regarding AI.
In an article – How technology is changing manufacturing – that the Brookings Institution published online, Darrel M. West wrote:
"Estimates for labor cost savings in various countries through automation and robotics now are averaging around 16 percent in industrialized nations. But places such as South Korea have seen 33 percent cost savings, and Japan has seen a 25 percent savings."
"The convergence of these developments means that robots are helping to increase overall output and save money, but not helping to add jobs. In looking at data from 2010 to 2016, manufacturing has seen 10 to 20 percent increases in output, but only a 2 to 5 percent increase in jobs."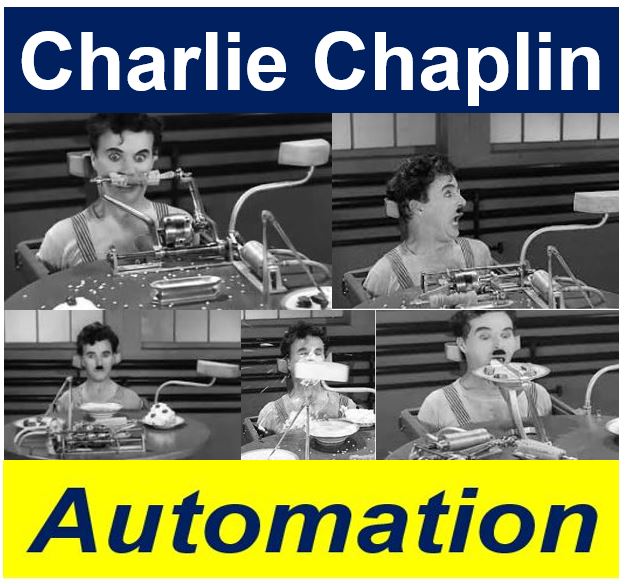 Charlie Chaplin's movie 'Modern Times' has several scenes which look at automation. In one scene, he is placed in front of an 'eating machine' that feeds him and wipes his mouth with a sponge. (Image: YouTube)
Automation will dramatically change society
As robots continue replacing workers in factories and other workplaces, teachers are being replaced by online learning services, and driverless cars, buses and trains soon take over in private and public transportation, literally hundreds of millions of jobs across the world will disappear.
Even professions that are super-secure and sought after today will eventually be done by robots. Robot surgeons, doctors, veterinarians will probably run all aspects of medicine within the next one hundred years.
Experts say that automation is set to transform public services in the United Kingdom. An annual analysis of the country's public sector by the think tank Reform and Deloitte warns that by 2030, as many as 861,000 public sector jobs may be automated. This would cut the wage bill for the government by £17 billion and reduce the size of the workforce by 16%.
There is growing concern that in the future, only those with specialized qualifications, as well as skilled artists, talented musicians, and others with gifts that humans admire will have jobs. Nobody knows what will happen to the rest of the population.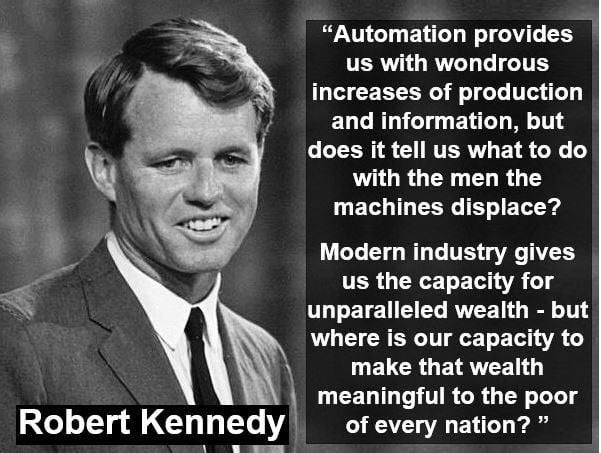 Robert (Bobby) Kennedy (1925-1968) was an American politician from Massachusetts. He was a United States junior senator from New York from January 1965 until June 1968, when he was assassinated. From 1961 to 1964, he was US Attorney General, serving under his brother, President John F. Kennedy. (Image: Wikipedia)
Computer scientist Moshe Vardi, Distinguished Service Professor in Computational Engineering at Rice's Department of Computer Science, warns that over half of the world's workforce will be condemned to have no job within the next three decades because of automation.
Not only will smart robots be able to do most of the jobs that human beings currently do, they will probably out-perform us too.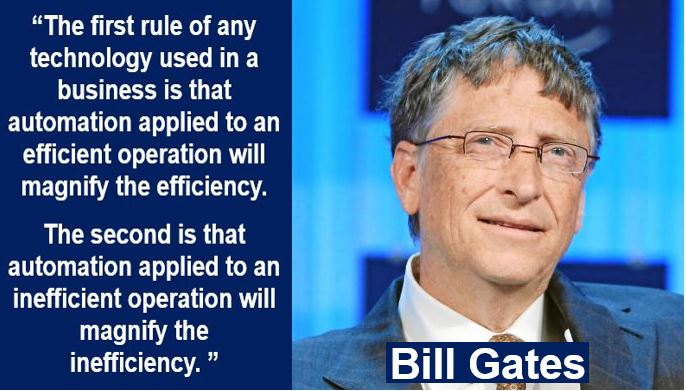 Bill Gates is an American business magnate, investor, author, entrepreneur and philanthropist. He co-founded Microsoft with Paul Allen, which became the largest PC software company in the world. In most years since 1995, he has been rated by Forbes as the richest person in the world. (Image: biography.com)
Regarding how humans and robots perform, Prof. Vardi, said:
"We are approaching a time when machines will be able to outperform humans at almost any task. I believe that society needs to confront this question before it is upon us: If machines are capable of doing almost any work humans can do, what will humans do?"
Our schools must restructure their curricula so that pupils get better training in math, engineering, technology and science. There is a growing need for workers with *STEM skills as software developers, systems analysts, biomedical engineers, and a number of other fields.
* STEM stands for Science, Technology, Engineering, and Math.
Video – What is automation? – Meaning and Definition
This AMX Talk video explains what automation is with easy-to-understand terms and examples.