A bank run, also called a run on the bank, occurs when customers start taking their money out of a bank because they are afraid it is in trouble. This fear spreads and other customers also start wondering whether they might lose their money, panic ensues and masses of account holders withdraw their funds.
If it turns into a stampede, the bank may run out of cash and face sudden bankruptcy. Some measures it can take to prevent its own imminent death are to limit how much cash each customer may withdraw, close its doors temporarily, or acquire more cash from the central bank or other banks.
Although a bank run is usually the result of panic and its snowball effect, instead of a true insolvency, the psychological factor must not be ignored – panic can kill a business.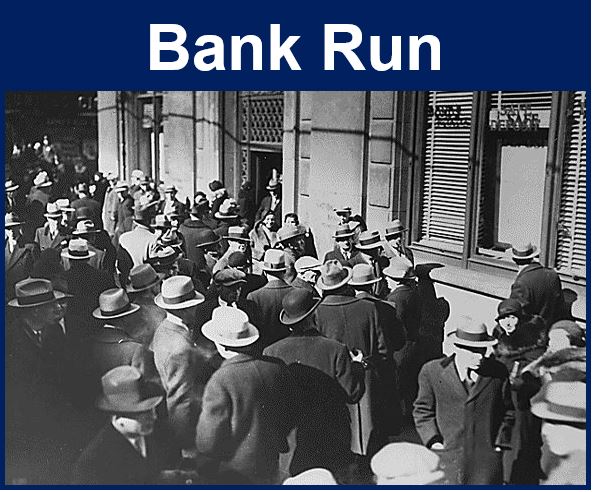 A bank run in the United States in 1933 during the Great Depression. (Image: wikipedia)
A bank run can hurt a national economy
A bank run might not only leave one perished bank in its wake. There have been several cases across the world of a panic spreading to customers of other banks, with one financial institution after another falling like a series of dominoes in a row.
As banks are sucked into a seemingly unstoppable vortex, the whole national economy can be affected.
Former U.S. Federal Reserve chairman Ben Bernanke said that much of the devastating economic damage caused by the Great Depression that hit the world in the 1930s was caused directly by bank runs.
In the United States, there were many bank runs in the 1920s and early 1930s. In response to these incidents, the FDIC (Federal Deposit Insurance Corporation) was created by Congress. The FDIC insures banking deposits. Its aim is to prevent bank runs, to maintain stability and public confidence in the nation's financial system.
Techniques to minimize bank run effects
Many techniques have been used by governments, central banks and regulators to minimize the effects of bank runs, including:
– A higher reserve requirement. Where banks are required to keep more of their reserves as cash.
– Insuring people's bank accounts.
– Government bailouts.
– The temporary suspension of withdrawals after a bank run has started.
– Closer monitoring and regulation of commercial banks.
– Having the central bank as lender of last resort.
Despite all these techniques, there are times depositors still feel unsure about the safety of their money.
Historically, bank runs have appeared at the end of an economic boom, just before the bust (subsequent contraction). Examples include the unrest and famine that hit England in the 16th century, the Dutch Tulip manias (1634-1637), the British South Sea Bubble (1717-1719), the post-Napoleonic Depression (1815-1830), and the Great Depression that struck at the end of the 1920s and lasted almost a decade.
Video – The Bank Run
A clip from the 1946 movie 'It's a Wonderful Life' with James Stewart. In the story, he marries on the same day as the Wall Street Crash of 1929, and is forced to use his honeymoon money to weather a bank run.