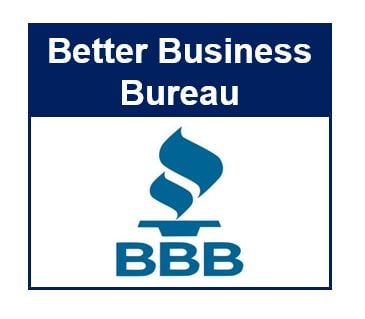 Better business bureau (BBB) – definition and meaning
The Better Business Bureau is a North American, non-profit organization that consists of a group of 112 similar organizations across the US, Mexico and Canada. It was founded in 1912 and provides advice and information to consumers and accredited companies, as well as helping get customer complaints dealt with.
The BBB was founded by business owners. It receives no state or federal funding. It is financially supported solely by accredited businesses across North America.
According to the BBB, its mission is to be the leader in advancing marketplace trust.
Although its name contains the word 'bureau', the BBB is not affiliated to any US, Mexican or Canadian governmental agency.
The Better Business Bureau (BBB), which is supported by over 400,000 local businesses in North America, is coordinated under the Council of Better Business Bureaus (CBBB) in Arlington, Virginia.
"Dedicated to fostering honest and responsive relationships between businesses and consumers — instilling consumer confidence and advancing a trustworthy marketplace for all."
---
---
BBB's accomplishments
In 2013, the BBB gathered and provided free business reviews on over 4 million companies, and dealt with more than 123 million requests from customers. In that same year, the BBB website was among the 300 most visited in the US.
Of the more than 885,000 consumer disputes against businesses the BBB handled in 2013, nearly 78% were settled.
Companies that adhere to the BBB Code of Business Practices are allowed to use its trademarked logo in marketing materials (after being accredited).
BBB Standards for Trust
The BBB Standards for Trust are a set of principles that the organization believes are key elements for creating and maintaining trust in business. The principles include:
– Build Trust: establish and maintain a positive track record in the marketplace.
– Advertise Honestly: comply with established standards of selling and advertising.
– Tell the Truth: represent products and services honestly, including clear and proper disclosures of all material terms.
– Be Transparent: be open regarding the business' ownership, location, nature and identity. Disclose all policies, guarantees and procedures clearly, especially those that have a bearing on a customer's decision to buy.
– Honor Promises: stick to all written agreements and verbal representations.
– Be Responsive: deal with marketplace complaints and disputes rapidly, professionally, and in good faith.
– Safeguard Privacy: any data gathered should be protected against fraud and mishandling. Personal information should only be collected as needed. Customer preferences regarding use of their personal data should be respected.
– Embody Integrity: "Approach all business dealings, marketplace transactions and commitments with integrity."
The Bureau says the BBB Standards for Trust "are a comprehensive set of best practices for how businesses should treat the public in a fair and honest manner."
BBB company ratings
BBB ratings represent the organization's opinion of how businesses are likely to interact with their customers. The system is based on data it is able to gather about specific companies, including complaints received from the general public.
Ratings range from A+ (highest) to F (lowest). Some businesses will be assigned an NR (no rating), because either there is insufficient data or the BBB is in the process of updating/reviewing the business' file.
The BBB insists that its ratings are not a guarantee of a company's reliability or performance.
Some people criticize the BBB for giving higher ratings to businesses that pay a membership fee. According to the BBB, a business does not have to pay a fee in order to receive an 'A+' rating.
In order to maintain its impartiality, the BBB says it does not endorse or recommend any specific product, service or business.
Video – Better Business Bureau
This Official Better Business Bureau Accreditation Video for BBB Serving Dallas and Northeast Texas explains what the BBB is about.