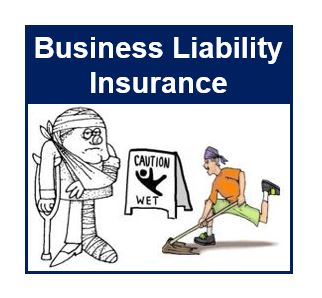 What is business liability insurance?
Business liability insurance is a kind of insurance taken out by companies to protect them against damage or injury claims allegedly caused by negligence. The policies cover the costs of claims caused by their products or employees, as well as all or part of the legal fees incurred during a lawsuit or third-party claim.
This is one of hundreds of different insurance products that are available on the  market today.
There are three main kinds of business liability insurance:
– Product Liability Insurance – many countries require those manufacturing or supplying goods to carry some type of product liability insurance, typically as part of a combined policy.
– Professional Liability Insurance – helps protect professional advice- and service-providing people and companies from bearing the full cost against defensing against a negligence claim. How much your policy should cover depends on the type of business. For example, a private hospital will need a policy that covers costs amounting to tens of millions of dollars.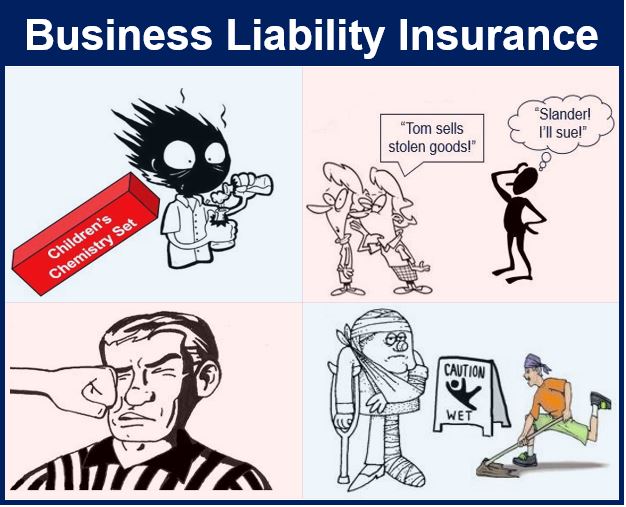 Experts say all businesses need liability insurance.
– General Liability Insurance – protects a company from a specified set of claims. Unless stipulated in the policy, it might not usually cover employee injuries. According to nationwide.com "Workers compensation is the insurance you would need to protect your employees when they are hurt on the job."
With business liability insurance, payment is not usually made to the insured, but rather to somebody who alleges they suffered loss or injury, i.e. somebody who is not a party to the insurance contract.
The FT Lexicon defines business liability insurance as:
"Insurance against damage or injury caused by negligence. Companies take it out to cover injury caused by their products, or negligence by people who work for them."
Intentional or expected acts
Business liability insurance policies do not cover damages or injuries resulting from intentional or expected acts.
For example, if you owned a coffee shop and one of your employees assaulted a customer, your policy would not cover the damages if the customer sued.
On the other hand, if the employee was attacked and defended himself or herself from a criminal act, the policy would provide coverage.
However, according to a hiscox.com web page on general liability insurance for small businesses, if one of your workers is at lunch and "talks to the owner of the shop" about one of your clients in an unflattering and false way, and the client hears about this and sues for slander, insurers will cover the subsequent claim.
The importance of business liability insurance
Business is inherently risky. A small business owner, especially a sole proprietorship (UK: sole trader) or partner, could be personally liable in the event of a lawsuit against the business.
Lawyers say that even owners of limited liability corporations (US: LLC, UK: LTD) are exposed to a certain extent to personal risk.
Business liability insurance could mean the difference between commercial life and death if something unexpected and unpleasant happens.
Video – Who needs business liability insurance
In this video, insurance agent Leslie Saland explains what the three types of business liability insurance are, and who needs them.