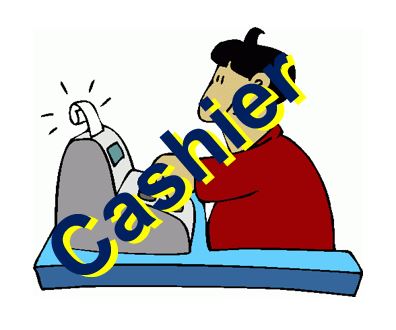 What is a cashier?
A cashier is a person who operates the cash register at the point of sale of shops, restaurants, movie theaters, hotels, and other types of businesses. The term may also refer to an employee in a company who is responsible for receiving and disbursing money.
In the UK, a cashier may also be an employee of a bank who deals directly with most customers (a bank teller in the United States).
In some small businesses, the cashier might have another duty. For example, a hairdresser may also operate the cash register.
The term cashier comes from Middle French caissier, which means 'treasurer'.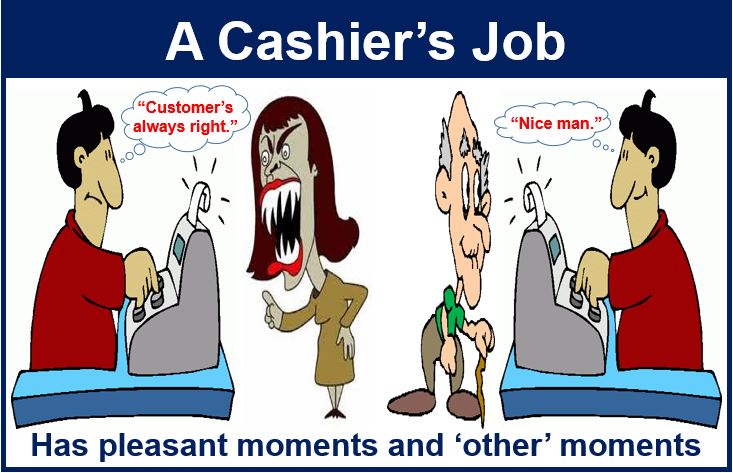 A cashier must have good people skills.
The cashier in a shop may have some or all of the following duties:
– Scan customer's shopping, and establish or identify prices.
– Receive payment in the form of cash, credit card, check, vouchers, or automatic debits.
– Issue refunds, credits and receipts to customers.
– Count how much money is in the cash register drawer at the beginning of the shift, make sure the amount is correct, and that there is enough change.
– Greet customers as they enter the store.
– Make sure the checkout areas are clean and orderly.
– Deal with and try to resolve customer complaints.
– Help customers with questions and inquiries.
To be considered for a job as a cashier, employers say the most important quality is trustworthiness, because they are handling cash. They must also be courteous and efficient.
Being a cashier offers young people a great opportunity to learn the employer's business. The post may serve as a stepping stone to other more senior positions.
According to the Oxford Dictionaries, a cashier is:
"A person handling payments and receipts in a shop, bank, or business."
University Cashiers Office
At a university, the Cashiers Office is a section of the Fiscal Services Department and is responsible for the proper receipting and safeguarding of all payments and deposits made to the college including registration fees, library fines, housing fees, dining fees, parking permit & citation payments, and other miscellaneous payments.
In some countries it may be called the Bursars Office.
The University Cashiers office is also responsible for petty cash reimbursements and faculty and staff payroll distribution.
Some primary and secondary schools may have a Cashiers Office, or just a cashier, whose duties are similar to those of a university cashier.
The verb 'to cashier' means to dismiss a person (remove them from a job) from a military organization, while at the same time making them lose their honor.
Video – Job description of a cashier