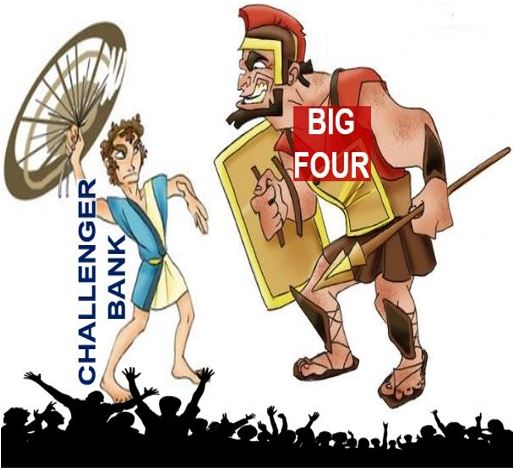 What is a challenger bank? Definition and meaning
A challenger bank is a relatively small financial institution that is threatening the rankings of the country's top high street banks or retail banks. The term includes any new or upcoming bank that has been granted a licence recently and is biting at the heels of the 'big four' or 'big five' banks.
For example, in the United Kingdom, historically the UK's 'big four' – HSBC, Lloyds, Barclays and RBS – have either acquired or beaten any smaller competitors. Since Banco Santander entered British retail banking, the term 'Big Five' has become popular.
TSB (Trustee Savings Bank) was never quite one of the big boys in the UK, and when it looked as if it might become a dangerous challenger bank, Lloyds acquired it before it had a chance. The European Commission forced Lloyds to sell off TSB, making it a challenger bank again.
However, in 2010 Metro Bank got its first new banking licence and everything changed, literally forever.
Since Metro became a challenger bank, the floodgates have opened, with several budding financial institutions, such as Tandem and Atom Bank fighting for banking licences and new customers.
---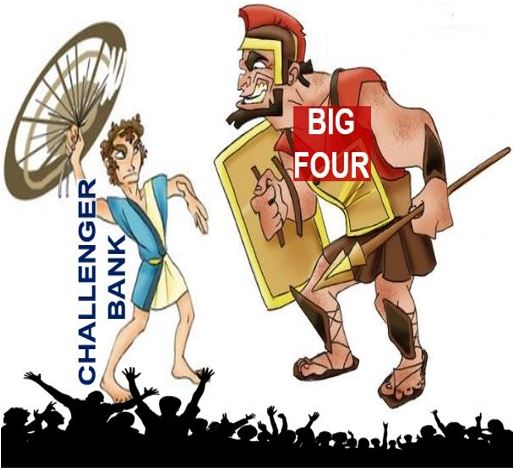 A challenger bank taking on the big four is a bit like David challenging Goliath. After the global financial crisis of 2007, the major banks became extremely unpopular with taxpayers, who had to bail them out. Goodwill towards the smaller players helped them gain market share.
---
Moneyfacts.co.uk has the following definition for a challenger bank:
"It's a bank that's far smaller than a national brand that's been specifically designed to compete with the Big Four (HSBC, Lloyds, Barclays and RBS), be it through offering superior service, better deals, or more often than not, a combination of the two."
Advent of the challenger bank
Even though there have been smaller banks in the UK that occasionally would snap at the heels of the big four, nothing really changed significantly until the global financial crisis struck in 2007/8.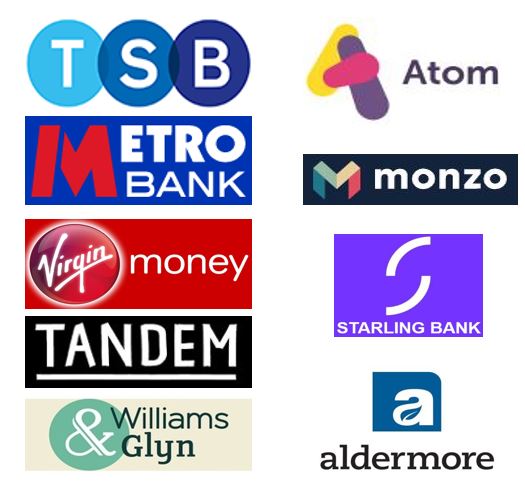 Logos of some of the better-known UK challenger banks. Lloyds acquired TSB, but then had to sell it off because of a European Commission ruling.
Britain's big four banks had to be bailed out by the taxpayer during and after the financial crisis, they were also facing technology meltdowns. The Bank of England (BoE), in light of these new developments, decided that the country would benefit if there was more competition.
The BoE scaled back the rules and regulations around setting up a bank. It did so to such an extent that a flood of new applicants for new licences emerged, including Atom, Metro Bank, Tandem and dozens of others.
The Internet and challenger banks
Before the existence of the Internet, all that mattered to stay on top in the world of high street banking was to have lots of branches, superior economies of scale compared to the smaller players, and a large and diversified balance sheet that allowed interbank and money market borrowing at ultra-low interest rates.
However, as soon as consumers started doing their shopping, working, watching series and movies, communicating with one another, and having fun online, the competitive playing field widened considerably.
Add to this the credit crunch of 2007, and you suddenly have a situation in which lots of physical branches across the country become more of a burden than a commercial asset. All those high street branches with the hundreds of thousands of people who work in them consume resources that could be channeled towards becoming more technologically competitive.
Consumers who liked to do their banking online were considerably more interested in being able to navigate rapidly and securely within the bank's website, than having the privilege of a physical human being talking to them every time they wanted to use banking services.
Returns for a typical challenger bank are better, plus costs are lower, than for the big five. (Data Source: Financial Times)
Legacy systems still rife in major banks
Even today, major high street banks like Lloyds and RBS (Royal Bank of Scotland), which only exist because the taxpayer bailed them out to the tune of hundreds of billions of pounds, still have a *legacy system.
* A legacy system or legacy platform is a computer system in a company that is obsolete.
When the challenger bank came onto the scene in a big way, it did so with state-of-the-art computer systems and super websites that consumers like to use.
The British economy is now in the post-crisis recovery stage. This is a period when challenger banks can gain market share in a big way and smash the big-boy league tables.
Today's challenger bank has more suitable and up-to-date software, user-friendly websites, and a tighter management structure where those further up the ladder know exactly what is happening on the shop floor. They can provide a more personalised service to customers than the big five can.
Big five won't die
Experts say that the high street banks still form an essential part of our economic fabric, and will probably do so for decades to come. They offer services that most of us need such as current accounts and mainstream mortgages.
However, the new licencing laws and the preference for online banking by consumers has meant that smaller or more specialised institutions today have a fairer and more realistic environment in which to thrive and grow.
Alan Margolis, Head of Bridging, United Trust Bank, said:
"The seismic changes in the financial market that followed the credit crunch have allowed the specialist banks to emerge and flourish as they find their niches and demonstrate one of the positive aspects of the free market."
"The ability of businesses to fill voids vacated by others and meet a demand where one exists, in this case for bespoke finance requiring a personal touch and where relationships are at the centre of the business."
Challenger bank glory days over?
A growing number of trade journals are warning that the challenger bank glory days will soon be gone. The small lender's niche markets have become saturated – it is now considerably harder to compete for customers compared to a few years ago. Most bets are on conditions becoming progressively more congested.
The UK's big five are returning to growth, they are starting to respond effectively to customer demands.
In an article in The Telegraph, Tim Wallace writes that politicians and regulators are now less inclined to treat challenger banks more leniently than their giant cousins. This will make it harder for the upstarts.
Since 2010, a typical challenger bank has based its business model on targeting profitable lending niches. Competition within these niches has started to intensify and will continue doing so. In fact, margins are already shrinking.
In order to respond effectively, challenger banks will need to create new product lines – this means becoming more complex and taking on more staff, i.e. becoming more like the big five.
If you gain against the big boys because you identify their weaknesses, set yourself up differently, and focus on other things, what happens when you start acquiring those perceived weaknesses?
On 23rd June, the British electorate voted for Brexit – BRitain EXITing the European Union. The future of the challenger banks, the big five and the rest of the economy are now anybody's guess.
If Prime Minister Theresa May manages to negociate a Soft Brexit, the country's financial institutions will probably fare well, especially if we keep our passporting rights.
If the country ends up with a Hard Brexit, the future for all British financial institutions does not look promising.
Video – The Challenger Bank
In this Tip TV Finance video, Guy Shone, Managing Director of Explainthemarket.com, reviews some of the new challenger banks, talks about what they are doing, and tells us whether he thinks they are going to shake up the market.
---
---