In the world of business and finance, the term 'cost' has several meanings. In accounting, retail, research and production, it is the value of money that has been used up to create something, and is therefore not available for use anymore.
In business, the term may refer to the amount of money spent to acquire something. In such cases, it is the input that is gone in order to purchase or acquire the thing
Put simply, cost is the amount that must be given up or paid to get something.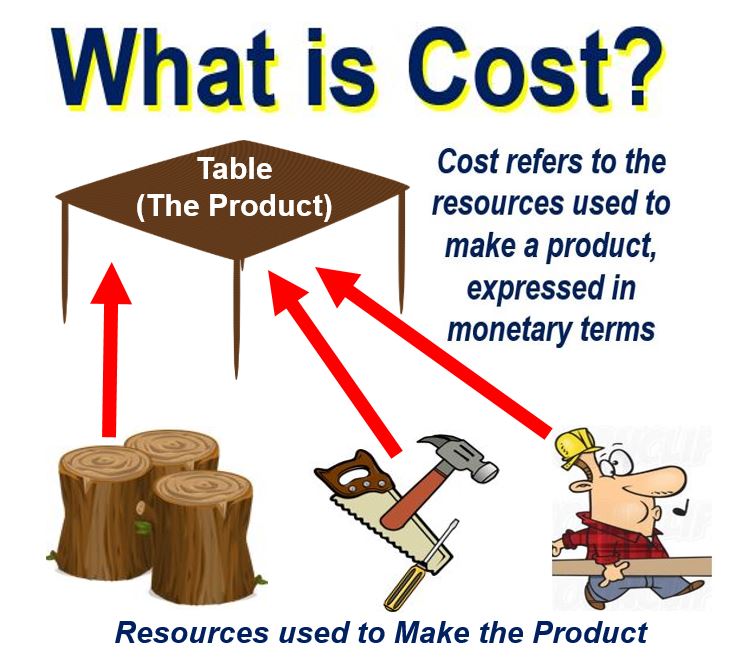 Companies need to know the costs of their products for many reasons. For example, inventory: if they have 200 tables in stock, they need to know how much they are worth (how much they cost to make).
In business, we typically give it a monetary value to represent the following:
– effort made
– material used
– resources applied
– time and utilities consumed
– risks incurred
– opportunity forgone…
… in the production and delivery of a product or service.
---
---
Costs denote how much money a company spends on the production or creation of goods or services. It does not include profit or mark-up.
As far as a sellers are concerned, costs are how much money is spent producing a good. If they sold their products at the price of production, their costs and income would be the same – they would break even – they would neither make a profit or a loss.
As far as buyers are concerned, a product's cost is also the price. It is the amount the seller charges them for a product – it includes the costs of production as well as the mark-up, which the seller adds in order to make a profit.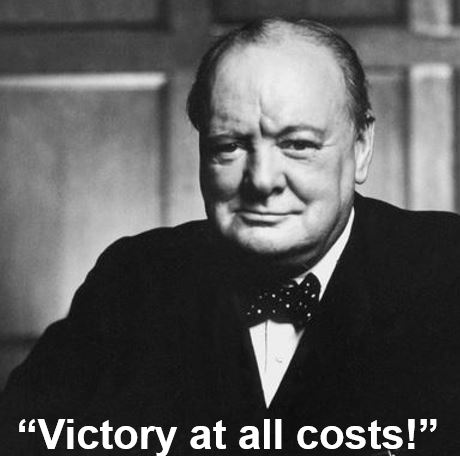 During WWII, Prime Minister Winston Churchill said: "Victory at all costs, victory in spite of all terror, victory however long and hard the road may be; for without victory, there is no survival." (Image: churchillcentral.com)
Cost in accounting
In accounting, costs refers to the monetary value of spending on equipment, supplies, raw materials, labor, products, services, etc.
The amounts are posted as expenses in bookkeeping records.
---
---
Cost vs. Price
The two terms do not have the same meaning. While cost is the expense a company incurs in creating a product or service and bringing it to market, the price is the amount the customer pays for it.
The difference between a product's cost and price is the profit a business makes – it's mark-up or margin.
Imagine you buy an item for $25 dollars, and it cost the vendor $10 to create and bring it to the market. The vendor makes a $15 profit.
Types of cost
There are several different types of costs for a commercial enterprise, the most relevant ones are:
Variable costs: these costs vary, depending on levels of business activity. They come about as a result of shipping, ordering, and handling raw materials. When it comes to producing and delivering goods and services, variable costs have the most financial impact for a commercial enterprise.
Direct Costs: these can be traced directly (completely attributed) to the production of specific products or services. Depreciation, administrative and other costs are more difficult to assign to a specific product and are hence considered to be indirect costs. They are also an important aspect to take into account in the final mark-up stages of the good or service. They include the amount of time and effort put into creating the product.
Manufacturing vs. non-manufacturing costs
Manufacturing Costs: directly involved in the manufacturing of goods. Examples include charges related to workers and raw materials. Manufacturing costs are divided into three broad categories:
– Manufacturing overhead costs
– Direct labor costs
– Direct materials costs
Non-manufacturing Costs: are those that are not directly incurred in manufacturing a good. Examples include advertising expenses and the salaries of sales personnel. These types of costs are typically classified into two categories:
– Administrative costs
– Selling and distribution costs.
Cost estimation
When creating a business plan for a new or existing business, product or project, planners usually make cost estimates in order to determine whether revenues/benefits will cover costs.
Both governments and businesses do this. It is common for costs to be underestimated, i.e. spending ends up being considerably greater than originally estimated. If costs are higher than income, the company will lose money.
List of meanings and examples
Below is a list of different meanings of the word 'cost' and examples of the term used in a sentence:
– Require the payment of: as in "The journey cost me $1,000."
– Cause the loss off: as in "Driving under the influence of alcohol cost him his driving license."
– To be expensive: as in "If you want your own space it will cost you."
– Estimate the price: as in "My job is to cost each media campaign and get the estimate approved by management before it goes ahead."
– An amount that needs to be paid or spent: as in "The bride and groom's parents were broke so his uncle covered the cost of the wedding."
– Sacrifice, loss or effort needed to obtain or achieve something: as in "The President managed to divert resources away from the issue at considerable cost to his popularity."
– Court and legal expenses: as in "She had to pay a $10,000 fine plus $2,000 in court costs."
Menu Costs: the term refers to the costs that commercial enterprises have to face when they change the prices they charge for the goods and services. If you raise or lower your prices, you need to redesign your price lists and calatogues, get new ones printed, re-tag goods on shelves, and sometimes pay price consultants.
Video – What are costs?
In this Polimi OpenKnowledge video, Deborah Agostino explains what costs are in management accounting.