Credit control is a department in a company that is responsible for determining which customers are offered trade credit, as well as chasing unpaid debts. Trade credit refers to allowing buyers to pay at a later date, usually 30, 60 or 90 days after delivery.
Credit control may also mean the activity of chasing unpaid invoices and deciding which customers are offered trade credit. For example, somebody might say "Most of my work involved credit control."
In a small company, credit control may be the responsibility of just one person. In large companies, the department may have sub-sections such as dispatch approvals, credit limit approvals, and collections.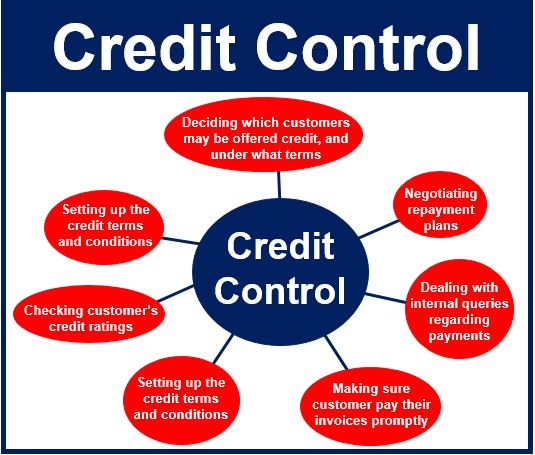 Good credit control is vital for a company's survival.
For businesses to succeed they need to be paid. If invoice payments come in very late, or not at all, a company can soon become illiquid.
Credit control helps drive sales and reduce bad debts
A well run credit control department can boost sales, by offering credit to selected customers, and minimize the number of bad debts, by making sure that customer's with poor credit pay their bills up front.
---
---
Credit control is a crucial part of running a business, especially any new company with limited cash resources.
Hundreds of thousands of start-up companies across the world go bust every year. Many of them are highly profitable, but are owed money by customers. If customers don't pay them, they cannot pay suppliers, and are eventually forced to shut down.
According to Cambridge Dictionaries Online, credit control is:
"The system used by a business to make certain that it gives credit only to customers who are able to pay, and that customers pay on time," and "a process used by a bank to make certain it lends money only to people or businesses who are able to pay back their loans."
What does a credit controller do?
A person who works in credit control is called a credit controller. They decide whether to loan money to a customer, as well as managing current debts.
Credit controllers might work either in commercial credit (loaning to companies) or consumer credit (lending to members of the public).
Below are some of the main duties of a credit controller (data source: totaljobs.com)
– checking customer's credit ratings,
– deciding which customers may be offered credit, and under what terms (e.g. how much),
– setting up the credit terms and conditions,
– dealing with internal queries regarding payments,
– making sure customers pay their invoices promptly,
– negotiating repayment plans.
Video – Seven secrets of credit control