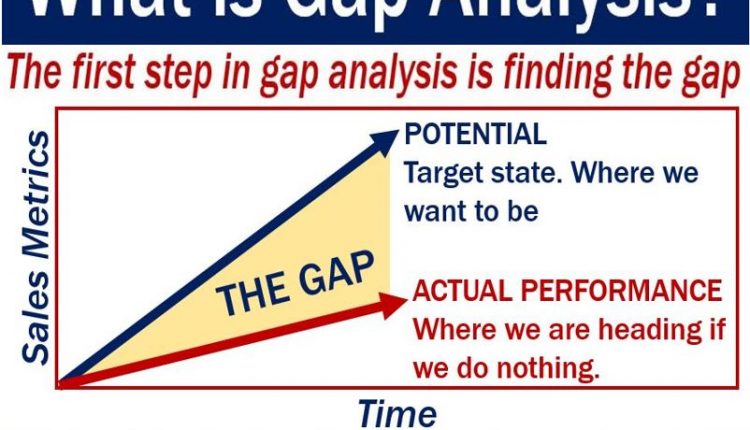 Gap analysis – definition and meaning
A gap analysis is a comparison of a company's current performance with what it could perform. In other words, an evaluation of actual versus target performance. Gap analysis is a technique that companies use to find out what they need to do to move from their current to a future state. Specifically, a future state that they desire.
Needs assessment, needs analysis, and need-gap analysis mean the same as 'gap analysis.'
The 'gap' is the difference between 'where the company is' and 'where it wants to be.' In other words, the difference between its current and target states.
In IT, it is a way of assessing the differences in performance between a company's information systems. The aim is to determine whether information systems or software applications meet the company's business requirements. IT stands for Information Technology.
According to ft.com/lexicon, the Financial Times' glossary of terms, a gap analysis is:
"A method of examining an area of business and comparing what customers want with what is already available, and used especially when developing new products."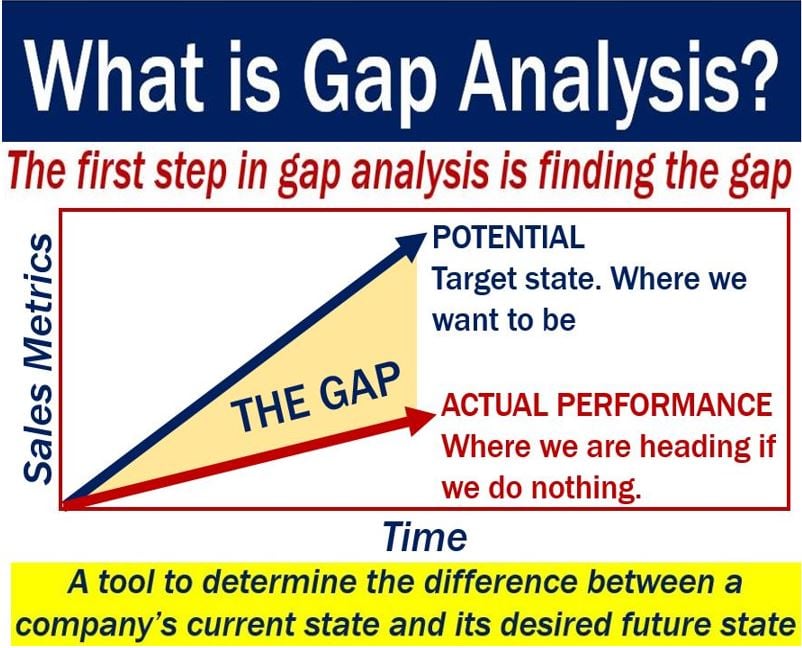 Gap analysis – different perspectives
We can carry out this type of analysis from different perspectives. However, in each case, we are looking at the difference between a business' present and target state.
We can analyze from the perspective of:
– Information Technology.
– Business Processes.
– Business Direction.
– The Organization, i.e., HR. HR stands for Human Resources.
Gap vs. SWOT analysis
Do not confuse the term with SWOT analysis, which is quite different. SWOT stands for Strengths, Weaknesses, Opportunities, and Threats.
A SWOT analysis identifies those four factors together when planning for future activities.
Gap analysis simply looks at where the company is now and compares it to where you would like it to be.
"SWOT analysis evaluates a company against its peers, while gap analysis is an internal evaluation to identify performance deficiencies."
We usually carry out gap analyses to reach short-term goals. A company's goals are its objectives. SWOT analyses, however, form part of long-term planning.
Video – What is gap analysis?
This Investor Trading Academy video explains what gap analysis is. It begins by telling us that it is a tool to determine whether there is a difference between a business' actual and target financial performance. Financial managers and investors use this tool.
Not only is the tool useful for understanding the gaps, but also for overcoming them. In other words, it helps you determine what the gap is, and also what to do about it.