What is a statistician? Definition and meaning
A statistician is concerned with collecting, analyzing, interpreting and presenting quantitative data. He or she might work in a wide range of sectors such as finance, government, education, health, forensics, sport, astronomy, market research or transportation.
A statistician designs and manages experiments and surveys, and deals with the preliminary gathering of data. He or she processes and analyzes the data in context, and will try to find patterns to help people make decisions.
Statisticians report their findings and advise what strategy or strategies are best for given situations.
The US Bureau of Labor Statistics says that statisticians: "Use statistical methods to collect and analyze data and to help solve real-world problems in business, engineering, healthcare, or other fields." (Image: bls.gov)
Depending on the size of the company or organization, statisticians generally work in teams, alongside professionals of other disciplines. They must have strong IT and analytical skills, as well as good communication and interpersonal skills, given that they have to share their findings with colleagues, senior management and clients, and are expected to offer advice.
Responsibilities of a statistician
Statistician gather, analyze and interpret numerical data and report their results to their clients, frequently with the aid of software or mathematical techniques.
---
---
If their clients or whoever they are advising or presenting to are not statisticians, they must explain the complex statistical concepts in a way that is easily understood by lay people, as well as advising on strategy.
Some of their studies or trials may be completed in a question of weeks or months, while others might take several years. For example, statisticians working in teams that study climate change may gather and analyze data spanning hundreds and even thousands of years, and may have to wait a long time to determine what the current climate trends are or will be.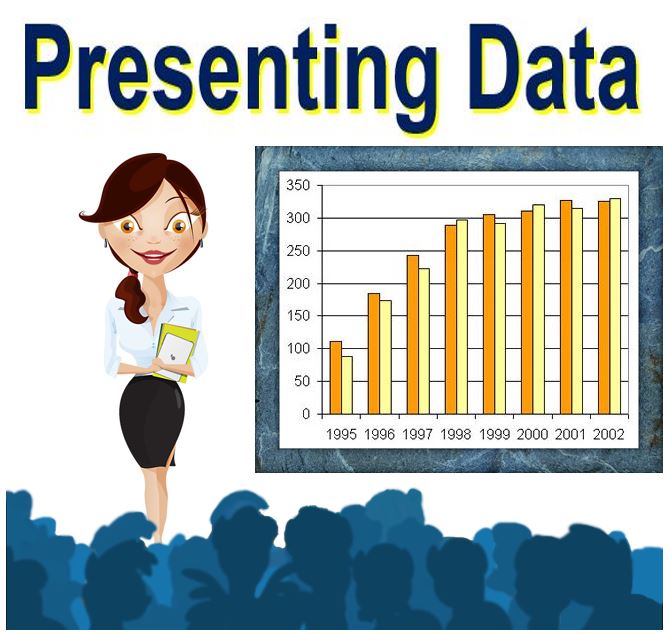 Statisticians are expected to know how to present their data to non-specialized people in lay terms.
According to prospects.ac.uk, a statisticians' general tasks may include:
– Interviewing clients and agreeing on what information to gather and how it should be collect – taking into account any legislative and ethical considerations.
– Designing and creating experiments, trials and surveys in order to get the required data.
---
---
– Gathering and studying the data.
– Interpreting the collected and analyzed data and ensuring that the right decisions are based on the study findings.
– Monitoring all the collected data throughout its shelf-life.
– Presenting results to clients, senior managers, regulatory authorities, other departments, etc.
– Presenting and explaining results to policymakers and providing advice.
– Carrying out research, typically as a member of a team.
– Writing reports, abstracts, and perhaps articles for publication.
– Presenting findings at conferences in the home country and possibly abroad.
Statistics are used in virtually every type of business, organization and government department.
If you plan to be a statistician
Your work will most likely be office-based, although you may have to travel – sometimes regularly – to attend meetings with other stakeholders. You might also be expected to travel to conferences at home and abroad.
You should expect to have to operate as a member of a multidisciplinary project team. Some statisticians work for themselves, i.e. they are self-employed. Self-employed professionals generally work in a consultancy role, as is commonly the case in forensics.
In most countries across the world, especially the UK, USA, Canada, Ireland, Australia and New Zealand, statisticians are in strong demand, and in many different fields.
Regarding job and career prospects for a statistician, The World of Statistics says:
"In recent years, there has been tremendous growth in interest in statistics by students in secondary schools and universities as well as by businesses and governments in countries around the world."
"The demand for statisticians and their analytical skills continues to grow, and this trend shows no signs of slowing."
Employers generally look for graduates with a degree in statistics, or another subject with a statistical or quantitative component, such as economics, geography, mathematics or psychology.
Statisticians can work in many fields
According to The World of Statistics, statisticians are lucky in that they can combine their interest with almost any other field in science, technology or business, including:
Zoology, Transportation, Telecommunications, Survey Methods, Sports, Sociology, Science Writing and Journalism, Safety, Public Health, Psychology, Political Science, Physics, Pharmacology, National Defense, Medicine, Medical Clinical Trials, Marketing, Manufacturing, Law, Insurance, Health Science, Government, Genetics, Forestry, Finance, Epidemiology, Engineering, Education, Economics, Ecology, Demography, Computer Science, Chemistry, Census, Biology, Astronomy, Animal Population and Agriculture.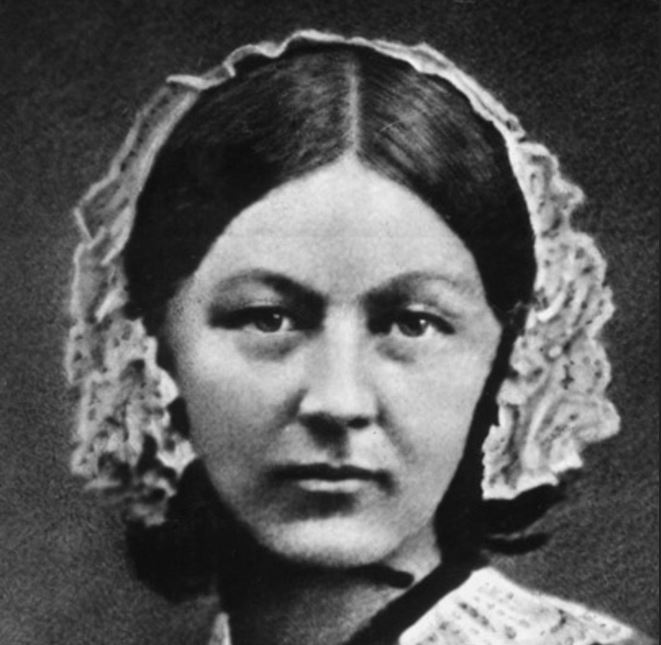 Florence Nightingale used statistics to gain insight into what was needed to improve the health and outcomes of patients in military hospitals. She was the driving force behind health reforms in Britain during the 19th century. (Image: biography.com)
Florence Nightingale – a remarkable statistician
Celebrated English social reformer and statistician, and the founder of modern nursing, Florence Nightingale (1820-1910), a member of the Royal Statistical Society, was a pioneer in gathering statistics on health policy.
Writing in the JMP Blog, Laura Lancaster explains that Nightingale was a pioneer for women statisticians. Her extensive work led to health care policy reforms in 19th-century Britain and saved the lives of many thousands of British soldiers.
The Secretary of War, Sidney Herbert, recruited Nightingale to assemble a team of nurses to serve at the British hospital in the Crimea at Scutari. When she arrived at the hospital, she described conditions as 'squalid', with overworked staff, very poor hygiene, and a serious lack of food and supplies.
She worked hard at improving the conditions of the hospital, organized the chaotic hospital records into a well-systematized structure from which data could be collected and analyzed.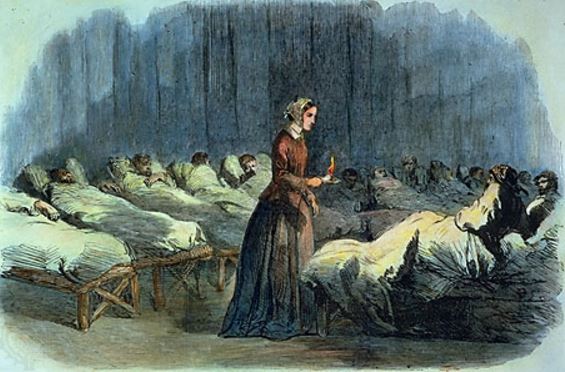 Florence Nightingale exhibited a gift for mathematics from a very young age and excelled in the subject under the tutorship of her father. She later became a pioneer in the visual presentation of data and statistical graphics. (Image: philippinesnursing.com)
In 1856, when she left Crimea, conditions of the hospitals in the area had improved considerably – death rates had declined from 42% to just 2%.
Back in Britain, she asked Queen Victoria to appoint a Royal Commission on the Health of the Army so that the data she had gathered in Crimea as well as other military medical data could be analyzed and used for medical reform policies.
To help her analyse all the data she had collected, she turned to a leading British statistician and founder of medical statistics, English epidemiologist William Farr (1807-1883).
After analyzing the statistical data from the Crimea, she found that the high mortality rates were caused by unsanitary living conditions that led to diseases, and not the lack of food and supplies as she had originally concluded.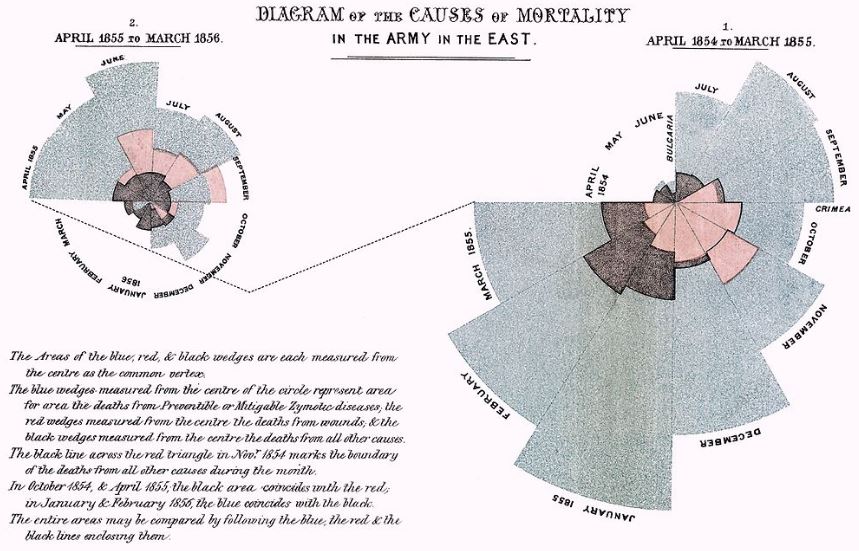 Example of polar area diagram which Florence Nightingale used as a visual aid to present her statistical findings to Queen Victoria and Members of Parliament. Not only was she an extremely gifted mathematician and statistician, she was brilliant in explaining complex findings to lay people in ways they could understand. (Image: Wikipedia)
Nightingale and Farr also found that the problems observed in British military hospitals were not limited to times of war. In peacetime, soldiers died at twice the rate of their civilian counterparts (aged 25 to 35).
Her next problem was to present all her statistics to Queen Victoria and MPs (Members of Parliament) in lay terms, otherwise they would probably not understand it. They needed to understand the data and findings in order to push through reforms.
She created a clever graphical presentation of the statistical findings called a polar area diagram, which has also been referred to as a 'coxcomb'.
Thanks to her use of statistics and the ability to present results in a way lay people could understand, Nightingale became the driving force behind health reforms in 19-century Britain and military hospitals in its colonies.
In 1858, she was elected as Fellow of the Royal Statistical Society for her work on army and hospital statistics and sanitation reform – the first woman to join the society. In 1874, she became an honorary member of the American Statistical Association.
Florence Nightingale died on 13th August, 1910, aged ninety. She left a legacy of literally hundreds of thousands of saved lives and medical reform that was fueled by the use of statistical graphics to help convey her message.
Video – The best thing about being a statistician
In this video, by the Royal Statistical Society in the UK, statisticians talk about why they love their jobs.