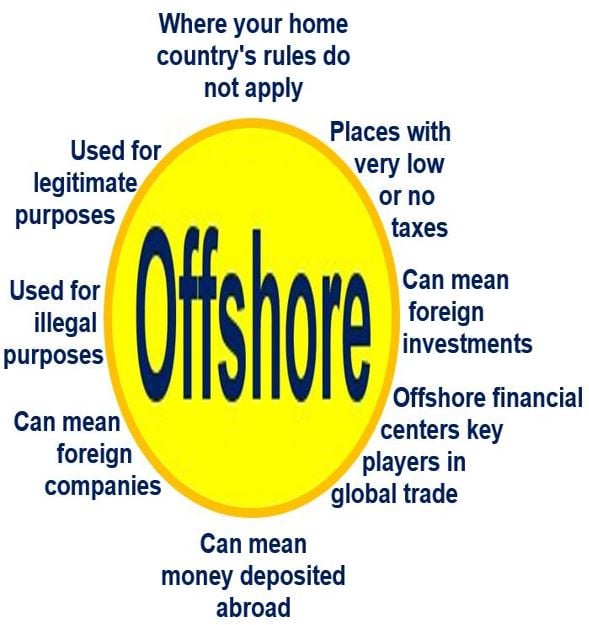 Offshore: definition and meaning
Offshore refers to where the usual rules and regulations of a company's, individual's or entity's home country are not applicable. This may literally be a place situated at sea some distance from the shore, such as an island tax haven in the Caribbean, or just legally offshore. For example, certain financial transactions that are carried out within the City of London are deemed to have taken place offshore as far as the regulatory authorities are concerned.
In other words, the term by definition identifies anything that is outside the jurisdiction of a country – outside its national boundaries.
In the world of business and finance, we use offshore when talking about foreign companies, banks, deposits and investments.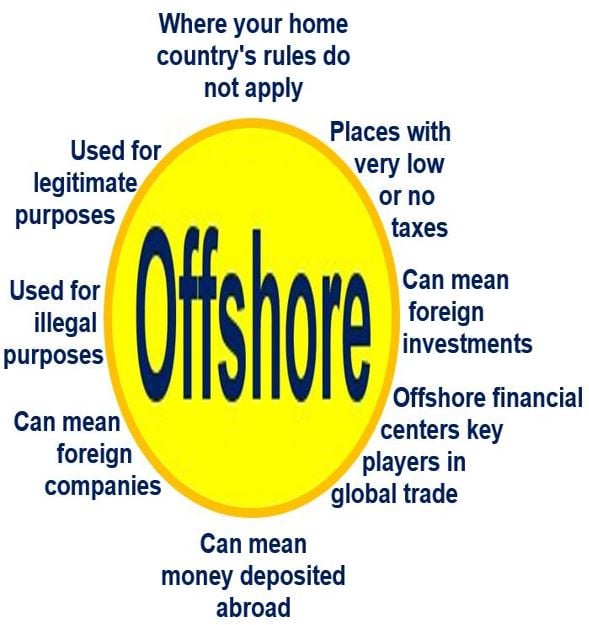 Although the term basically means abroad or outside your home country's jurisdiction, it has connotations of tax havens and financial centers with less stringent regulations. If I said my money was 'abroad', you would include virtually every foreign country in the world in your list of possibilities. If I told you my money was 'offshore', you'd immediately think of the Cayman Islands, Jersey, Panama or some other tax haven.
Moving offshore could be a legitimate and legal strategy taken by a company or person in order to avoid taxes and enjoy less stringent rules and regulations.
Not all offshore activities, however, are legal. Money launderers and tax dodgers (tax evaders) commonly carry out their activities using offshore financial institutions.
---
---
Offshore financial centers
Many countries, territories and jurisdictions across the world have OFCs (offshore financial centers). Examples include:
– Bahamas: it used to be a major OFC, but has lost ground to other centers since its independence in 1973.
– Bermuda: one of the world's leaders in captive insurance, offshore funds and aircraft registration.
– British Virgin Islands: has a huge number of offshore companies – some say more than any other OFC.
– Cayman Islands: apart from being the strongest presence in the American securitization market, it also has the largest value of assets under management in offshore funds.
A significant proportion of the world's offshore financial centers are islands with small populations and lovely, warm weather.  At least half of them are/were British colonies or protectorates.
– Dominica: has the world's largest number of offshore commercial enterprises formed in recent years. Since the turn of the century, it has become an important OFC for banks.
– Dublin: since the 1990s, Ireland's capital city has attracted many multinatonal information technology, communications technology and pharmaceutical companies. Companies such as Pfizer, Twitter, Accenture, Facebook, Yahoo!, PayPal, eBay, Amazon, Google and Microsoft have their European headquarters and/or operational bases in the city. Financial services have also grown significantly. Corporate tax in Ireland is more than 70% lower than it is in the United States.
---
---
– Hong Kong: one of the world's major international financial centers. For over a century, Hong Kong has had an important capitalist service economy characterized by free trade and low taxation. It has one of the greatest concentrations of company headquarters in the Asia-Pacific region.
– Jersey: particularly strong funds management and banking sectors. It has a surprisingly high number of lawyers, fund managers and professional advisers for such a small place.
– Luxembourg: the market leader in UCITS (Undertakings for Collective Investments in Transferable Securities). UCITS is a regulatory framework of the European Commission that creates a harmonized regime across the European Union for the management and sale of mutual funds. It is also said to be the largest offshore Eurobond issuer globally.
– Mauritius: used as both an inward and outward investment platform for European, African and Asian countries. It has several double-taxation agreements. The OECD includes Mauritius in its list of jurisdictions that have substantially adopted and implemented internationally agreed **transparency and tax standards.
** Transparency refers to the extent to which all data is readily and openly available.
– Panama: a major international maritime center. Since the 1990s, it has lost out to other competitors in the region.
– New Zealand: has the advantage of being a true primary jurisdiction with a stringent but practical regulatory regime. While still retaining close ties to Europe, it is geographically well-positioned for the Asian markets.
A high proportion of OFCs are or used to be British colonies or Crown Dependencies – they frequently refer themselves simply as offshore jurisdictions.
According to the US National Bureau of Economic Research, approximately 15% of all the countries in the world are tax havens today. Most of them are small and wealthy.
Offshore financial centers and the EU
Over the last few years, the European Union (EU) has made many OFCs sign up to the EU withholding tax and exchange of information directive – the notable exceptions being Bermuda and Barbados.
According to those regulations, which are brought into force by local law, financial institutions (banks) in those jurisdictions which hold deposits for EU residents must either permit full exchange of information with the account holder's country of residence, or deduct a 15% withholding tax – which is split between the OFC and the taxpayer's country of residence.
Video – Offshore financial centers – Meaning Explained
In this Erste Group Bank AG video, Reiner Münz explains what an offshore financial center is by definition. Most people who are not involved in international finance, when hearing the term 'offshore activities', imagine huge oil rigs out in the sea exploring for oil and later pumping it back to land.
"In the world of finance, things are slightly different," Mr. Münz says.