WhatsApp scam DO NOT OPEN message
A Whats App scam that aims to con people into paying money is appearing in millions of smartphones across the world. If you get a text message telling you that it is from WhatsApp and that your subscription has expired, DO NOT OPEN it, it is a WhatsApp scam.
I received a message inviting me to click on a link and pay 99p (UK) for a 'lifetime subscription'.
What this WhatsApp scam does not tell you, is that at the beginning of 2016, the messaging service went free – and it still is; there are no plans to start charging. Instead, it says that the service became chargeable on 1st January, 2017.
The subscriber is also encouraged to forward the message to ten contacts in order to avoid a 0.01p per message charge.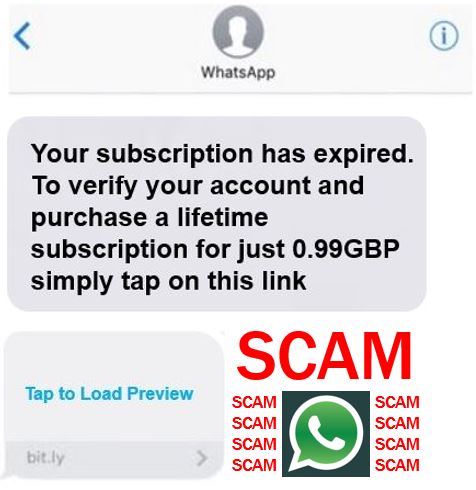 If you get a message like this, ignore it, delete it, and block the sender. It is a confidence trick (a con) to steal your money.
WhatsApp has the following advice in an article titled "I received a strange message. Is it true?" on its online FAQ section:
"You may be the target of a deceptive scheme if any of the following describes a message you receive, via WhatsApp or email:"
– The text sender claims to work for WhatsApp or be affiliated to the messaging service.
– Instructions are included in the message to forward it to others.
– According to the message, you can avoid account suspension, or some other kind of punishment, if you forward the message.
– The message includes a gift or reward from WhatsApp or another individual.
---
---
If you receive a strange message, or what you suspect may be a WhatsApp scam, the messaging service advises you to block the sender, disregard the message, and delete it.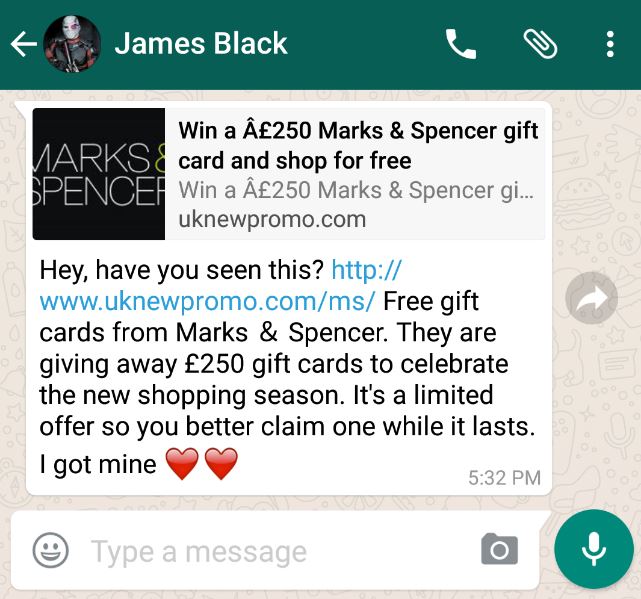 Any message offering vouchers, coupons, gifts, rewards or prizes should be ignored. The messaging service says that every single one is a WhatsApp scam.
Regarding scams and unwanted messages, WhatsApp says:
"We work diligently to reduce any spam messages that come through our system. Creating a safe space for users to communicate with one another is a priority. However, just like regular SMS or phone calls, it is possible for other WhatsApp users who have your phone number to contact you. Thus, we want to help you identify and handle these messages."
---
---
"Unwanted messages from unauthorized third parties come in many forms, such as spam, hoax and phishing messages. All these types of messages are broadly defined as unsolicited messages from unauthorized third parties that try to deceive you and prompt you to act in a certain way."