Neobanks have been around for some time, but many people still don't understand what they are and what they do. Financial services, often viewed as challengers to traditional banks, are platforms that offer online services that streamline the banking process. 
These financial services usually specialise in particular offerings, like checking and savings accounts for individuals and businesses. While traditional banks also provide these services, their fintech counterparts usually offer clients more flexibility and transparency than their traditional counterparts. And while nearly all big banks offer similar services, fintech companies vary from each other widely in terms of the services they provide.
Neobanks can be broad or very specific in what they provide. For businesses, they can help clients optimise their internal operations, manage their transactions, ensure compliance with regulators and keep tabs on relevant data flows and fees. These services can be invaluable when it comes to accounting work for smaller companies as they can streamline and automate routine business processes like invoices and payments, tax reporting, company write offs and much more.
What makes fintech so beneficial for business?
Ease of access and use
Fintech services have drawn huge client bases as alternatives to traditional banking. Part of the appeal is cutting out all of the rigmarole that goes along with banking. Clients like how much control they can have over their funds and how easy it is to make financial transactions.
Simple signups
Signing up with a neobank tends to be super easy and time efficient. Usually, the process only takes a few clicks to get started. What's more, once you've started, you can easily connect your traditional banking accounts to the service, which greatly simplifies things further.
Savings
When you sign up with a traditional bank, you are signing up for a service that usually comes with a plethora of fees. But because financial platforms are exclusively online, they don't have to deal with many of the expenses of regular banks and are able to cut out a majority of the inconvenient fees you otherwise would have to deal with.
10-steps for choosing the right neobank for your business
There are a lot of things to consider when choosing the right service for your business. What areas in particular you should focus on will depend on business needs. It is essential when choosing one of these services that you first conduct a thorough analysis of your own business needs so you can pick what is right for you.
Understand the fees and customer requirements
A majority of these services will charge a monthly subscription fee, but the fee will change significantly from service to service. As a prospective client, it is imperative to understand exactly what the service is charging you and what you get in return for your money. So, when selecting, you should research the service's fees on the following: 
Monthly account maintenance

Overdrafts 

Account reporting/statements

Payment halts

Bounced checks

International transfers 

Cashier's checks 

Certified checks 

Unaffiliated ATMs 
As a rule of thumb, it is best to use a service that is upfront with everything they will be charging you for. 
However, the lowest fees don't always equate to the best service. If everything were equal, then of course going with the lower fees would be your best bet. But if you need a more comprehensive service for your business due to the scale of your operations, it is probably worth it to pay more to ensure that all your needs are being covered.
        2. Security is sacrosanct
A financial service is only as good as it is safe. The last thing you want to add to your plate is anxiety over whether or not your assets are safe. Fintech platforms generally have a high level of security thanks to customer authentication tools and AI-infused security protocols. 
It would be wise to choose a service that has the most up to date security measures. You will want anti-fraud protection and the 3d secure v.2 protocol to cover all your bases and make sure your money is never at risk.
        3.  Make sure the service fits with your ownership structure 
Business banking, if you have a company with a complex ownership structure, can be a nightmare. And not all fintech services are going to be able to help you out with that. Traditional banks tend to be reluctant to work with these kinds of companies and, even when they do, on the client side you will often experience very long waiting periods and mountains of paperwork.  
If you have a complex ownership structure, you want a service that specializes in working with companies like yours. There are neobanks that have been designed for companies like this, with a team of KYC experts that can make onboarding incredibly simple. 
       4. Take advantage of automation 
There are few things worse than having to do all the accounting paperwork yourself. All the endless spreadsheets and lost time that could have been directed towards growing the business. 
Neobanks generally offer great services that can automate many of your routine business practices for you. Plus they can provide you with ready-made templates for invoices and payments and allow you to take care of everything in a single, simple interface. 
And when you need to share or review data, all you have to do is select the timeframe you want and you'll be able to download all the relevant information. You can even set up dates so that the data will be ready for you in the future. 
Plus, if you have a larger company, sending out memos and statements can be a full-time job in itself. With automated processing, fintech banking services eliminate much of the gruelling day-to-day work that can bog you down and cost you money.
      5. Streamline your data monitoring and reporting
Rather than collecting data on different platforms and then pooling it all together, doing it all on one platform together with your banking will make the whole process a lot easier. With all the latest information at your fingertips, you'll be able to read customer trends and insights as they happen and monitor your company's performance in real-time.
        6. Easily transact with different currencies 
International companies need to be able to have access to services that support different currencies. If you do international business, payment services can help you process currency transfers to make cross-border payments. The speed and ease with which they will allow you to do this can be invaluable for your business.
        7. Apply data analytics
Data analytics is a field that is reshaping the way many companies do business. 
By applying data analytics to your company's reporting you will gain access to hidden insights and key indicators of business performance and customer sentiment. Some neobanks even take it a step further with easy to grasp visualisations of data trends. 
This, paired with the other services offered by these platforms, will make doing historical performance evaluations very simple, which will in turn allow you to identify your weak and strong points. With that knowledge you can refine your business to maximise your strengths and shore up your weaknesses.
      8. Embrace simplicity
The last thing you need is to choose a fintech platform that further complicates things on your end. Generally speaking, the easier a service is for you to use, the better it will work for you. Plus, it may not just be you using the service, so you want something that is as user-friendly as possible. 
When a platform is simple it also tends to be reliable. With a platform that is easy to work with, you will be able to get the hang of things quickly and perform your necessary operations in much less time. 
You should also think about it from a long term perspective. As your company grows, even simple tasks will become complicated. Having a simple platform that will take care of your needs will alleviate a lot of the stress that can come with growing pains.
          9. Get 24×7 customer support
It is always a consolation knowing that, regardless of what time it is or where you are, there is someone available that will be able to help you out if something goes wrong. 
When picking a banking platform, it is a good idea to get a service that offers you 24/7 support so you never end up stuck in a bad situation with no way to fix it.
           10. Cash in on fintech technical innovation
A good thing to look out for is how advanced a banking platform is. Fintech is a rapidly growing industry that has already produced some revolutionary technology. The service you choose should be innovative and capable of providing you with the best the industry has to offer. 
You should look out for platforms that offer services based on programs, or what they call a stack of microservice architecture. Because of how the stack is built, data monitoring, routine payments and expense calculations can all be handled automatically. Because data is stored in different programs, updating one of them won't cause the entire system to back up. This provides a flexibility that is sorely missing in traditional banking, a flexibility that will free you up to concentrate on growing your business and meeting your customers' needs. 
Checklist for choosing a neobank
We'd like to further simplify things for you by giving you a list of the most important questions to consider: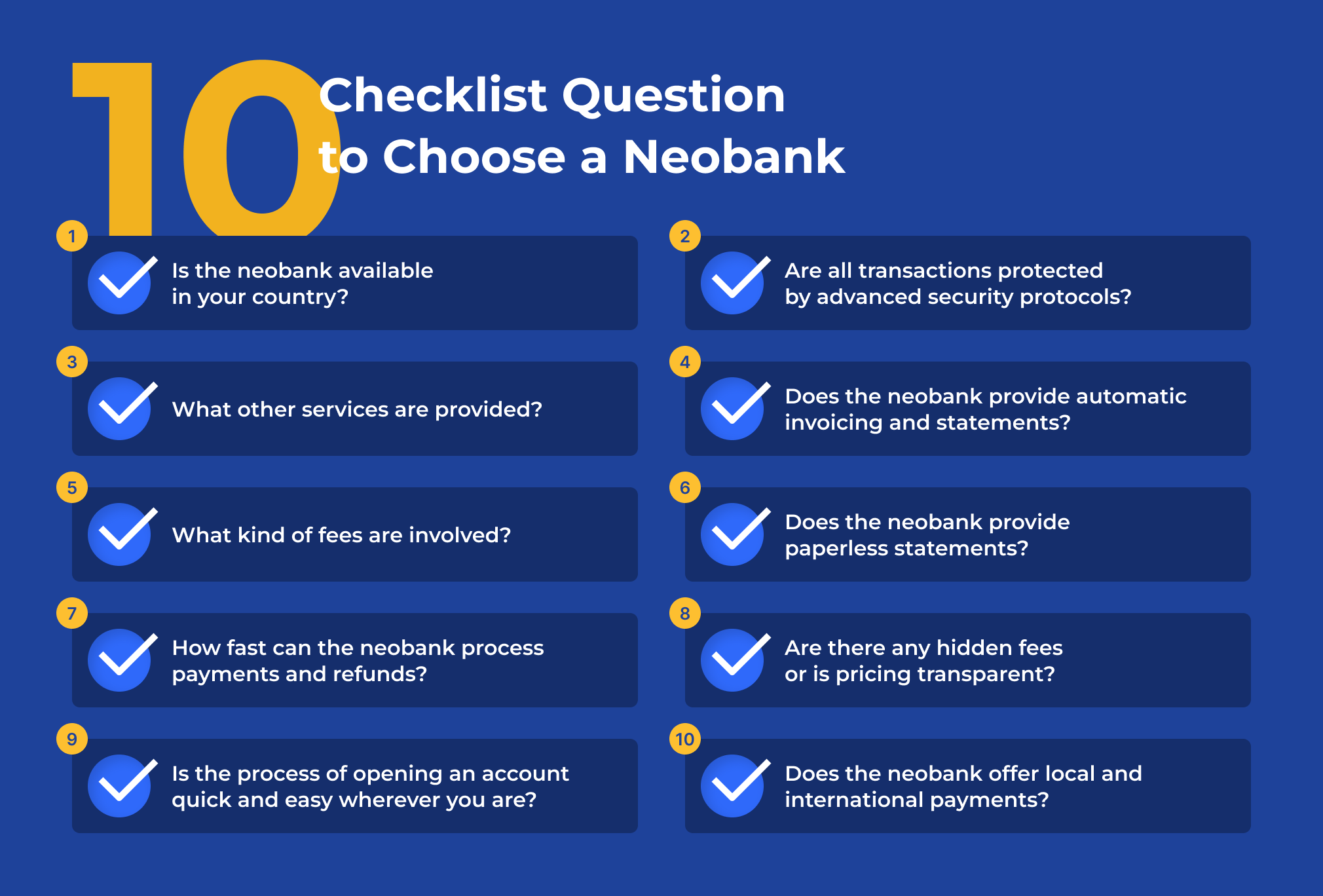 If you are happy with all of the answers to the above questions, you've found the right platform.