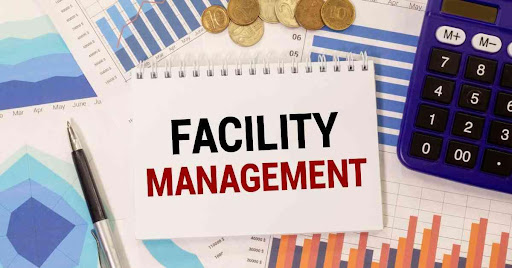 As a facility manager, you have your work cut out for you.
One of the top challenges that you face is manufacturing or general business downtime.
According to a Deloitte report, companies lose about $50 billion each year to unplanned downtime expenses. These out-of-the-blues failures don't just inflate your budget, they also delay order deliveries while elevating the likelihood of personnel injury, both of which subtract from your bottom line.
Facilities, therefore, need to utilize facility management software to optimize maintenance. 
But that's just the tip of the iceberg. 
There's a lot else that the best facility management software can do for your workflow as a facility manager. These tools can streamline communication processes to improve productivity, make asset tracking and management easier, enhance part management, and generally create a better workplace.
In this article, I will take you through the top facility management tools that will amp up your workflow's efficiency and productivity.
Let's get started. 
Maintain X is a centralized computer maintenance management system (CMMS).
Coordinating teams can be a challenge for facility managers. 
For instance, you may need to walk around the facility, manually directing teams toward problems. This work becomes tedious when you're managing expansive floor plans and numerous teams. That changes for the better with arguably the best facility management software. 
MaintainX's work order feature allows you to manage teams and tasks virtually.
You can create a work order from scratch, and then assign a particular worker to the job. Moreover, you can include images in the work order, highlighting the exact problem. This saves you from having to physically lead inspections on the ground as well as teams wasting time on the wrong tasks.
Sign up for your free MaintenanceX demo here.
This tour will give you a feel of how this CMMS can connect your teams and data better to ensure longer manufacturing uptime, and therefore more profitability.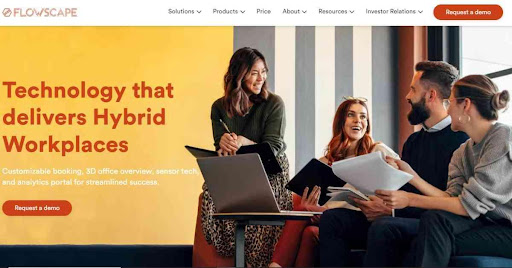 Flowscape offers cloud-based business management at any scale. 
Did you know facilities don't use 50% of their office space? 
That's right, going by a report by the insurance company, Marsh McLennan. The consequences of this unused space are unnecessary utility expenses that eat into your profit margins.
Stepping in to save the day, Flowscape provides office space optimization.
The software offers a 3D office overview, allowing you to distribute office space virtually, depending on attendance. The result is better resource allocation and collaboration as well as cost savings in terms of saved utilities.
Additionally, Flowspace allows you to plan and optimize parking for your staff as well as streamline various other minor but time-intensive decisions. You and your staff can consequently focus on revenue-driving tasks instead.
To get an understanding of Flowscape in your workflow, request your Flowscape demo right here. 
The company's product experts will take you through how Flowscape can tailor-meet your facility's unique management shortcomings. 
In the hospitality industry, good hygiene is everything. 
The lack of it can increase the risk of spreading diseases like Influenza and the Coronavirus. All these can invite facility suspensions and hefty penalties from regulators. At the very least, dirty properties will tarnish your reputation and dissuade guests.
ResortCleaning is the best facility management software for managing vacation rentals or cleaning companies.
It allows you to assign maintenance and cleaning tasks to staff, per upcoming guest appointments. Your teams have access to these tasks on the go via a mobile app, while you can communicate with them in real-time via a centralized dashboard to deliver special instructions.
Consequently, you can coordinate housekeepers more effectively and easily across multiple properties, without having to text or look over each shoulder individually.
Get your free 2-week trial today to experience first-hand how this software can also ease other aspects of your workflow, including payroll and inventory management as well.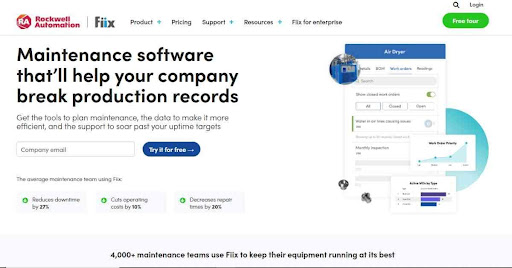 Fiix is specifically designed for predictive maintenance, which sounds good on paper but it's a lot harder to execute.
The difficulty of implementation boils down to several challenges, including a lack of interval standardization, vague instructions, and insufficient data, to name a few. 
Fiix solves the preventive maintenance puzzle primarily by streamlining work orders via customizable dashboards.
In fact, Fiix has freed up 2,000 work hours through work order optimization for a renewable energy company's global team, making it the best facility management software for predictive maintenance.
By anticipating repairs, it saves you from dealing with reactive maintenance which is usually more costly.
Additionally, with more uptime, you can make the most out of every work hour, to increase service/product continuity, and thus realize higher financial gains.
You can explore Fiix in greater detail when you schedule your free tour of the software. 
This demonstration will shed light on important track maintenance metrics that you may be overlooking.
Data-driven facility management becomes a reality with Expansive FM (EFM).
Traditional facility management with solutions like Excel spreadsheets is a nightmare. 
For instance, when you are dealing with a spreadsheet featuring thousands of entries, there are lots of repetitive tasks, which increase task completion times and keep you off track in terms of your production schedule.
EFM solves the challenges of facility management mostly through automation. 
It is a mobile-first, computer-aided facility management software (CAFM) with comprehensive reporting and analysis capabilities. You can track supplier performance and cash flow to improve service performance and reduce financial risks.
Moreover, you get access to centralized reactive and preventative maintenance, and real-time dashboards to improve coordination and simplify your compliance efforts.
Is Expansive FM the best facility management software for you? Book your free EFM demo to find out. This tour will give you a practical understanding of just how EF solves multiple facility management woes with one data-driven approach.
Are you managing a hybrid facility workflow? 
Tribeloo makes for an excellent hybrid work optimization software.
Unplanned employee absenteeism can lead to order delays, negatively impact colleague morale, and eventually hurt your facility's bottom line.
Tribelo helps prevent that by allowing you to create and customize workspaces and reminders.
With arguably the best facility management tool for small facilities, you can define booking rules and confirm check-ins via QR code scans. That's in addition to configuring staff communication like email reminders to decrease no-shows. 
Moreover, you can also improve collaboration by strategically coordinating employee seating and availability to match various projects they are working on. This improves teamwork and leads to faster project completion.
For more details,  you may schedule a Tribeloo demo here.
You'll get a front-row seat to other critical Tribeloo features,  such as how you can onboard all employees with a single sign-on to hit the ground running. 
Robin nurtures the quality of workplace relationships to improve business outcomes.
That said, workplace connections are in a critically dire status quo. 
A report by Microsoft revealed that at least 5 in 10 hybrid workers attested to experiencing communication difficulties in their workflow and consequently have poor workplace relationships. These issues have caused productivity dips and sidetracked deadlines. 
To help you get hybrid workplace communication right, Robin offers a plethora of collaboration features.
It is the best facility management software as far as teamwork and innovation goes. Robin allows you to measure workplace engagement and create better feedback loops to improve the employee experience and workplace relationships. The result of this is higher output and greater job satisfaction.
You may book your free demonstration today to liaise with a  dedicated expert who will take you through how Robin can elevate your particular workflow, in tandem with your bespoke requirements.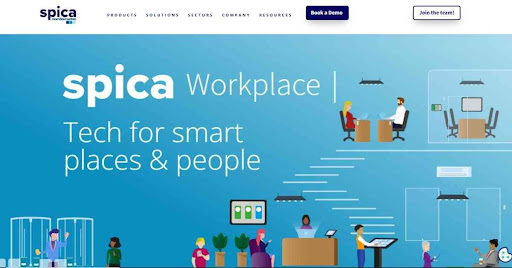 Spica doesn't just help you to manage people. It also keeps you on top of your utilities.
Approximately 70% of employees struggle with time management, which not only increases the cost of doing business due to increased overtime but also compromises employee health and productivity.
Spica Technologies steps in with a workplace platform that optimizes operations.
With their technology, you can track employee footfall, allocate space and tasks optimally, and generally leverage advanced workplace analytics to boost both productivity and employee wellness. 
And there's more still.
The company also offers software that allows you to monitor and automate energy savings across your workspace, with Spica, on average, helping companies to realize 41% in HVAC cost-savings and therefore healthier profit margins.
Take this tool for a spin when you book a complimentary Spica demo.
If you want to learn how to make the most out of it, this tour is what you need to fully master its capabilities.
Clearooms is the best facility management software for small businesses keen to shore up productivity and efficiency with a tool that has a soft learning curve.
In the modern hybrid workplace, it can be an uphill battle to manage each of your employee's needs and tasks. But that all changes with the all-in-one desk and meeting rooms booking platform, Clearooms.
Once signed up, you can upload your office's floor plan and then set bookable rooms and desks, in addition to managing employee privileges concerning these tasks. 
The longer-term benefits of these features are fewer administrative tasks on your part, freeing up time for innovation, and enhancing productivity for those under your watch.
Start your free Clearooms trial to get a front-row seat to what you can really do with this software. This demonstration will show you just how easy it is to get up and running with this simple-to-use hybrid workplace management software.
Wayleadr is essentially an employee parking management system meant to cure an overlooked yet hugely significant workplace problem.
The average person wastes 17 hours annually looking for parking space as per findings of an INRIX report. Besides the environmental impact in terms of fuel waste and emissions, this also translates to lost time that could have been spent on meaningful work.
Consequently, Wayleader enables you to streamline employee parking to ensure more focus on higher-priority tasks.
Additionally, it allows you to reduce the amount of off-site parking space you contract by better managing your facility's current space. This can lead to tremendous cost-saving benefits.
If you'd like to test-drive this tool, you can book your free Wayleadr trial with no strings attached. 
This demo will give you access to premium Wayleadr features for seven days for a clearer understanding of how parking efficiencies can boost productivity and profit. 
Conclusion 
Operational inefficiencies can threaten the life of any business.
They are not to be swept under the rug, given that inefficiencies cost companies up to 30% of their annual revenue, according to a study done by market research firm IDC. This is not a figure to scoff at as it can financially cripple any facility and possibly lead to bankruptcy.
If you're keen to keep your doors open and attract higher profits, you must leverage the best facility management software.
For factory managers, that title goes to MaintainX, which carries the day for its ability to simplify maintenance operations and frontline worker management. 
On the other hand, I recommend Flowspace if you're keen to squeeze the most out of a hybrid workflow, and ResortCleaning if your workflow involves property management.
Be sure to test drive these tools to determine which work one best meets your needs.
---
Interesting Related Article: "Key Components of Facility Management"