There is a lot of hyperbole regarding the purported aesthetic advantages of sleeping on a silk or satin pillowcase. These slippery fabrics are kinder to both the hair and the skin, which can lead to less frizz and breakage in the hair as well as help with skin issues such as acne and wrinkles.
Cotton pillowcases have the potential to be abrasive to the skin, which can result in inflammation and an increase in both acne severity and skin sensitivity. How do we get the best silk pillowcases to buy?
Silk and satin pillowcases, on the other hand, are not as abrasive and do not absorb as much moisture from the face and hair as pillowcases made of other materials. Because of this, they are an excellent choice for individuals who are prone to acne or have sensitive skin, as well as for individuals who want their hair to be more manageable because the fabric allows hair to retain its natural oils.
Continue reading to learn about the best silk pillowcase for hair and skin.
Selection Standards for the Best Silk Pillowcase For Hair And Skin
Because silk and satin are the types of fabric that are easiest on the skin and hair, we limited our selection of pillowcases to only those made from silk and satin.
In addition to that, we thought about the following:
We checked customer reviews to see what people think about the performance of these products as well as the prices at which they are offered.

We included options ranging in price to accommodate a variety of spending plans and preferences. We investigated how simple it is to acquire a specific item, which is referred to as the product's accessibility.
Here are some suggestions for the best silk pillowcase for hair and skin.
Domingo – 100% Natural Mulberry Silk Pillowcases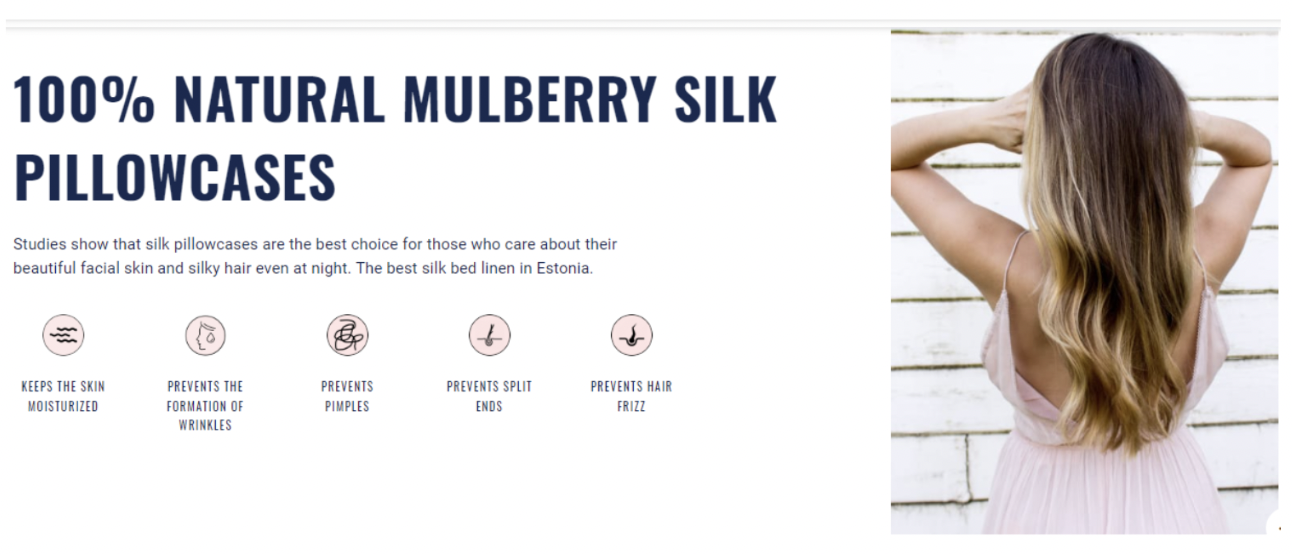 If you need a pillowcase that is naturally healthy for your skin, then the Domingo 100% natural mulberry silk pillowcases are the option for you. This pillowcase will never cause friction on the skin. Your skin remains moisturized all through the night reducing the appearance of wrinkles on your face. 
Also, the ultra-smooth texture of the silk pillowcase leaves no friction on the hair. Now you can bid goodbye to tangled hair as you wake up from bed. Making use of silk pillowcase reduces split ends. This is because the material is soft and gentle on the hair. The pillowcase is the best choice for individuals with curly hair. It reduces frizz and flyaways.
In addition, the pillowcase has a strong resistance to fungi, molds, dust mites and other allergens. It is therefore recommended for individuals with sensitive skin. The material, though delicate, is easy to wash. With the right maintenance, this pillowcase can last for several years.  Lastly, it is affordable. 
Silk Pillowcase Made of Blissful 100% Mulberry 22-Momme Silk
If you are new to using silk pillowcases, it is likely that you will need to educate yourself on momme. The density of the fabric, as well as its overall thickness, can be measured using the momme. The momme weight of silk pillowcases can range anywhere from 19 to 25. However, most people agree that a 22 momme thread count is the ideal for pillowcases because it is neither too thin nor too thick.
This silk pillowcase made by Blissy is the perfect 22 momme weight for your bedding. In addition to that, it is natural, free of allergens, and machine washable. Over 14,600 reviewers have expressed satisfaction with the fact that they did not wake up with creases on their skin or tangled hair.
The fabric is crafted from 6A-grade mulberry silk, which is considered to be the silk of the highest possible quality. Mulberry silk is produced when silkworms are given a diet consisting solely of mulberry leaves to eat.
Best for Alternative Choice
Slip Silk Pillowcase
There are different types of silk pillowcases in the market. However, it should be noted that not all of them are manufactured through the same process. Slip is an industry pacesetter in silk beauty products. The fabric offers a wide alternative of premium silk pillowcases. The mulberry silk used in the production of the pillowcase is of the topnotch grade 6A, and it is layered to a thickness of 22 moumes.
Like the regular pillowcases, the slip silk pillowcases are available in different sizes, closures, and colors to select from. Because they are made with nontoxic dyes, the colors are particularly kind to people with sensitive skin.
Excellent for Ventilation
Pillowcase Made Of Mulberry Silk And Brooklinen
The Brooklinen silk pillowcase has a chilly feel to the touch, which helps to maintain a comfortable temperature during the night. Because of its smooth finish, the product is less likely to cause damage to the skin and hair.
The OEKO-TEX standard ensures that Brooklinen is free of harmful chemicals. This pillowcase is made entirely of mulberry silk, which is widely considered to be of the highest possible quality among all types of silk.
The Finest And Most Opulent
Fishers Finery 25 Momme 100% Pure Mulberry Silk Pillowcase
The Fishers Finery 25-momme silk pillowcase has a slightly more substantial feel to it than other options made with materials that are functionally equivalent. If you're looking for the most luxurious silk pillowcase, this is the option you should think about purchasing.
The manufacturer also offers a 19-momme pillowcase that is more delicate, but the 25-momme variant contains 32% more silk in its construction.
This fabric regulate your body temperature while you sleep. Those who tend to feel hot at night are advised to make use of pillowcases made of silk. It also cut down the rate of bedhead and hair damage due to turning and tossing during the night.
The smooth surface of the high-quality silk reduces the amount of creasing that takes place on the skin. Those who sleep on their sides benefits so much from this type of pillowcase.  
Two Pack of the Best Value
Bedsure Satin Pillowcases, Ideal for Hair and Skin
Satin is the next best thing for people who are looking for a product that has the look and feel of silk but costs less.
Silk pillowcases are more delicate and easily damaged than satin pillowcases, which are typically made of polyester that is made up of one hundred percent.
People who have curly hair should opt for polyester pillowcases rather than those made of cotton because polyester does not retain moisture in the same way that cotton does. This helps prevent the formation of frizz.
Additionally, satin pillowcases are simpler to maintain than other materials. Bedsure pillowcases are made of satin, and they can be machine washed. You get more for your money when you purchase this option, which comes in a set of two.
Best for Skin Health
Kitsch Pillowcase Made Entirely Of Satin
Kitsch has satin pillowcases that are designed to accommodate a wide range of hair types and textures. It also has its selection of scrunchies and other hair accessories.
These satin pillowcases are beneficial to the skin. Also, it primarily prevents damage to the hair. The slippery surface helps to reduce the amount of facial creasing, which in turn helps to reduce the appearance of wrinkles over time.
Some reviewers find that having a zipper closure on a pillowcase is less comfortable than having an envelope closure, despite the fact that having a zipper closure is more convenient for preventing slipping.
Best for Hair & Skin
Silk Pillowcase by SLPBABY
The kind of hair that gets tangled and matted during the night is a prime candidate for an improvement that is more friendly to hair. Although silk pillowcases are typically more expensive than other types of pillowcases, there are some options that are more reasonably priced than others while maintaining an equivalent level of quality.
SLPBABY is a go-to choice for many people who want to test out silk pillowcases but don't want to break the bank in the process.
In addition to its affordable prices, SLPBABY stands out thanks to its unique collection of whimsical prints and patterns. You also have the option of selecting solid colors. Since the pillowcases with patterns tend to have a more granular surface, some reviewers suggest selecting a solid color rather than a print instead.
Best Value Pillowcase
Morning Glamour Two-pack Signature Box Pillowcases
The Morning Glamour set comes with a pair of satin pillowcases that are made of 100% polyester. This is the best valued pillowcase.
This fabric is best for the hair and skin because of the friction-reducing properties of the pillowcases. They are also manufactured with a stay-put flap. This is an alternative to zippers, and it makes the fabric more comfortable.
Individuals who make use of queen-sized pillows might want to consider purchasing larger pillowcases. They are made to size pillows of  standard measurements.
Best for Gifting
100% Mulberry Silk Pillowcase by Adubor
People who like to take care of their appearance may appreciate receiving silk pillowcases as a gift. The luxurious Adubor silk pillowcases come packaged in a beautiful gift box, making them an excellent option for giving to other people (or yourself).
Each pillowcase is crafted using one hundred percent 23-momme mulberry silk with a thread count of 600, which results in an excellent level of quality given the reasonable cost.
These pillowcases have a zipper closure; however, the zippers are designed to be well hidden on the sides of the pillowcases, and their color is designed to blend in with the color of the fabric. It is suggested that you dry clean the item or wash it by hand, but it can also be machine washed if certain instructions are followed.
Conclusion
Best silk pillowcase for hair and skin are the most luxurious option for a restful night. Investing in a silk pillowcase is something to think about doing if you want to be extra gentle on your hair and skin while you sleep. Satin is a suitable alternative to silk that is just as slippery at a price that is more affordable. This is because silk can be expensive. In addition to taking care of your hair and skin, sleeping on a silk or satin pillowcase can have significant positive effects on your appearance.
---
You may be interested in: Why Silk Luxury Bedding is the Perfect Wedding Gift