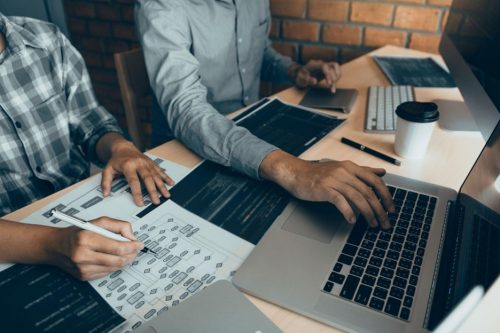 Starting a company is a big step for anyone. Entrepreneurship can be daunting, but it doesn't have to be when you know what to do first. In this article, we'll show you ten essential things that must happen before starting your own business.
Research your industry
This may seem like a no-brainer, but it's important to do your homework before starting a company. That means learning about the industry you're entering, the competition, and the potential customers you'll be targeting. This research will help you determine whether there's actually a market for your product or service and give a better understanding of what you need to do to succeed.
Plan out your business model
Your business model is how you plan on making money from your new company. There are many different ways to make money, so there's no one-size-fits-all answer here. You'll need to come up with a plan that makes sense for your business and then figure out the best way to execute it.
Branding is Important
Your company's branding is one of its most important assets. It's what customers will remember you by, so it's critical to get it right from the start. This includes your company name, logo, tagline, and overall look. Be sure to invest time and money into creating a strong brand that will help set your business apart from the competition. If you can't think of a name, a company name generator might help.
Build a team of experts
No one can do it all alone, so you'll need to build a team of experts to help you run your company. This might include employees, contractors, or consultants, depending on your business. Be sure to find people who are knowledgeable and passionate about your industry and can help you reach your goals. This is one area where it's important to be willing to invest the time and money to get the best results.
Create a business plan
A business plan is a document that outlines your company's goals and how you plan on achieving them. It should include detailed information about your products and services, target market, marketing strategy, financial forecast, and more. Creating a business plan is essential for any new business and will help you stay on track as you grow.
Get started with marketing
Marketing is key to any successful business. You need to create a marketing strategy that reaches your target audience and generates interest in your product or service. This might include traditional marketing methods like advertising and PR or newer methods like social media and content marketing. No matter what approach you take, it's essential to allocate the time and money needed to make it successful.
Set up your finances
You'll need to set up your finances properly from the start if you want your company to be successful. This includes creating a budget, tracking expenses, and setting aside money for taxes. It's also important to choose the right accounting software and have a system in place for tracking sales and revenue.
Get registered
Before you can legally start doing business, you'll need to register with the government. This process varies depending on what country you're in, so be sure to check with the appropriate authorities. You'll likely need to file articles of incorporation or set up a business bank account.
Choose your legal structure
Your company's legal structure determines how it's legally organized and taxed. There are many different legal structures to choose from, so be sure to research them all and choose one that's best for your business. This will have a big impact on how your company operates, so it's important to make the right decision here.
Plan for the future
It's important to always be thinking about the future when starting a new company. This means setting long-term goals and planning for growth. You'll need to invest in resources like employee training, sales, and marketing campaigns, and new technology to help your company keep up with the competition. Putting in the work now will pay off down the road.
Conclusion
Starting a new company can be a daunting task, but if you follow these ten essential tips, you'll be on the right track. By creating a plan, building a team of experts, and investing in your marketing and financials, you'll give yourself the best chance for success.
---
Interesting Related Article: "Business Formation Guide: Choose a Business Structure"