Looking for unique patterns and stylish Bathroom Wall tiles for your bathroom walls? We list ten amazing wall tile styles and patterns in this blog to help you create the bathroom interior of your dreams.
Understand that you can choose any surface texture for bathroom wall tiles in India. The best bathroom tiles often feature high-gloss, satin matt, and polished surfaces. Since wall tiles don't need to bear weight or provide a skid-resistant surface, high gloss surfaces are a popular choice as they are easy to maintain.
Here are the ten patterns and designs for bathroom wall tiles:
Wood Planks
Wood planks tiles for bathroom walls perfectly recreate a natural wood interior. The warmth and homely feel of wood can set your mind at ease in your bathroom. Wood plank tiles recreate the wooden interior without the disadvantages of natural wood tiles.
GVTs are almost waterproof and have a non-porous surface, which makes them stain-free. These properties also help the GVTs to avoid fungal growth to some extent. So, if you can add waterproof grout lines to your GVT floor and walls in your bathroom you can expect a completely water-safe space.
You can use a single wood tone for the entire bathroom or mix and match two different colour tones for your bathroom. Also, no one said that you must install the planks in a certain order. Plank tiles allow you the freedom to have a unique tile pattern apart from horizontal and vertical.
Install the planks diagonally or create a herringbone pattern for a uniquely creative interior.
Ceramic Wood Finish Tiles
Unlike wood planks, wooden tiles are larger ceramic Tiles and vitrified tiles. These tiles will also create a wood pattern in your bathroom. However, unlike wood planks, these tiles may not do well when installed in mixed-colour tones.
These larger tiles are easier to install and do well on the bathroom walls. But,  easier but keep your bathroom interior natural, the same as wood plank tiles.
Rustic Stone Finish Tiles
Rustic stone is also a GVT with a natural stone appearance. These tiles often feature veins just like natural stones. The rustic, non-reflective surface makes these tiles replicate the natural stone look perfectly.
Ceramic Tiles with High Definition (HD) Prints
HD-printed ceramic tiles are some of the most popular wall tile designs for bathrooms. You can install these tiles in a unique pattern according to their coordinated design. These high-gloss tiles make your bathroom look organised and professional.
Unique Colours Explosion
Modern digital hi-tech printing technology allows tile manufacturers to create mind-blowing patterns with natural colours on glazed vitrified tiles. Some of these designs can be quite mesmerizing and turn your bathroom appearance into an adventurous place every time you enter.
These tiles usually boast bright colours and explosive patterns, including ocean waves, red granite, deep lake, and forest green shades, to name a few.
Special Polished Tiles from H&R Johnson
Love natural marble patterns? H&R Johnson's specially polished marble look tiles can provide just that. These special polished tiles are available in randomised prints, i.e., no two tiles in the same box will have a matching pattern. Thus, they're as close to the natural marble surface as they can get.
Geometric Patterns
The Geometric or digital pattern tiles are the best bathroom wall tiles for people who love to be a little more creative with their bathroom interior. Geometric tiles allow you to recreate a modern bathroom interior wall in several ways. You can fill the entire wall with a geometric pattern or use geometric tiles as listellos between plain colour tiles covering the wall. 
A geometric tile accent wall is also an attractive choice in the bathroom while mixing the pattern with other tile designs. These patterns also do well with commercial bathrooms and modern office bathrooms.
Geometric tile designs also cover the extra luxurious bathroom interior with bright colour lines over a dark background.
3D Elevation Tile Designs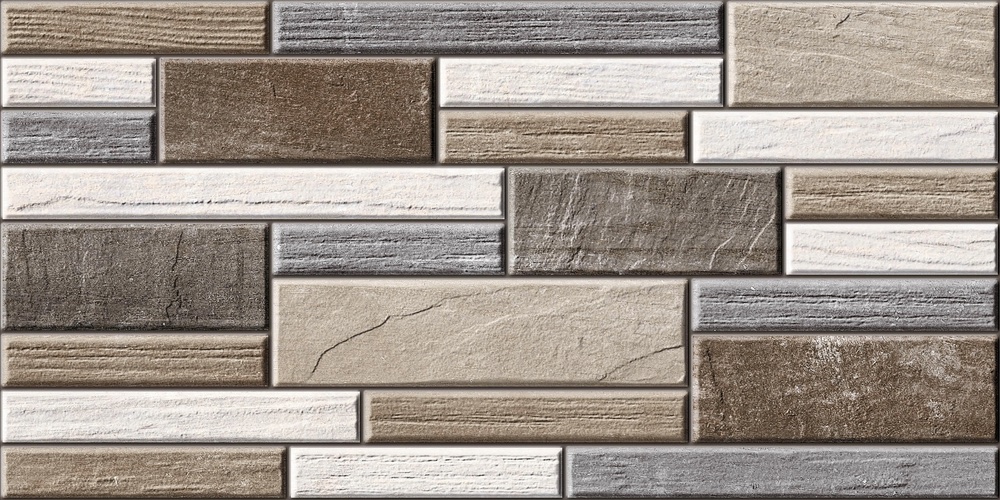 You may call 3D elevation tiles cousins of geometric tiles. While the design patterns have little difference, the big difference is in the feel. Often embossed on the tile, 3D designs can be felt on the tile's surface with a touch.
Two types of 3D elevation tiles are available, and you are advised to use the 3D tiles with high gloss surfaces in the bathroom. These tiles will be much easier to maintain and will avoid grime and water stains much more easily.
Even though other 3D elevation tiles are stain-free, the 3D design often catches and keeps dirt and grease over time. One of the popular uses of 3D pattern wall tiles is to build an accent wall over the vanity wash basin.
Classic Heritage Tiles
Classic or heritage tile designs give your bathroom a plain classical appearance. The small, solid colour and glossy finish tiles can take your bathroom looks back to antiquity. You often get these tiles in square and rectangular forms. 
While square tiles can be installed in a chessboard pattern when combined with black or white heritage tiles, rectangular tiles give more creative options. You can install rectangular tiles in subway patterns, diagonally, and in herringbone patterns.
Size Your Tiles Correctly & Modulate Interior
You will be amazed to notice how larger tiles can easily lift a room's luxury marks. Bathroom walls are the best place for larger tiles, as you can use the large tiles without worrying about the slope and installation limits. If you have a big enough wall, you can try covering the entire wall with as few tiles as possible.
However, larger tiles do have one disadvantage. If the tile breaks for any reason, the replacement cost will be higher than the smaller tiles. Although, the chances of the GVT tiles breaking are usually low.
Also, take care of the grouting of the bathroom tiles. Using waterproof grout is advisable, especially for the Indian bathroom environment.
---
Interesting Related Article: "In general, how long does it take to tile a bathroom?"