Are you hunting for the top passive income ideas for 2023?
One can greatly grow their wealth and improve their financial stability by developing passive income.
Even while generating passive income takes time and typically begins as a trickle, well-designed streams can eventually replace all the money you make from employment in Canada, enabling you to achieve financial independence.
Ideas to generate money are always appreciated, regardless of whether we are considering a change in careers or need to take on more work to achieve a goal.
There are fresh opportunities every year in Canada; for instance, many people have secured credit cards in Canada to save up to start their businesses or change careers.
To begin, you must understand what passive income is.
Let's get started.
Passive Income
Income that doesn't come from a regular employer and takes much work to create and sustain is known as passive income (or unearned income, as the Internal Revenue Service refers to it).
Investing in mutual funds or real estate, selling goods online, creating online courses, or engaging in various side jobs that don't need active participation are all examples of passive income sources.
Passive income, in contrast to active revenue, is frequently produced automatically and offers additional income with little time and effort. 
You'll have more time flexibility and your money will improve. Stress and worry can be reduced by not having to exchange your time for money, and having more money in the bank can boost your sense of financial security.
Consider the following passive income options if you're a service provider wishing to cease selling money for hours or a product firm looking to add income streams that don't require the complexity of shipping out tangible things.
What Advantages Come With Passive Income?
You are ensuring your financial stability if your major source of income is lost due to a loss of employment.
For example, 
You will have residual income streams to support you until your primary source of income is replaced. 

The less you depend on a paycheck, the more passive income you have.

You become location independent if you have enough passive income. 

You may live anywhere you choose when you have additional cash from several sources that allow you to work less or not at all.

As long as you had the passive income to sustain it, you could live anywhere, travel for a living, or both.

You can retire earlier in life. You have a decent chance of retiring earlier if you generate a sizable amount of passive income.

Many people like the idea of

Financial Independence and Retire Early

(FIRE) since they don't want to work for most of their life.
Methods For Developing Multiple Streams Of Passive Income
The traditional way most people make money is by exchanging their time for cash. But;
What if you could use that cash and your free time to establish one or more passive income streams?

What would you buy if you had additional cash?

Would you put money aside for a large purchase, settle debt, or raise money for a major undertaking?
Passive income can be used to fund the creation of additional passive income. Your monthly earnings improve over time when you have passive income that generates other passive income, which results in more money in your bank account.
Let's discuss some great passive income ideas that you may use to start generating more income.
Writing an ebook can be a smart way to benefit from the low cost of publication and even use Amazon's global distribution to bring your book in front of possibly millions of prospective customers. 
Since they rely on your skills, ebooks may be created for relatively little money and lengths of 30 to 50 pages.
You'll need to be an authority on a certain subject, although it's possible that the matter is narrow and calls for specialized knowledge or talents that few possess but that many people desire. 
On an online platform, you can quickly create the book and test-market several titles and pricing points.
Keynote: An ebook may serve as a vehicle for directing readers to your other products, such as audio or video courses, other ebooks, a website, or perhaps more valuable seminars, in addition to providing them with useful information and value.
Renting out real estate is a good strategy to generate passive income. But more effort than people think is frequently required.
According to John H. Graves, a Los Angeles-area Accredited Investment Fiduciary (AIF) and author of "The 7% Solution: You Can Afford a Comfortable Retirement," if you don't take the time to learn how to make it a profitable venture, you risk losing your entire investment.
A growing number of people are turning to blogs to generate money online. There is always an audience whether you talk about;
Personal finance.

Parenting.

Education.

Crafts.

Gardening.
Many bloggers lose motivation when they don't achieve immediate results. So, it's important to keep in mind that blogging is a marathon, not a sprint.
Beginner bloggers sometimes take over a year to begin to make any substantial money, while top bloggers use their websites to make a full-time career, making blogging a terrific way to make money and live the life you desire.
You may make money by blogging. Your income will increase in line with the growth of your traffic and offers through
On-page adverts.

Affiliate marketing.

Authoring sponsored content.

Developing your goods and services.
By actively blogging, you may gradually increase your passive income. In time, you might be able to outsource most of your blogging duties to make your payment more and more lethargic.
Sell Second-hand Products
Another money-making scheme that requires a start-up investment is this one.
Previously, the term "second-hand" solely applied to the selling of worn, occasionally even damaged, or extremely old items.
However, there was a push to idealize the old, which led to the revival of fashion for vintage items, including clothing, books, and even furniture.
As a result, there were more second-hand stores, particularly in big cities, and people were looking for more vintage items.
For individuals who support this movement, purchasing used items and letting others sell them is a fantastic choice.
The popularity of online learning has increased recently. Sites like Udemy and Skillshare have built platforms on which teachers may provide online courses to the general public.
Making an online course may make sense if you have a subject you are very educated about and can teach to others.
In the realm of blogging, online courses are common, and many site owners offer them as one or more of the items they sell to make money.
Except for any updates or general maintenance you may need to perform on the course, the cash earned after it is built is passive. However, you may hire out some of this work.
Mortgage Notes Investment
Simply put, a mortgage note is a promissory note that is only used in real estate transactions. As its name implies, it is a promise made by the borrower to the note holder (lender) that they would pay back the debt. 
These mortgage notes are legally binding papers even though they are often not included in the public record.
This passive income strategy needs time and effort, just like any other. However, it is one of the finest strategies for anyone looking for a reliable source of steady income.
A mortgage note may also be known as a borrower's note and a real estate lien note due to its recent rise in popularity. It has several advantages, such as:
The yield on these bonds is higher than the yield on the bank's low-yield bonds.
It exceeds stock dividends in value.
Holding real estate mortgage notes allows you to generate passive income, or you can purchase the letter and sell it to another investor afterward.
You may take advantage of the semi-passive income potential of building an Instagram following.
You may approach businesses in your niche to discuss sponsored content once you've built up a following.
While someone with more than a million followers may earn six figures per year from sponsored content, the average micro-influencer marketer can make between $250 and $300 for a sponsored post.
An excellent method to get started is to work with a company and incorporate their goods or services into the images and videos you're already doing. In your articles, you can mention products that are featured in your videos and photographs using affiliate links.
On Instagram, you can market your items in addition to just sponsored material by including a link in your bio. You may then often link to your bio in your posts.
Do you have a spare room? Rent out your extra room to local travelers via a website like Airbnb.
Renting out rooms in a popular neighborhood might bring in up to $1,000 or more per month. Owning a vacation rental home and using Airbnb to rent it out during high season is a common usage of the platform.
For instance, you may own a house in a lake town that is well-liked by visitors in the summer or a home in the mountains that is well-liked in the winter.
One concept is to rent out weeks or weekends to visitors and engage a cleaning service to take care of the place in between guest visits.
Do you have a second vehicle, or don't you frequently use your own? You may hire out your automobile to locals on a company like Turo. Depending on the kind of car you're renting, you may make between $80 and $250 per day or more, according to a fast search.
This is a great technique to get extra passive money. You don't have to worry about what will happen if your renter damages your car if you rent via Turo because you can purchase insurance directly from their supplier.
An individual who rents one automobile makes, on average, slightly over $10,000 annually.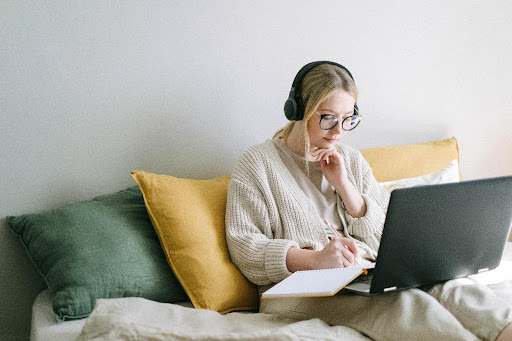 Another job that allows you to work from home without having a lot of specialist skills is transcription. The process of converting an audio recording into written text is called transcription.
An audio file will be provided to you, and you must put it down in writing form. These may come from several fields, including the medical, legal, or general categories. You have a decision to make.
The money is often made on an hourly basis, so if the audio file is an hour long, you will get compensated for that hour's effort. You and the customer can agree on the compensation or the costs.
You may stay at home and have a carefree life thanks to your job. Even if you might have to put in some work, you'll still get paid. Then, why not!
You wish to market your handcrafted products and show the world the quality of your work.  
More people than ever are purchasing goods online, including baby clothing, skin treatments, toys, cosmetics, home cleaning supplies, and even shoes.
Either open your online store or partner with one of the well-known e-commerce platforms like successful Amazon seller, eBay, and others. 
Thanks to the internet, you may now communicate with over 5 billion people worldwide.
Bottom Line
You may leave your typical working system and enjoy financial independence when you have a passive income. It also gives you the ability to generate ideas, feed your passion, and profit from it.
Depending on the specialty you have chosen, the outputs might range from low to high and even extremely high.
You have a wide range of chances to make passive income in 2023, from investing in music and advertising on Instagram to monetizing blogs and YouTube channels.
All you need to do is decide on your area of interest and calculate your budget.
Start saving for the future now!
---
Interesting Related Article: "Plan Your Personal Finances in 8 Easy Steps"