The most challenging aspect of wearing wigs is giving the impression that your unit is natural hair. We're confident you agree. Even if a lace front wig of good quality may contribute significantly to the creation of a natural appearance, however, you do not need to purchase the most costly wig in order to pull off a natural slay. A wig that has been dressed correctly will be unnoticeable along the hairline; it will seem to be sprouting from your scalp, so naturally, that other people won't be able to determine whether it is or is not your real hair.
In addition, you don't need to be a professional in order to make a wig seem natural; all you need to do is learn how to modify your unit. In this blog post, we will discuss 12 tips that will help make your wig look more natural. We'll cover everything from choosing the right color to styling your wig correctly. By following these tips, you'll be able to rock your wig with confidence and make everyone believe that it's your real hair!
Tip 1: Get a Human Hair Wig
Each textured human hair lace front wig has its own personality, just as your natural hair does. Because human hair has a natural cuticle layer that reflects light in the same way as wigs made of Virgin or Remy Human Hair do, these types of hair are used to create the most realistic-looking wigs. They also provide the appearance of a very genuine scalp and can be groomed in the same manner as your own natural tresses, allowing you to obtain a wide range of different appearances. It may also be curled, straightened, colored, or chopped according to your preferences. If you choose a synthetic wig, it won't have the same natural appearance as real hair, and you won't be able to style it in the same manner that you would with real hair.
Tip 2: Choose Wig Lace that Melts Down
Why is lace material so important when it comes to making your wig look natural? The answer is simple: if the lace isn't of good quality, it won't melt down and blend in with your skin. To ensure that your unit has a realistic hairline, make sure to choose a wig with ultra-thin Swiss or HD lace that can be customized and easily melted down with a wig adhesive. You all know the saying: "Good lace equals a good hairline." Because certain kinds of lace are difficult to melt because of their thickness and rigidity, you will need to make sure that you choose specific lace that will simplify the melting process. Most HD lace wigs are made with thin, ultra-fine lace that can easily be customized to perfection.
Tip 3: Make Sure the Color and Density are Just Right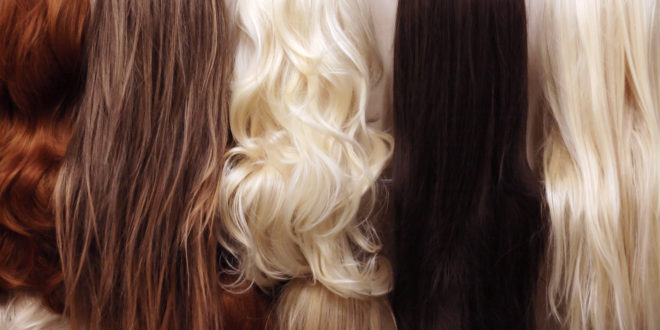 If you want your wig to look as natural as possible, color matching is essential. The shade of the wig should match either your real hair or the color of your scalp. Additionally, the density of the wig should match your natural hair as well. If you're a person with thin hair, choose a wig with light or medium density; if you have full locks, opt for a wig that has heavier density. When it comes to color selection, don't just think about the current color of your hair; also consider how often you change your hair tone. You will want to be able to easily change the color of your wig in order to keep up with the varying hues of your natural hair.
Tip 4: Cut and Blend It Professionally
Don't be afraid to chop a few inches off your unit! Many people are hesitant to cut their wigs because they're afraid of ruining them, but in reality, professional cutting and blending are essential for a natural appearance. To ensure that the wig looks as seamless as possible, it's important to customize the length and density according to your desired look. Most wig experts recommend having your wigs professionally cut and blended by a licensed cosmetologist or hairstylist. This way, you can be sure that it will have a natural-looking finish.
Tip 5: Measure Your Head, then Buy a Wig
Before you purchase your wig, it's important to measure your head. Measuring the circumference of your head helps determine the size of the wig cap that will fit you perfectly. Purchasing a cap that is too large or too small can result in an unnatural-looking appearance. To get an accurate measurement of your head, use a measuring tape to find the circumference of your head from ear to ear. Your wig should fit your head comfortably and securely, allowing you to move freely without fear of it slipping off.
Tip 6: Pluck the Hairline
If you want your wig to look as natural as possible, you'll need to pluck the hairline. Plucking is a process that involves taking tweezers and carefully pulling out single strands of hair from the pre-made hairline. This creates a more realistic shape and helps reduce any unnatural thickness in the hairline. Taking photos of your own hairline beforehand can help you get a better idea of what shape and thickness will look natural. Plucking is a bit intricate and requires patience, so be sure to take your time to make sure that it looks perfect!
Tip 7: Bald Cap Method: Braid Your Hair Flat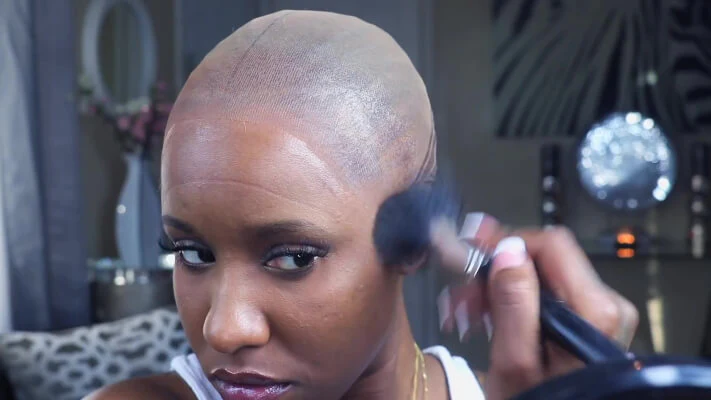 Nothing ruins the look of a lace front wig faster than visible bumps or lumps. To make sure that your scalp area is smooth and free from any imperfections, you can use the bald cap method. This involves braiding your own hair flat against your head so that it doesn't show beneath the wig. After braiding your hair, you can then place a bald cap over it and glue the wig down. This will create a smooth and seamless transition from your scalp to the wig, giving you an overall natural-looking appearance.
Tip 8: Cut the Lace along Your Hairline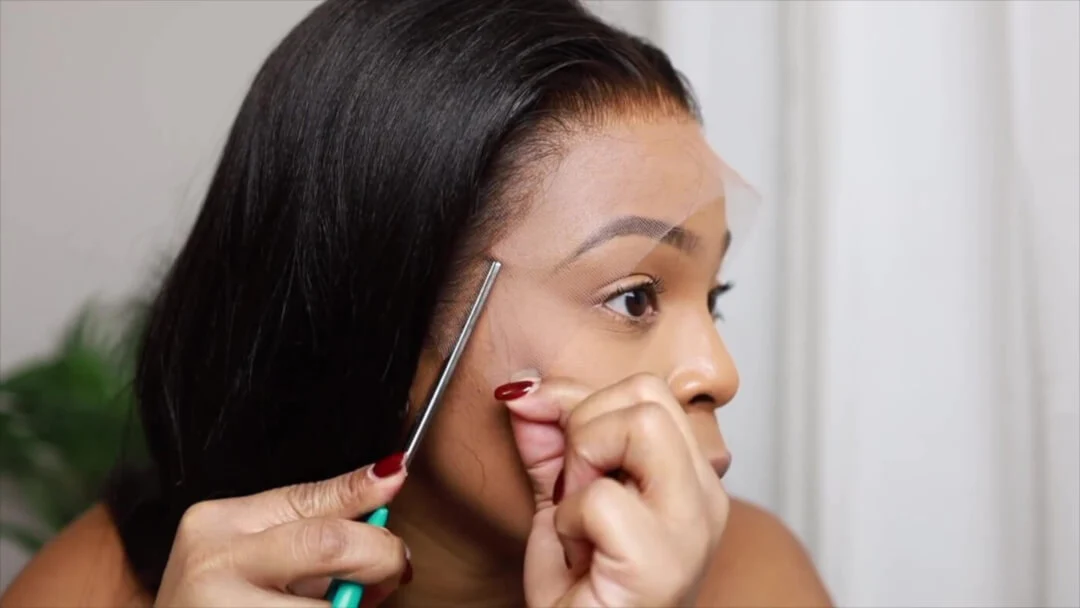 Even though cutting the lace along your hairline is a pretty simple process, some people still struggle with it. By following these procedures to properly cut the lace, you may reduce the likelihood of causing harm to the lace or the wig. After you have placed the wig on your head, use a white eyeliner pencil and outline the hairline of your real hair. Your natural hairline should be approximately a quarter of an inch in advance of where you want to draw the line. The next step is to cut the lace into the form that you just designed using some hair-cutting shears, nail-cutting scissors, or an eyebrow razor. Keep in mind that you need to remove the ear tabs, but you shouldn't cut the adjustable elastic band.
Tip 9: Melt Down the Lace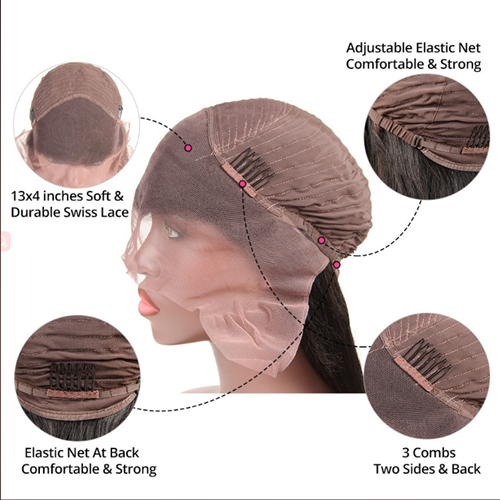 By melting down the lace, you can create a seamless transition between the scalp and your wig. After cutting the lace along your hairline, you can use a low-heat iron to melt it away. You should move the iron slowly and gently over each section of the lace until it appears to be melted into your skin. Be sure to work in small sections and to keep the temperature of the iron low, as too high of a temperature can damage the lace. You should also avoid getting any hairs caught in the iron, as this will create an unnatural appearance.
Tip 10: Create a Natural Part
Creating a natural part is a non-negotiable stage in making your wig seem real. The fact that your wig is not your real hair will be obvious if the part in it is the wrong color or if it is not plucked correctly. Using the straight end of a rat tail comb, separate your wig exactly where you want the part to go in order to produce the appearance of a natural part. You will need to use your tweezers to make a portion in the wig if it does not already have one pre-plucked for you. Pluck each individual hair as you make your way from the hairline to the end of the part. Plucking in rows is an effective way to avoid creating a section that is too broad.
Suppose you find that one row of hair removal is not sufficient for your wig and your general appearance; proceed to remove another row of hairs in the opposite direction of your part. It is quite unlikely that you will have to remove more than two rows of hair.
Tip 11: Opt for a Rooted Wig
If you are interested in experimenting with colored wigs, it is recommended that you go with a rooted style. A colored wig with dark roots and a gradual transition into another hue is referred described as having rooted highlights. It has a more natural appearance than a wig that is pink, red or ginger from the roots all the way to the ends. When you are shopping for a wig, look for one with rooted highlights to get the most accurate and realistic-looking style.
Tip 12: Try a Wig with Bangs
The hairline may be concealed with the help of bangs, which also provide a more natural appearance than any other kind of wig. You may also use hair-cutting shears to add bangs to your wig in a matter of minutes, even if it doesn't come with them already. When you are cutting your bangs, you should be sure to remove just a small amount of hair at a time so that you do not remove too much. If you are unsure of how to cut your own bangs, you may consult a professional hairstylist who specializes in wigs.
So, if you want to make your lace front wig look more realistic, following these tips will surely help. Whether you are cutting the lace, blending in the roots, or adding bangs, these tips will help you to achieve a more natural-looking wig. With a bit of patience and practice, you can master the art of wearing wigs and be confident in your new look. Good luck!
---
You may be interested in: Know About The Process Of Human Hair Wigs!