If you love hunting, or even just escaping to the woods for a weekend, a hunting lodge is a great way to combine your hunting and shooting hobbies with your love of the great outdoors. A hunting lodge serves not only as a place to make base during hunting season but also provides an excellent location to vacation away from it all with family and friends.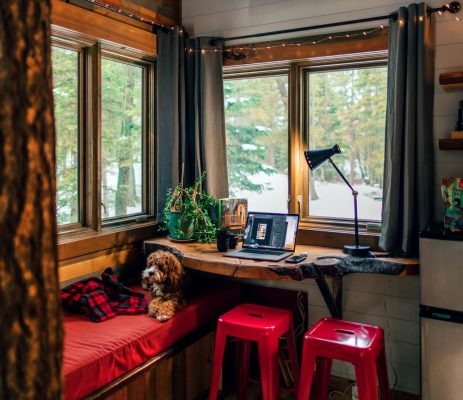 Versatile in its use, it is still a more traditionally rustic style building and you should decorate it as such if you want. You don't have to settle for a stereotypical hunting lodge decor if you have different tastes, and it's entirely possible to create the perfect space you need for you and your family. Take a look at the amazing ideas we've brainstormed below to get you the inspiration you need for the perfect home away from home.
1. Cabin Location and Inspiration
Rustic cabins aren't always tucked up in the mountains and forests. They can be found along peaceful streams and rivers, on lakes and ponds, and in open grasslands. Anywhere good hunting and fishing can be found, you might find a lodge to make your own, and the environment may go a long way towards your decorating style. For instance, you may want to introduce rustic wood paneling in the bright rooms facing a reflective pond or lighten up a dark entryway to a cabin in the woods.
2. Rooms to Focus On
Whether you are on a budget or have the means to do exactly what you want, interior design and decorating can take time. Putting your ideas together and finding the perfect pieces for your spaces doesn't always happen all at once, and so you may want to focus on certain specific rooms before others. No matter the size of your getaway, bring attention to high traffic areas first to make it welcoming and enjoyable.
Front Entryway
Since lodges are designed with outdoor sporting in mind, you definitely want an area that is easily accessible, spacious, and welcoming to store your gear in and keep from trudging in any dirt or grime you might be carrying around. A good entryway can also be the perfect place to design safe organization for guns, gun accessories, and ammo. Fishing poles and gear, as well as hooks for to hang clothing, and shelving
Living Spaces
The main living space is most likely where you gather and relax after a long day of hunting, fishing, and hiking. You want this space to be comfortable and welcoming, and an area that allows your family and guests to truly feel at home.
Kitchen
Kitchen spaces are often a place for everyone to gather in and around while you process and prepare the food you just gathered. It also is an informal space that should be easy to communicate in while you pour a drink and prep your meals.
Guest Bathrooms and Bedrooms
Where you sleep is important, but if you plan on having guests, you want to ensure they are comfortable and secure before your own comforts. The bathroom your guests will use when they come over, as well as where they rest, need to be clean and uncluttered.
3. Decorative Ideas for Your Rustic Retreat
When deciding what to add and how to decorate, consider some of the following ideas. Don't be afraid to mix and match genres, or add touches of contemporary color to a more rustic decor. Also, be sure to consider the usage of the space. If it is purely for a hunting retreat, and you won't be entertaining, then you might not need to be so conscientious. But most people like to take advantage of their retreat space year-round, so feel free to make it feel as much as home as possible.
Furniture
Be sure to pick furniture that is first, comfortable, and second, compliments the style your home is built-in. If your natural lighting is low, and your walls darker, look to pieces that boast a lighter upholstery and avoid patterns to create a brighter space that doesn't seem cluttered. Large pieces, dark wood and leather, and patterns bring life to rooms that are bright or have warm, bright tones.
Flooring
You don't want to saturate your cabin with wood, and thus lose the contrast between various textures and colors. Although it is commonly used for walls and flooring, you can easily break it up with your choice of furniture, as suggested above, and decorative rugs. Choose rugs that compliment the colors in your space and provide a contrast to the warmth of the wood. Even though wooden flooring is often coveted, consider something different. For example, Slate tile flooring is complementary to wooden beams and walls as well.
Color Themes
Deep reds, greens, and blues that highlight the warmth of any wooden construction that might exist are very traditional, but they can make your space seem dark and shadowy unless you have large windows to allow natural lighting. Look to lighter options in the same color scheme to help brighten a room and make it look larger, or choose patterns and fabrics that thread a lighter color, such as tan, creme, or white throughout or along the edges of curtains, rugs, pillows, and throws.
Lighting
We've mentioned natural lighting a few times already, but it is important to take advantage of it where you can. But you can't always rely on it, and lighting options for your place should mimic a clear, bright glow as much as possible. Look for overhead lighting options that help dispel corner shadows, and allow you and your guests to see clearly.
Outdoor Living Areas
Don't neglect your outdoor patios and decks either. These are excellent gathering places and should have the same basic creature comforts you have indoors as well. Places to sit, lounge, and place food or drinks makes it a welcoming space. Also consider heating elements, such as radiating heat lamps to keep everyone cozy during the collider months.
---
Interesting Related Article: "Easy to Follow DIY Home Renovation Ideas"