Why Choose Facebook Marketing?
Maybe you can't imagine how huge the Facebook marketing market is. According to authoritative statistics, the number of daily active users of Facebook has exceeded 2 billion, and Facebook marketing has become an indispensable and important link.
Maybe in the past, you could attract and reach potential leads by posting and updating your social media profile, but this has all changed completely after Facebook's algorithm update in recent years. People figured out how to just do it the way they used to, it was hard to get more attention and engagement on Facebook. This means that Facebook marketing that relies on organic traffic is already limited, and now people are less likely to see your posts and posts if they don't like and follow your business.
To solve this problem that plagues everyone (you could tell they created it on purpose), Facebook offers an advertising platform that allows people to create paid-based marketing campaigns to attract and get more potential leads. Right now, it's the only effective way to grow your business, get leads, and grow your popularity on Facebook.
With this in mind, it's critical to understand how to use the platform to meet your business demands. Well, maybe you're tired of discussing basic Facebook marketing strategies, so let's talk about some of the more advanced stuff in Facebook Marketing.
Event-Based Lookalike Audiences
To get more targeted audiences on Facebook, you can do this by creating a 'lookalike audience' based on conversion events. First of all, Facebook Pixel and conversion tracking are already set up and working their magic, they can record and monitor the most important conversion actions (such as registration, add to cart, or purchase).
Now, you can use these counted and monitored audiences (based on conversion events) as source audiences to create brand-new lookalike audiences to get more conversions. You have provided Facebook with a source audience (another name is a seed audience), and Facebook Ads Manager will use your seed audience as a database to create audiences with similar characteristics.
You can choose a percentage of the audience size, so this audience is the top 1% of users in that country that matches your source audience, which means you've excluded the vast majority of users who are not a good match, and a remaining target audience is a group with a high matching degree and high conversion performance.
How to do it? Using Facebook Ads Manager, go to the Audiences Dashboard and select the Lookalike Audiences option from the drop-down menu to create an audience.
In the Source field of the Lookalike Audience creation window, select Data Source, then select Target Country and Audience Size.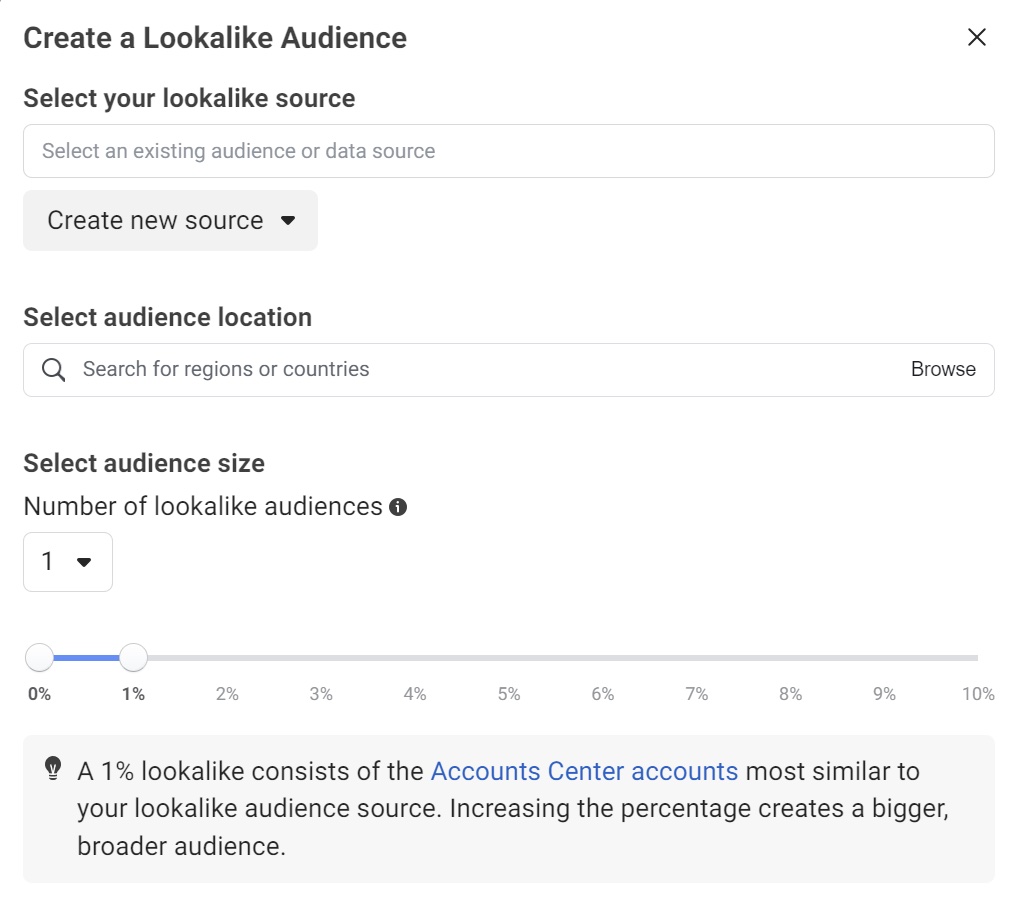 Automated rules
Automated rules are an excellent tool to improve efficiency and save time for the entire Facebook marketing. You may think that setting up automated rules is a bit difficult, but it is actually very easy to get started.
You can set up automated rules for many different purposes, the most common of which are to automatically pause underperforming ads/ad groups and automatically increase the budget of good-performing ad groups. These two automatic rules are very effective.
They can help you focus on the creative and targeting of your ads/ad sets, and release them boldly without worrying about budget or performance. Automatic rules will help you solve these problems, and you It's just a matter of regularly monitoring and evaluating whether automated rules are performing as expected.
Automated rules (in the Facebook Ads Manager's navigation menu under 'Campaigns', under Ads) are useful for activating, pausing, and managing Facebook campaigns. Automation rules are a great way to leverage Facebook tools to automate your marketing on a manual basis.
Click the green 'Create Rule' button in the upper right corner, and Facebook provides 4 different types of automated rules.
From the dashboard, you can choose to pause, activate, send a notification, adjust your budget, or adjust your bids.
You can create countless combinations of automated rules, including:
Set target CPA and other indicators

Adjust the time frame.

Set operating frequency options
Audience insight
Want to learn more about your audience? If you've gathered enough data for your Facebook marketing campaigns, you can check out this tool by going to the navigation menu and scrolling down to Analytics & Reporting > Audience Insights.
Check out this tool by going to the Facebook Ads Manager's navigation menu and scrolling down to Analytics & Reports > Audience Insights
You can see the demographic information of the audience such as gender and age distribution, the countries and regions they come from, and the potential audience market size.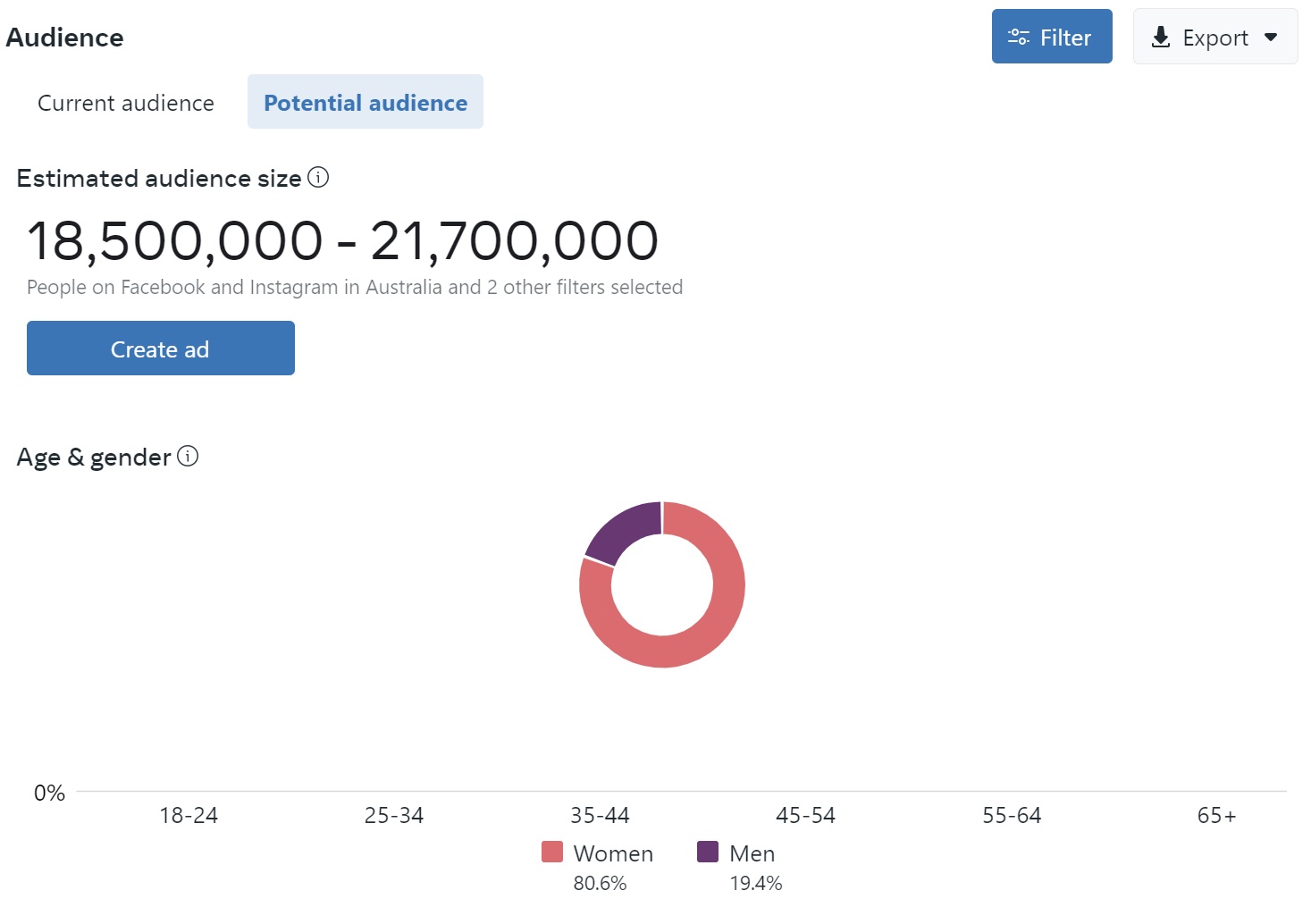 Advanced Positioning
You may already know that Facebook Ads has location targeting, which allows you to choose a radius to target or target specific cities and regions.
There are some additional settings for location targeting:
Everyone in this position

People who live in the location (a good option for a home-related business or when you're targeting homeowners)
Recent people in this location
People Recently Traveling in This Location (similar to People Recently Traveling in This Location, but for people whose home is 200km away. Best option if you're targeting tourists).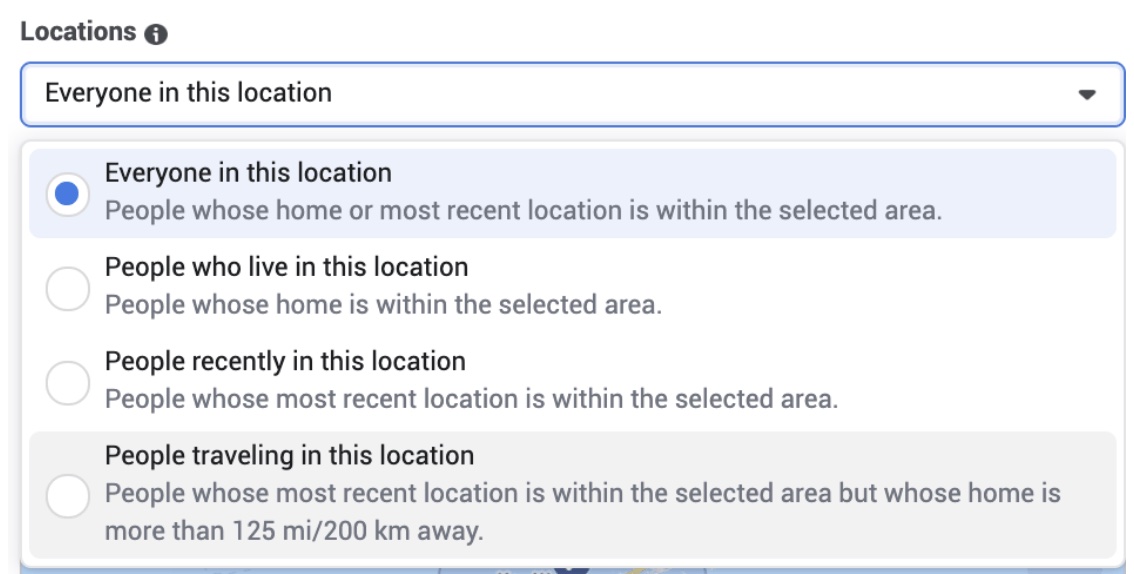 It is necessary to locate according to different business demands. For example, if you want to set a location for a kindergarten, you should not set the scope too large.
After all, considering the actual situation, parents may still have to go to work after sending their children to kindergarten in the morning. Therefore, not many parents would be willing to drive to a kindergarten that is particularly far away. They prefer a kindergarten near home or on the way.
Facebook continues to expand its services for business advertisers. If you want to increase sales and get more leads in 2023, learning these professional Facebook marketing strategies is absolutely necessary.
---
Interesting Related Article: "How to Win With Facebook Ads: Top Tips for Ecommerce"