Your body fitness is important to your health as it plays an important role in saving you from many diseases. It keeps your health in perfect condition as it helps in regulating your cholesterol levels and keeps your body physically fit among others.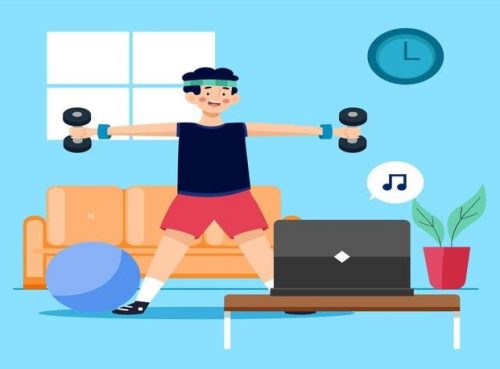 However, it is challenging to perform the fitness activities all alone which calls for a push to motivate you to participate. Well, when you have a trainer, you have to give up on laziness and perform physical activities under his or her guidance. Following are the benefits of online fitness classes you need to know:
Are Convenient
Online fitness classes are convenient in a way that you don't have to move to the gym for your physical activity sessions but can have them at the comfort of your home. You have to choose a perfect spot in your home where you can follow the trainer.
This saves you a lot of time you would have spent moving to the gym. It also gives you your needed privacy as you won't have anyone else present to keep their eyes on you as you do your sessions which is common in gyms and can be discomforting.
It's Cost-Effective
Online fitness classes tend to be cheaper than paying for a gym membership. Well, most online classes are priced fairly which enables you to have your fitness sessions from professionals at a lower fee.
This saves you from having to spend much of your money you can use for your other home needs. It also saves you from other costs associated with the gym. Such as transport costs to and from the gym because with online fitness classes at https://cleanhealth.edu.au/ you don't have to leave your home.
Are Conducted By Professionals
Most online fitness classes are conducted by professionals with many years of experience in the field. Some of them are also certified for the job and give you the right tips on how to get the best results.
Fitness professionals know the exact workout plan you need to follow to get your needed results in no time. So you are assured of the most out of your online fitness classes. Your success is also regularly evaluated by the personal online trainer and shows you where you need to put more effort to boost your success rate.
Provides the Needed Information on the Site
Online fitness classes are a goldmine to lots of resources about how to succeed in your fitness efforts. Most online trainers have blogs on their websites on which they give you content and links to resources with all information you need to know about physical activity.
You can get information about safe eating habits, workout postures, tools to use for your work out and many others. Best of all, you are always free to check out the provided resources anytime as you have unlimited access to them. These resources can rarely be found in gyms.
Embrace Online Fitness Classes
Boost your health with the best online fitness classes at cleanhealth.edu.au and get certified.
---
Interesting Related Article: "Importance of At-Home Fitness During a Pandemic"