Businesses and homes already adhered to strict cleaning procedures before the spread of COVID-19. Apart from removing dust and dirt particles from surfaces, it also included removing debris and proper waste disposal. This process involved various cleaning agents—soap and water, mops and brooms, rags, and various EPA-approved cleaners. Cleaning at this time ensured that everyone was safe from potential hazards and offered a degree of protection against common diseases.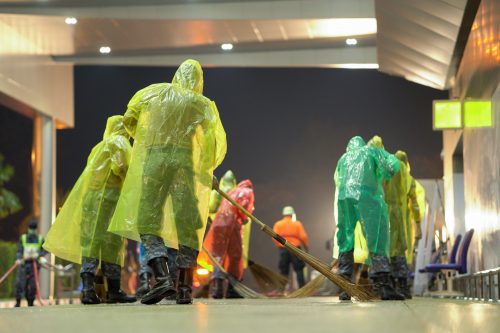 The rapid spread of the coronavirus, however, requires more than cleaning visible surfaces. It necessitates a thorough sweep of all known surfaces—floors, walls, tabletops, undersides, computer screens, telephones, everything within reach, and anything that could contribute to the spread of the virus. Soap and water were ineffective that the cleaning process now involves sanitizing to eradicate the virus that persists on various surfaces for several days. With the advent of the transmissible virus, disinfecting all known touchpoints have become the standard of deep cleaning.  
Now, homes and establishments implement routine deep cleaning activities as part of an effective strategy against the deadly virus. Deep cleaning efforts reduce transmissions, demonstrate support to government initiatives, and serve as best practices in promoting public health and safety. 
Importance Of Deep Cleaning 
Deep cleaning is imperative for all locations where there are known cases of COVID-19. With surging cases from the UK variant, businesses and institutions can avail of deep clean services 72 hours after a confirmed case. This process requires intensive cleaning and disinfection of all objects. It covers known touchpoints and includes high-contact areas, such as bathrooms, doorknobs, telephones, handrails, corridors, and stairwells. Deep cleaning penetrates further than regular cleaning as it guarantees total disinfection and sanitation of business premises. 
There are several reasons why cleaning and disinfection are essential to practice against the spread of COVID-19. These include:
Symptomatic individuals can spread the virus when they cough, sneeze and talk. These droplets remain active on surface areas for many days that it's possible for persons who come into contact with infected surfaces to get sick as well.  
Deep cleaning eliminates the virus on plastic, steel, and cardboard surfaces typical in commercial establishments. Apart from routine cleaning and rigorous disinfection procedures, fogging sanitation is also employed for large areas and hard-to-reach corners to provide an added layer of protection for workers and customers.  
Comply With Government Protocols
Governments are intensifying their efforts to control the spread of COVID-19. Apart from lockdowns, social distancing, and other health protocols, deep cleaning is mandatory to ensure everyone is safe from the virus. 
Schools, homes, and workplaces participate in this initiative by ensuring that their premises undergo deep cleaning efforts to prevent further transmission. They formulate appropriate cleaning and disinfecting plans that comply with existing government regulations. They also ensure the safety of designated cleaning personnel by providing high-grade PPE and the use of approved disinfectants.  
Best Practice For New Normal 
Workplaces and schools require a higher level of sanitation as protection from the threat of COVID-19. Apart from requiring masks and frequent handwashing, commercial institutions need to ensure their cleaning practices align with existing sanitation requirements. 
Basic cleaning processes are reinforced with a routine application of chemical disinfectants on touchpoint areas, such as telephones and keyboards. Commercial cleaners equipped with the latest knowledge and equipment are also employed, serving as a cost-effective measure that reflects adherence to best employee health practices. 
Establish A Culture Of Safety 
Cleaning and sanitation schedules assure concerned stakeholders that they're protected before, during, and after contamination. These three levels of defense demonstrate that management is committed to ensuring everyone's health and safety. Thorough after-work cleaning on a daily and weekly basis deters the spread of the dreaded disease and cross-contamination inside facilities. Educating personnel on safety protocols and engaging them as active partners can ensure deep cleaning efforts.
Conclusion   
The virulent nature of COVID-19 poses a unique challenge for various institutions. International agencies and national governments continue to grapple with its complexities as the virus continues to evolve and afflict individuals and communities. Deep cleaning is an effective strategy to protect employees and customers in offices, schools, and business establishments.
---
Interesting Related Article: "Cleaning Offices & Work Spaces To Be COVID Compliant"