The world at present is stuck in the midst of a pandemic and the lifestyle of the entire world population has been disrupted. The new normal, as we define it, is slowly and steadily conquering our lives and as a result, replacing our old methods of schooling and working at traditional office spaces. Hence, home offices are increasingly on-demand.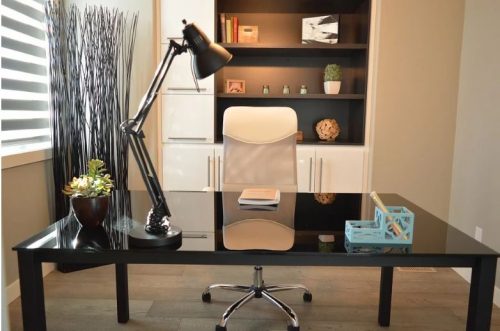 With this increase in home offices, many home office equipment applications are also on the rise. Are you also one of the many who have taken up this work from home culture and have a lot of questions about how to make your work life more comfortable? Do you miss going to the office but also love staying back at home? Do you also want an office vibe at your own place?
All your questions when clubbed into one can be framed as: Why should one invest in office furniture while working at home?
So, here's your answer:
Health Benefits
You must have noticed that your home and office furniture are entirely different, right? Proper office furniture helps with maintaining correct posture, provides proper comfort for long working hours, etc. for better health.
The importance of proper workspace furniture is of main focus when it comes to employee health. This is because they spend most of the day working at a single place using these items. Faulty furnishing will not just affect your body posture leading to bad health but also harm your work productivity.
Productivity and Creativity Benefits
Ever observed that when you have a great setting for your workspace, it automatically lifts up your mood, enhances your will to work more, and also increases your creativity?
Trust this or not, good offices are designed in a way to ensure that the workspace lifts the mood of their employees in order to enhance productivity.
In a personal space, this can be done by investing in a comfortable, safe, and sound working environment, away from all kinds of distractions. Keeping everything as organized as possible in your workspace with the help of cupboards and multi-purpose desks and tables, in short, converting the entire home setup into an office workspace.
Keeping a Separate Workspace
There might be all kinds of setbacks when it comes to converting your own personal or a separate room at your home into a workplace.
For some, they might not have a dedicated space for themselves where they can focus on their work – small children playing in the same room or some other family member who is always on the phone and does not contribute to the appropriate atmosphere.
These distractions can get onto your nerves when you are trying to focus on your work. You need to have a central focus on your work especially when you are attending meetings from home. Investing in good office furniture contributes to having a dedicated workspace just for yourself.
According to research, 86% of respondents feel fully productive at home (77% globally). They gain back 35 minutes a day due to fewer unwanted interruptions.
Meeting your Deadlines on Time
Did you just miss your deadline for your presentation submission or failed to prepare the project research on time? Well, what exactly were you thinking while working from your kitchen counter will lead to? You need to understand that when you are planning to work from home and want to succeed, your workspace should be your highest priority.
This does not mean you have to spend your annual salary to build an entire office but investing in something which is in your budget will at least help you complete your work on time.
Stop missing out on deadlines because you were trying to multitask between work and cooking. Instead, invest in dedicated home office furniture.
Closing Thoughts
So, these are the few reasons why you should actually invest in home office furniture. For creating an inspiring and productive workspace at home, check out Officeworks for their variety of home office furniture including stylish desks and comfortable office chairs.
---
Interesting Related Article: "Easy Ways To Make Your Home Office Look Luxurious"