The human capital and talent pool of a company are latent assets that have a related impact on the growth story of any establishment. Till now, retaining the best minds and bringing them together to work toward the goals of the organization may no longer be an easy task for HR leaders. Assisting the workforce to preserve a conducive culture that nurtures talent and helps employees collaborate on tasks is relevant, even in changing times. 
HR policies are inclusive and try to give equal career opportunities in a company. In a world embracing a hybrid workplace, upholding the values of an organization, maintaining good HR policies that engage employees and not alienate them as the direct connection is decreased is non-negotiable.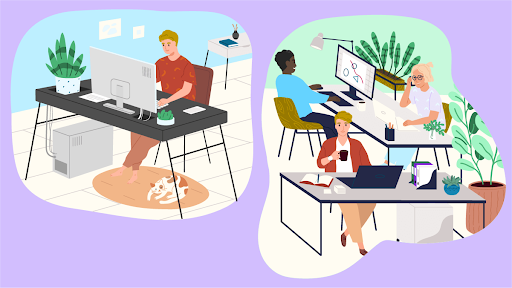 The hypothesis that dead desks don't work does not fit every organization. Learning and development teams, the leadership of businesses, and their real estate partners are in the burgeoning stages of a hybrid workplace. They are still grappling with what works and what does not and how best they have to strategize to make their hybrid workplace model a success. Many strategies sound and seem great, but essentially as HR managers, you have to choose one that works for you. Let us see the essential points that can help you deduce four such strategies that will make hybrid workplace models employee-centric:- 
Focus on employee preference:-
Some jobs can be done remotely and yet there are few, which cannot be done through unmanned desks. However, simply identifying the roles that can be done remotely and assigning them to employees may not be a viable solution. It is imperative to understand what employees and team members prefer in terms of the workplace model. 
While employees may feel that they can stay home and complete their work in a focused and productive manner, they may still need to meet and socialize with colleagues. Team-building exercises yield the best results in physical space than in a virtual platform. It is essential to understand not only what employees prefer, but also what they value in their hybrid workplace model. 
Ask the right questions
An employee experience platform is a great mechanism for understanding what employees feel and how they are faring in a hybrid workplace. But any tool is limited to the functions it has been programmed to execute. So if an EX is developed without asking the right questions, the attempt can fail miserably. If the communication is not effective, it will reduce the morale of employees and lead to inadequate employee performance. The leadership will not be able to understand if the employees can value the work culture, access the career opportunities for personal growth, and believe in the quality of the personnel at the helm of the affairs. Simple yet basic things like lack of an ergonomic desk and char and screen fatigue also can hamper the employee experience. Given here is an example of questions that are not conclusive but are a good start that can enrich your EX tools :
Are employees comfortably seated in an undistracted zone where they can concentrate and work with ease, in their remote locatis?

Do they remember to take enough breaks, walk around for physical mobility and stretch their limbs?

Do they feel inclusive in virtual meeting rooms? Are there any concerns about remote working that are a barrier to their workflow? 

Are they aware of the health and sanitation protocols to be followed when they work from the office?

 Do they feel they need more agile working spaces where they can sit in different locations and still be productive?

Will they prefer access to the cafeteria post-pandemic during on-site working days?
Redesign spaces as per function
There are tasks that an employee best performs when in solitude. Few other tasks are productive only when they brainstorm and collaborate with other team members. The tasks that need solitude, are best suited in places that are calm sans distractions. Interestingly, working remotely need not be equal to working in a solitary location. 
An HR person should know the number of hours each employee needs to work in a team and the number of hours they need to work in solitude. Team and function leads should be encouraged to organize and delegate the work that needs individual level vs team level workmanship based on the solitude vs team-centric location.
For example, if a task needs 20 sub-tasks to be assigned to five different team members. Two members feel productive working from home for individual tasks and like to huddle up for the rest of the days. The rest of the employees like agile working places within office spaces to work in solitude and would prefer team huddles for the rest of the days. If allowed to work in solitude, all members can complete the said task in two days; then the two members who work best from home should complete their tasks from home and the rest can work in agile working places. 
Scale the spaces
Maintaining large office spaces and yet providing digital solutions to help employees work seamlessly from remote locations, will inflate the costs and can be a double whammy for corporations. Depending on how many employees will work full-time in the office as per their individual preference and business alignment, flexible and core office areas have to be designated. Core office spaces can be scaled down to suit future requirements. If employees are looking to remote but can't do it from their home, can sign into any of the pay-as-you-use co-working spaces that have mushroomed across the prime locations of most cities. These facilities reduce the permanent costs of maintaining office space and yet give a comfortable zone for employees to work. 
Conclusion:
A hybrid working model is going to be an important part of future office culture. Remote working does not necessarily mean that employees will be complacent if they step away from the eyesight of their line managers. It can be productive if the relevant guidance and training are provided to the employees.
---
You may be interested in: The Benefits of Utilizing Quality Marketing Strategies