While the expansion of technology is sometimes an overwhelming thought, the brilliance of new tech is its ability to help you lead a healthier lifestyle. From more significant pieces of tech to the technology we possess on our daily devices, relying on tech to promote well-being has never been more critical – or life-changing.
Whether your business is searching for new ways to integrate the power of technology to create a healthier workspace or you're curious as to what tech is out there, these four fascinating technologies help promote better personal and societal health.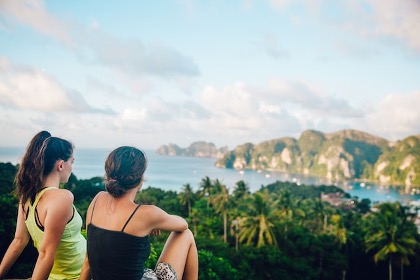 1. X-Ray Equipment
X-Rays are a familiar concept to most. However, since its conception, X-Ray equipment has been crucial in providing diagnoses that would've previously gone unseen or treated.
In its simplest form, X-Ray equipment passes X-rays through your body. Sounds simple! The energy absorbs differently by various areas of the body. The detector on the other side of the body picks up the rays as they pass through, which results in an image.
To this day, this concept is being refined by companies like Maven Imaging to bring about more precise, easy-to-use, and even portable equipment so that no matter where a person is, they receive the continuation of expert prevention, treatment, and cure.
2. Tracking Steps
In the timeline of a few years, phones now have the technology to track your steps. But how does viewing this information promote better health?
For some, it provides a unique motivation. Modern life can be busy – and sedentary! – when working at a desk all day, so tracking your various steps can be a helpful reminder to get up and move. It's been proven that more steps taken per day lowers your mortality rate. That's reason enough to get up and go!
By having the ability to track your steps when hiking or walking to your car, you can push yourself to add an extra 1000 steps to your day, making your mind, body, and heart happier.
3. Mental Health Apps
Apps are second-nature to us; almost everything you do on your phone involves an app. The world of health has utilized this by creating mental well-being apps, such as Calm, Headspace, and Sanvello, that promote better stress relief, sleep, and mindfulness.
With a shift in the societal understanding of mental health, these apps are finding a new following by allowing you to take your mental well-being into your own hands.
4. A.I.
While AI can be a largely mystifying concept, it plays an influential role in promoting better well-being, serving a more "behind-the-scenes" role in medicine and hospitals. For example, doctors use AI technology to help in the diagnosis and treatment of strokes.
Strokes remain a tricky condition to diagnose and treat in a short time frame – necessary to prevent long-term damage as possible. AI technology makes diagnosis and treatment easier, and it's already saving lives.
Final Thoughts
From the technology you hold in your hands to the tech impacting the medical world, promoting better health has never been so exciting.
---
You may be interested in: How Gardening is Good for Your Well-Being