Trading and investing involve the active trading of forex, commodities, shares, rates and bonds, and indices, in what remains a volatile market. Markets and prices constantly fluctuate with world events and economic news releases. As a trader, you need quick access to market quotes, charts, accounts, as well as news feeds. All of this information will help you identify and take advantage of potential opportunities as they arise. 
Thankfully, mobile apps offer quick access to trading accounts and the latest news covering financial markets, allowing you to check quotes and make trades. This is excellent support for learning to trade online. Here are five of the best mobile apps that will help you take advantage of new opportunities.
Yahoo Finance
Yahoo Finance app helps you keep up with trading and the financial markets. Outstanding features of this app include having the ability to add stocks to a watch list, getting personalized news and real-time stock quotes, an intuitive platform for easy navigation and getting information quickly, and tracking the performance of your investments. You also have the option of paying for Yahoo Finance Premium, which gives you unlimited portfolio watch lists, real-time quotes, and interactive quotes.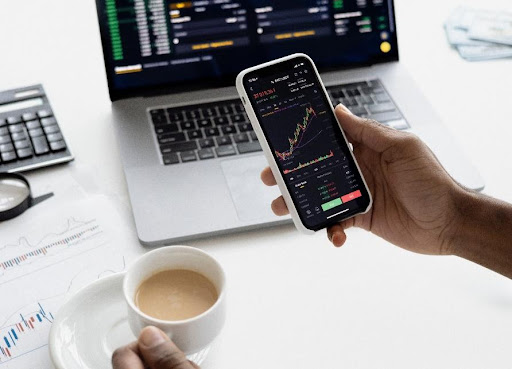 CMC Markets
CMC Markets is a leading trading platform which has been built over 30 years and supports traders all over the world. CMC Markets, a leading CFD trading and spread betting platform in the UK, have designed their app in a way that takes away the unnecessary so you can focus on your trading strategy. The app includes educational tools, market insights and a powerful platform to support daily trading. You can choose multiple layouts giving you bigger dashboard options for efficiency. A great feature, especially for beginners, is the option to view All and Top Client data. As the name suggests, this feature allows you to see data from the top clients with the bet overall profit over a three-month period giving you valuable insights in real-time. Another feature of the CMC spread betting app is the opportunity to open a live or demo account for free, which is ideal for beginner traders, giving traders an opportunity to gain experience and learn from their mistakes without the risk of losing actual funds. With this app, you can spread bets on a variety of financial markets, including forex, indices, cryptocurrencies, commodities, and shares.
Bloomberg
Bloomberg is the reference for all financial information. The content it offers allows you to take advantage of financial markets from a smartphone. It provides access to the latest information on financial markets. With this app, you can follow the financial markets you want in one click and get the details on several given periods. The app also offers information about the financial results of each stock you follow. You can choose from 24 hours, six months, two years or more. Bloomberg attempts to have the broadest possible and most complete recommendations, including training to continuous information. 
This app is ideal for having the most comprehensive view of the markets but does not allow you to invest in them from its mobile interface. Bloomberg provides access to the latest financial market information, offers details on several given periods, reliable sources, the possibility to build a watchlist to follow specific stocks and react quickly, creation of a virtual portfolio to run simulations. The downside of the app is that it is only available in English. You can get a free 30-day trial. Once your trial period ends, you will need to pay a subscription fee of $34.99 per month or $329.99 per year.
Fox Business
Available on iPhone and Android, the Fox Business app aims to keep users connected to the ever-changing financial markets. The Fox app can track financial markets and send financial alerts to its users. Users can search for stocks by stock symbol and create watch lists by adding stocks to the app's My Stocks page. Users can also access the latest news and market data through live business broadcasts and watch clips from their favoured Fox Business Network shows. One of the features of the Fox app is that users have the chance to republish and share articles and videos from the Fox Business app on their social media platforms.
CNBC Breaking Business News
Also available on both iPhone and Android, the CNBC Breaking Business News app is NBC's financial news app. the CNBC app gives users access to actionable business news, financial information and market data. This app keeps its users updated with breaking news alerts that are delivered even when the app is closed. The app also allows users to monitor, in real-time, stock prices and view interactive charts, receive coverage of global economic news and watch full episodes of CNBC shows such as "Mad Money" and "American Greed." A special feature of the CNBC app is that it allows a customizable watchlist to track specific stocks and access related business news headlines in real-time.
Conclusion
So now you have comprehensive and practical tools to master the financial markets and the art of trading. These five apps, which are all available on Android and Apple Store, do not offer the same user experience. Still, each brings unique features and value, whether or not they propose investing directly. To help you trade safely and enable you to gain the abilities you need so as not to incur too many losses. 
Disclaimer:
Spread bets and CFDs are complex instruments and come with a high risk of losing money rapidly due to leverage. The vast majority of retail client accounts lose money when spread betting and/or trading CFDs. You should consider whether you understand how spread bets and CFDs work and whether you can afford to take the high risk of losing your money.
Marketing for CFDs and spread betting is not intended for US citizens as prohibited under US regulation.
---
Interesting Related Article: "CFD trading: what is it and how can you make money?"