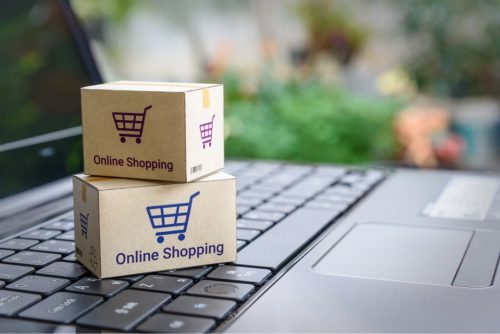 When the whole world faced the Covid-19 pandemic, and its consequences covered almost all areas of the modern economy, the e-commerce market received certain bonuses. E-commerce reached a record $876 billion in the first quarter of 2021. The year-over-year growth was +38%. What's more, these numbers continue to grow actively. How to choose a platform for those who want to ride the e-commerce wave in 2022?
Key Trends for Ecommerce Marketplaces in 2022
As a rule, all eCommerce trends are aimed at solutions that help satisfy quickly (even automatically) the needs of consumers to eliminate doubts while purchasing. Besides these trends, choosing a right business name is one of the most important factor to consider while starting online business. You can take help of an online business name generator tool for it.
For example, since the majority of Millennials now make purchases through mobile devices, you should look for a platform that integrates well with mobile.
The goals of e-Commerce for 2022 are to automate processes and have direct communication with consumers. The latter can be achieved through creating well-designed emails with the help of eCommerce email templates. 
How to choose a platform that will help you adapt trends to your business faster and easier? Let's figure it out!
What Are the Criteria for Choosing the Best Online Store Platform?
When choosing an eCommerce platform for an online store, focus on four main criteria:
Popularity. With its high prevalence, it will be easier to

find a competent developer

working with it. In addition, it is well studied by users;

The price/functionality ratio. It is important that its cost corresponds to the quality and capabilities of working with it. And in the case of a free solution, take into account the cost of its improvement and additional modules;

The ease of operation. The more functional the program, the more difficult it is. There's no good in a large number of functions if you do not understand how to use them;

The possibility of improvements. The best platform for the online store is the one that can be customized to your needs. Otherwise, there will be problems with its adaptation to your business and the expansion in the future;

SEO-optimization. It is important that the engine for the site does not limit options for

search engine optimization

.
Top 5 Best eCommerce Platforms 
Shopify
Shopify is a constructor created by the Canadian company, which is engaged in the production of software for online and offline stores.
Shopify is closer in structure and functionality to CMS than to constructors. Despite the abundance of tools and features, the constructor is not complex. 
All orders are displayed in a separate section. Together with the "Customers" section, you get something like a basic level CRM. It is possible to import the customer base. Orders can be created manually. There is also a tool to restore abandoned carts. In the "Products" section, you can add collections, create gift cards, and check the stock.
In the marketing section, you can view detailed statistics on store conversion. Moreover, you can set up and run advertising campaigns with the help of mail, social networks, messengers, etc. The system offers selections of marketing applications that will expand the basic capabilities. You can also set up automatic actions. For example, a customer has put a product in the shopping cart but has not bought it, and the system will send him/her an email or reminder.
If desired, you can customize a basic template by individualizing the design of the site. Other templates are available in the store.
Advantages
Shopify's administrative panel is well thought out so that even the abundance of settings does not make it difficult to master. This is probably the main advantage of the platform but by no means the only one. Among other positive aspects we will note:
Quality design themes;

Unlimited adding of products;

Protection from fraud; 

A large number of applications to expand functionality.
Disadvantages 
Costs more than the feature plan of most other reliable platforms;

URL structure of blog articles, as well as standard pages, is not optimal for SEO. 

Shopify charges a transaction fee on top of the payment processor fee if you don't use Shopify Payments (e.g. Stripe or PayPal).
If you are using WooCommerce and your WooCommerce store isn't able to cater to your business as you wish, you might consider migrating from WooCommerce to Shopify. Shopify is considered as one of the best alternatives to WooCommerce by helping you to create an online store without worrying about technical knowledge, every aspect is included in the Shopify plan such as hosting, security, domain, etc
Yo!Kart
Yo!Kart is an industry-leading multivendor eCommerce platform designed to start an online marketplace swiftly. The self-hosted solution is widely popular and a trusted marketplace software among businesses of all sizes. 
Launched in 2015 by FATbit Technologies, Yo!Kart has grown into a leading multi-vendor platform with over 2000 clients in 70+ countries. The software comes in-built with all essential eCommerce features such as inventory management, automated tax management, real-time split payments, and more. Yo!Kart is built using an in-house framework and delivered in an encrypted format with tightly bound libraries making it highly secure. The multi-vendor software has separate dashboards for the admin and seller to facilitate orders and streamline business processes with ease. Also, there are individual vendor storefronts for the seller to add banner images, change logo, and personalize the storefront as per their branding.
It has a robust infrastructure that ensures flexibility, scalability, and complete customization to create tailored experiences for buyers and sellers. It is an SSL/PCI-DSS and GDPR compliant software enabling businesses to cater to their audiences worldwide. Yo!Kart has ready-made native mobile apps for iOS and Android platforms to maximize your business potential.
Moreover, the software has in-built SEO tools, reporting/analytic tools, an in-house Content Management System (CMS), and many popular pre-integrated third-party APIs. Its pricing starts at $999/one-time fee for base plan.
Apart from this, Yo!Kart also has a robust B2B eCommerce platform – Yo!Kart B2B. It powers many popular B2B marketplaces like UNI Diamonds, Bozinga, and more. It's pricing starts at USD$1,999/one-time fee. 
Advantages
Standalone ecommerce platform to create all types of online marketplaces

Abandoned Cart Recovery management system

Tested to handle over 1 million products with 250+ concurrent users

Complete source code ownership with lifetime license for all plans

No recurring charges or transaction fees

Upto 12 months of free technical support

Free digital marketing consultation for all plans except GoQuick
Disadvantages
No Free Themes

Customizations are paid

First-time users need to invest time to learn the system
Magento
Magento is one of the most popular eCommerce programs. There is a free version for smaller sites and a paid version for larger firms. Additional modules and extensions can be found on the marketplace. But to implement even a small feature, you will need to find a specialist. That's because after installing, the software requires optimization. 
By installing Magento, you get a platform that displays perfectly on all kinds of devices. It is also possible to make detailed SEO settings even if you are not an SEO consultant.
Advantages
The possibility of flexible customization;

Adaptation for any commercial purpose;

A lot of blocks to expand capabilities;

Stable work on

mobile devices

;

More than a thousand themes;

Extended information base and forum.
Disadvantages
Without a good programmer, the project-portal can "slow down";

The program configuration requires a lot of knowledge and effort;

No technical support;

There is no stock management function.
PrestaShop
PrestaShop also belongs to the popular free resources for creating shopping sites. Its main difference is the possibility of mass import/export of goods and the creation of catalogs. In addition to physical products, you can also promote digital ones. There is a function to select various documentation (bills, invoices, etc.) directly in the admin panel.
There are many additional theme templates, as well as extensions to increase the functionality.
Advantages
Availability of a demo version;

Adaptive interface;

Extensive functionality out of the box;

Easy to use.
Disadvantages
High cost of paid modules;

Difficulties in modifying the code.
WordPress
WordPress is a very popular program for creating all types of platforms. It has received a wide prevalence due to the simple installation and easy management.
The basic version of the program doesn't suit the store creation. However, a plugin WooCommerce or a similar one will become a good assistant in the creation of a trading platform. The plugin engine is available for free. Because of the high popularity of the platform, it is constantly evolving. There are lots of new design themes, which help add uniqueness to your store. Plus, there are many WooCommerce plugins available to you at a very low cost. It is also not difficult to find a specialist to refine and customize the program. 
Using this resource for website development has a positive effect on your Google search engine ranking. However, the SEO-optimizer requires additional work. To really make the best of WordPress as a platform, you should choose cloud hosting as well. Cloudways offers managed WordPress hosting at affordable prices. You might want to look into that. 
Advantages
Open access to the code;

Constant expansion of functionality;

A lot of forums to help solve the problem;

Ease of operation.
Disadvantages
There is no technical support;

The platform was not created for online stores, and it requires further development;

Plugin vulnerability.
OpenCart
The software is known for over 10 years and still enjoys great popularity. It refers to partially free engines to create online stores with decent functionality.
The product allows you to create fairly complex eCommerce platforms. The native functionality is scarce, but you can find and install additional modules on the official portal. In total, the creators offer more than a thousand different themes, but you will have to pay for them.
Advantages
Free license and updates;

A wide range of theme templates;

Extended functionality to meet individual requirements;

Open-source code.
Disadvantages
If you need a lot of functionality, you will have to shell out a lot of money for all the add-ons;

Files with the same name are replaced, not renamed (it can lead to data loss);

No official technical support;

Vulnerability of some modules;

Complexity of settings.
Conclusion 
Imagine you have a fantastic idea to create an online store that seems great, but the closer you get to launch it, the more you want to quit. That's all because you have to order hosting, make a website, set up everything. But using the platforms we have reviewed in this article will make it easier to create an online store of any size or direction.
We hope that among the presented options, you will be able to choose the one that meets all the needs of your business. 
---
Interesting Related Article: "Accelerating Growth in Your eCommerce Business"