Touch & Glow, one of the leading hair & nail salon Edgware, has unravelled the top hair colour trends for 2023. These 5 hair colour trends are expected to take the beauty world by storm with their unique and captivating colour pop-up. From the striking "Midnight Onyx" to the bold "Cherry Cola," these hair colours are sure to enhance your personal style statement. Touch & Glow expert colourists have created these trends to help their clients achieve the perfect shade to suit their individual grace and poise. With these 5 hair colour trends, 2023 is going to be a year of bold and beautiful looks.
5 Hair Colour Trends by Touch and Glow Colourists
Touch and Glow colourists suggest the below 5 of hair colour trends for you:
1. Cherry Cola
The strawberry blonde and copper hair colour trend is in fashion and is expected to remain popular in 2023. However, a new trend is emerging, involving vibrant violet and red hues on dark red brunettes, resulting in a "cherry-cola" appearance with mahogany tones between red and violet. A temporary hair mask can be used to drop a pop of red over your brunette's hair to test this trend. This technique retains the depth of the natural brunette hair colour while giving it a red sheen that is visible when light shines on it. This trend is worth exploring for those who want to experiment with their hair colour.
2. Fallen Leaves Balayage
Fallen leaves balayage is an excellent hair colour trend to try out. To achieve this look, hair salon Edgware colourist applies an all-over balayage with a colour melt of fall tones that will complement your skin tone. The colour melt creates a soft ginger-red hue, with lighter hair reflecting on the mid-lengths and ends, just like the fallen leaves. Keep in mind that the first appointment may take longer since it involves lightening the hair. However, subsequent appointments can be as easy as root melt or gloss appointments, with every other appointment involving lightening or glossing your hair. This maintenance routine will keep your hair looking fabulous while allowing you the freedom to experiment with your hair colour.
3. Midnight Onyx
Midnight onyx is a bold and striking hair colour that resembles the deep and dark shades of black onyx stone. This hair colour is perfect for those who want to create a statement with their hair and exude a sense of mystery and elegance. Midnight Onyx is a rich and intense shade of black that can be achieved using hair dye. It is a wonderful option for those with cool or neutral skin tones, as it can help enhance the complexion and create a dramatic contrast. However, make sure your hair salon eyebrow threading Edgware stylist applies it from the roots to the tips. Pair them with straight hair and enjoy the attention it brings you.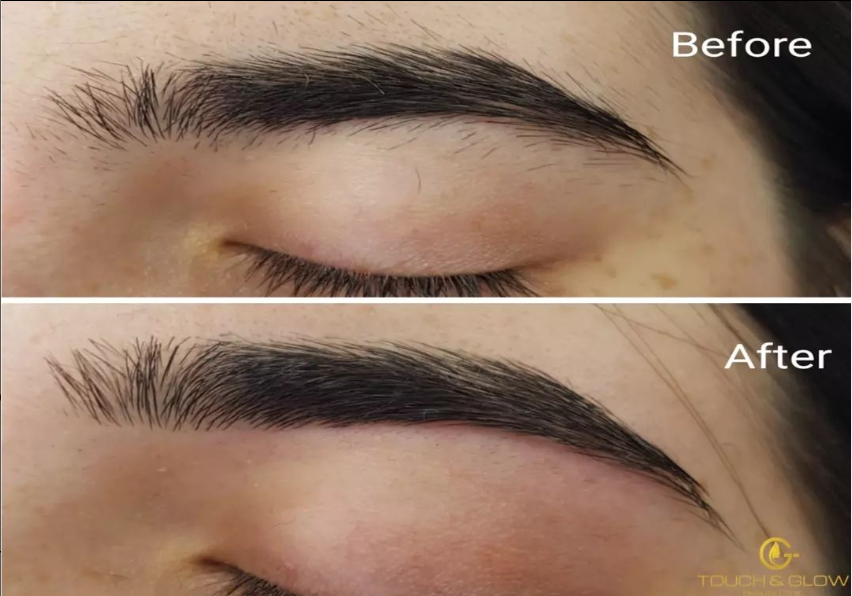 4. Champagne Blonde
Champagne blonde hair colour is a soft hair colour, a subtle blend of beige and pale blonde tones that resemble the bubbly beverage it is named after. The resulting colour is a creamy, multi-dimensional shade that can be tailored to suit any skin tone. It is an excellent option for those who want to brighten their natural hair colour or add depth and dimension to their blonde locks. The low-maintenance nature of this hair colour makes it a perfect choice for those with dense hair. With its timeless and sophisticated appeal, champagne blonde is sure to remain a favourite among women for years to come.
Here's a video for Glam Champagne Blonde Technique – Glam Champagne Blonde Technique (with Joico Blonde Life)
5. Saddle brown
The sandy-brown hair colour is a versatile shade that works well with any undertone due to its neutral tone. This colour trend is closer to the mushroom-brown hair trend we all saw in 2022 but with a sandier-effect, more natural vibe that some might describe as "mousy." Before committing to this colour, our colourists suggest using a hair gloss if your hair is lighter. A hair gloss can help you get an idea of how the shade will look on your locks and whether it complements your skin tone. Overall, the sandy-brown hair colour is attractive for anyone looking to switch up their hair game.
Conclusion
The 5 best hair colour trends of 2023 suggested by top hair salon Touch & Glow offer a vast variety of options to suit different preferences and styles. From champagne blonde to glossy espresso, Saddle brown, Cherry cola, and Midnight onyx, these hair colours are varied and can be personalized to suit your skin tone and hair type. Whether you're looking for a natural and low-maintenance option or a bold and striking statement, these hair colour trends can help you achieve a trendy and stylish look that exudes confidence and sophistication.
---
Author Bio
Jack Ambrose
Jack Ambrose, marketing director of Touch & Glow in London, is a well-known name in the beauty sector. Because of his great business and marketing skills, he has earned a name as a user experience specialist and product thinker who is constantly motivated to tackle new issues and provide value to the organization. The most well-known blogging sites benefit from his tremendous expertise.
---
Interesting Related Article: "Homemade Remedies For Glowing Healthy Skin"