With over one billion monthly active users who spend an average of 28 minutes scrolling through the feed, Instagram is currently one of the biggest and most influential social media platforms. 
Even though it started as a photo-sharing platform, currently videos reign supreme on Instagram — the platform has reported an 80% increase in time spent watching videos, year over year. Videos also receive higher engagement compared to image-only posts and help you convey a lot more than standalone photos.
As a brand, videos are the perfect medium to showcase your personality and build a stronger relationship with your audience.  There are various video formats you can experiment with  — you can post Instagram Stories, post an in-feed video, Instagram reels, host an Instagram Live, or even opt for paid video ads. If you want to post videos longer than 15 seconds, IGTV can come to your rescue. But to get the most out of your efforts from video marketing and generate maximum engagement, you need to follow some best practices.
Here are our top five tips to boost your Instagram video marketing efforts:
1- Add a killer CTA
Without a strong Call-to-Action, your efforts to create a solid video can go in vain. 
CTAs are an essential cog in the wheel to minimize decision fatigue and provide clear instructions to the audience about the next steps. A compelling CTA creates a sense of urgency and lets the audience know what is in store for them once they take action. Even if you don't include the CTA in the body of the video, make sure to mention it in the caption so that nothing gets lost in translation.  
Take inspiration from this video by Ben&Jerry. Even though the aim of the video is to talk about the different ways of eating ice cream, it ends with a CTA that signals the audience to check out their nearest Ben & Jerry outlet so that they enjoy digging into their favorite flavors.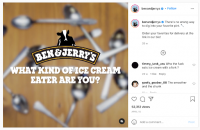 The caption also features the CTA that nudges the audience to order their favorite flavors using the link in the Instagram bio.
2- Keep them short 
Your video should get to the message as quickly as possible, without beating around the bush. Remember that the audience is quickly scrolling through their feed to get their daily fix and may not enjoy watching a long video. They want to see content on as many Instagram profiles and pages as they can. 
 Moreover, since there is no rewind option for videos that show up on the feed directly, it can be frustrating for the audience to wait for a minute-long video to get over before they can rewatch it. 
For in-feed videos, 26 seconds is the ideal length to receive maximum engagement. If you are posting an IGTV video, you can upload videos that are 10 minutes long (or even 60 minutes if you have a verified account). The maximum length of each Instagram story video is 15 seconds, and even if you upload a longer video, it gets automatically chopped into individual videos of 15 seconds each.
3 – Pay attention to the thumbnails
Many users turn off the autoplay feature on Instagram to save data. That's why you need a magnetic thumbnail that draws the audience in and nudges them to press play to watch the videos. 
Choose a  thumbnail that immediately commands attention. The right thumbnail can be the difference between attracting a new audience and simply letting them scroll through their feed without a second glance.
4 – Create shoppable videos 
Shoppable videos can help you generate instant engagement and sales. They allow the audience to complete the purchase right from the video on their feed without exiting the app. This feature is handy as Instagram doesn't allow creators to add links in descriptions directly — most accounts add the link to the landing page on their bio and ask the audience to visit the bio to click on the link. 
Creating a shoppable video is a cakewalk. Simply add a shoppable sticker to your video card and convert your videos into mini landing pages. You can choose from a shopping bag icon, a sticker with the product name in rainbow or grey, and translucent text. When users click on the sticker, they are directed to another page within the app that displays purchase options and provides additional product details. Here's a shoppable video from athleisure brand Outdoor Voices:
5 – Don't forget to add subtitles 
A vast majority of your audience prefers to watch videos in silent mode. That's why adding closed captions to your videos can give a boost to your Instagram video marketing strategy.  It is great for SEO,  ensures that the content is easily digestible and relatable to those who don't speak your language, and makes the viewers feel more engaged. 
Plus, subtitles are great for increasing accessibility for those with hearing disabilities. 
Final Words
Instagram is undoubtedly a crown jewel of the social media universe. If you are serious about growing your Instagram presence through video marketing, you need a winning marketing strategy, and these simple and straightforward tips can help you achieve just that. 
---
Interesting Related Article: "