Today, preserving cherished memories has become easier than ever, especially when it comes to old photographs. Gone are the days when restoring faded, damaged, or weathered images required professional expertise and elaborate equipment. 
With the advent of advanced technology, online platforms now offer convenient and effective solutions for restoring old photos. In this article, we will explore the five best online ways to restore old photos in 2023.
From user-friendly software and AI-powered tools to specialized websites, we will delve into the realm of old photo restoration and discover how these digital resources can breathe new life into precious snapshots from the past.
You can easily improve and restore old photos free with the help of HitPaw Online Photo Enhancer Free. Using state-of-the-art AI technology, this no-cost online service keeps your pictures secure at all times. One of its most notable qualities is the option to effortlessly and losslessly magnify photographs by as much as 8 times without compromising quality. Additionally, the tool offers auto enhancement, which intelligently analyzes and AI restore old photos of yours, improving their overall appearance.
To use HitPaw Online Photo Enhancer Free for photo restoration, follow the steps below: 
Step 1: Simply visit HitPaw Online Photo Enhnacer Free official website and choose the image you wish to enhance. 
Step 2: The tool will automatically process your photo using its AI algorithms, applying various enhancements to restore and improve its quality. 
Step 3: Once the restoration process is complete, you can download the enhanced image and save it to your device.
Pros:
Free version available with no hidden charges

Provides a safe and secure platform for photo enhancement

Utilizes advanced AI technology for accurate and effective restoration

Multiple output methods such as JPG, PNG, TIFF

Allows lossless enlargement of images up to 8X

Auto enhancement feature for effortless improvement of photos

User-friendly interface with easy upload and download options

Saves time by automating the restoration process
Cons:
Requires an internet connection for online access

Most premium features unlock with paid version
II. Colourise.com 
Colourise.com is an online platform that utilizes artificial intelligence to instantly add color to any image. With its user-friendly interface, it offers a quick and hassle-free way to colorize black and white or faded photographs. The colorization process occurs directly in the browser, eliminating the need for software downloads. Further, Colourise.com allows users to download the colorized images without any watermarks.
Pros:
Embraces a wide range of images, not just black and white

A fully automated colorization process for ultimate convenience

Enjoy watermark-free downloads of your colorized masterpieces
Cons:
Limited to images with a resolution of up to 1200 × 1200 px

No bulk colorization feature for simultaneous image enhancement
III. NVIDIA Image Inpainting 
NVIDIA Image Inpainting is an innovative tool offered as part of the NVIDIA AI Playground suite. This powerful software leverages deep learning technology to enhance image editing capabilities. With the implementation of a partial convolution algorithm, it enables users to produce highly realistic results. This tool not only allows for colorizing images but also excels at removing unwanted elements such as people or objects from photographs. By utilizing AI, it seamlessly fills in the missing portions of an image, restoring its visual coherence and realism.
Pros:
NVIDIA Image Inpainting employs advanced deep learning algorithms, resulting in highly realistic and natural-looking image inpainting.

The tool is available online and can be accessed for free, making it easily accessible to a wide range of users.

It offers the option to apply masks, enabling users to precisely control the areas that need to be inpainted, enhancing the overall editing process.
Cons :
One limitation of NVIDIA Image Inpainting is its tendency to automatically crop images, potentially altering the composition 

As with any advanced image editing tool, there may be a learning curve associated with understanding and effectively utilizing the various features and settings.

Limited Control Over Inpainting Results
IV. Pixbim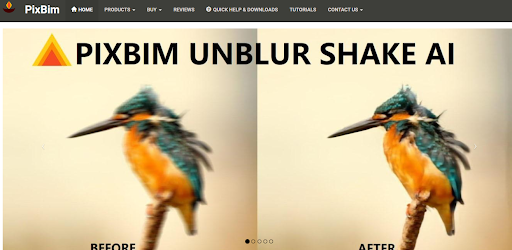 Pixbim is another powerful software tool designed to restore old photos and bring them back to life. With its advanced AI capabilities, it can remove unwanted objects, texts, and artifacts from your images, resulting in well-restored and enhanced photographs. Beyond object removal, Pixbim also excels in fixing tears, spots, and scratches, and automatically correcting colors and noise. It offers a comprehensive solution for those looking to revive cherished memories captured in vintage photos.
Pros:
Fixes a wide range of issues, including object removal, tear fixing, spot removal, and scratch elimination.

The User-friendly interface makes it easy for both beginners and professionals to restore old photos.

Provides offline access with downloadable software, allowing you to work on your images at your convenience.
Cons:
Requires downloading the software, which may take up storage space on your device.

Premium Object Remover AI is a paid tool, requiring a purchase of $37.99 for access to advanced features.

Some users have reported that Pixbim's object removal capabilities could be further improved.
V. VanceAI Photo Restorer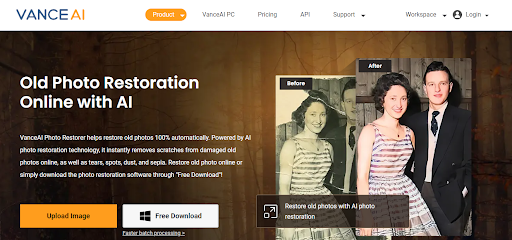 VanceAI is a web-based online tool called VanceAI Photo Restorer. It offers a user-friendly interface and a wide range of automatic enhancement features. While its primary focus is on restoring old photos, it also provides automatic portrait enhancement and color sharpness, making it an excellent choice for photo restoration projects.
Pros:
Easy-to-use interface for hassle-free photo restoration

Affordable pricing, making it accessible to a wide range of users

Particularly suitable for beginners due to its simplicity

Offers portrait enhancement and color sharpness, enhancing the quality of old photos
Cons:
A limited number of free images are available 

Constraints on file size and formats, which may restrict some users

Other advanced editing options may be lacking compared to professional software
Conclusion
In conclusion, thanks to technological progress, we now have access to remarkable web resources that make it simple and quick to restore old photos. For those looking to bring back long-lost memories, the five greatest internet methods to restore old photos in 2023 have been game-changers. 
But if you're looking for something that really pops out, look no further than HitPaw AI Online Photo Enhancer Free. Because of its intuitive design, robust set of tools, and zero entry price, it's a great choice for revitalizing old photos. 
---
Interesting Related Article: "How to Start a Successful Photography Business: 7 Key Steps to Launching Your Venture"