QR codes are not new, and they have been around for a long time. However, the COVID-19 Pandemic has significantly increased their usage and popularity among individuals. A QR code simplifies sharing information in multiple mediums and generating it using a QR code generator free online is extremely simple. This article will cover different aspects of our top 5 picks for the 5 best online QR code generator options.
Part 1. What is a QR Code?
QR in QR Code stands for Quick Response, a 2D barcode that can be encoded with multiple types of information. Traditional barcodes cannot contain that much information, limiting their usage.
However, the QR codes can contain more information and be encoded with various types of data, including contacts, links, credentials, download paths, product details, text, menu, etc. When using a QR code, the user simply scans the code and clicks on the scan results. This way, their smartphone deciphers the information and can execute whatever function the code is intended with.
How to Choose a QR Code Generator?
Since many QR code generator online free options are available today, picking one can be confusing. Most of their features overlap, and the unique aspects are not that much. So, here we have listed the most important qualities and functionalities to look for in a free online QR code generator when picking it:
Data privacy and retention measures

Design and customization features

Multi-device responsiveness

Download options

Restrictions and usage limits

Free or paid scalability options

User interface
You will easily choose the best free QR code generator online for your use case by ensuring you get the best in all these aspects.
Part 2. 5 Best QR Code Generators in 2023
Considering the factors above, we have shortlisted the top 5
5 Best QR Code Generators

Top 3 Features

Starting Price

HitPaw Online QR Code Art Generator

3D QR art

Complete customization

Unique QR themes

$4.99

ForQRCode

10+ information types can be used

Supports payment integration

Good customization options

Free

QRTiger

20 information types can be used

Static and Dynamic QR codes

Ready-made design templates are available

$7

Me-QR

39 types of information can be encoded into QR codes

QR code tracking with analytics

File storage, API, and more

$5.75

QR.io

15 types of information can be encoded into QR codes

Basic customization options

Usage analytics tracking

$35
Let's get into a detailed comparison of these 5 best tools to generate QR code online.
HitPaw Online QR Code Art Generator is your best pick if you want stand-out QR codes. You don't design your QR codes manually here since it packs advanced AI technology that generates your QR art without requiring any coding or programming. Whether you need a QR code for branding or personal purposes, it always assists you with generating the most aesthetic codes online.
Price
Its price starts at $4.99 per week, and the monthly plan starts at $14.00.
User Friendliness
Its user interface is very well designed, with all the necessary elements visible and distinguished by placement.
Pros
Unique QR codes can help increase your brand visibility

There are no compromises on your data security and privacy

Enjoy versatility when generating QR codes
Cons
The free plan only offers limited usage
ForQRCode
ForQRCode is another free online QR code generator designed for users with basic QR design requirements. It helps design QR codes for business needs with rich features, and the QR codes designed here stand out with frames, design patterns, and logos you can include. On top of it, once you are done with the design, you can download the QR code in 3 different image formats for better usability.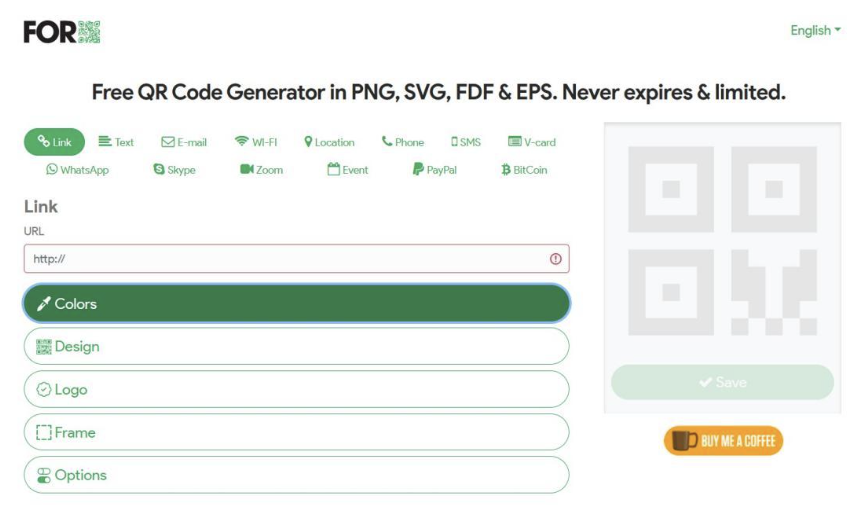 Price
Free
User Friendliness
Very simple and easy to use despite multiple customization options
Pros
No need to account or register to begin usage

Save QR code in multiple formats

Several customization options to make the QR attractive
Cons
No option to add an image to the QR code
QRTiger
Without seeing ads, you may create static and dynamic QR codes with the QRTIGER generator. They place a high value on giving clients a private experience. The service conforms completely with GDPR rules, guaranteeing data protection and privacy. Furthermore, because of its robust backend, customers may generate up to 1,000 unique branded links each second, producing quick and effective QR codes.
Price
You can begin with the free trial version for a month, but the paid plans start at $7 monthly.
User Friendliness
Finding the type of information you need to contain can be tricky using the horizontal scroller that is not very responsive. Otherwise, the user interface is very well designed.
Pros
You can track QR usage data

QRTiger provides amazing customer support

API allows you to integrate it into your site easily
Cons
There are no correction options for the mistakes you make
Me-QR
Me-QR is a QR code generator online free that has not been there for a long time, but its features, experience, and usability have made it a popular choice in a short time. It makes designing your QR codes easy with a unique process that goes page by page. Moreover, it does not lack any functionality that you may require, making it a strong contender.
Price
You can start with it as your QR code generator free online with limited features. However, the paid plan at Me-QR starts at $5.75 per month.
User Friendliness
Every step of the process has a dedicated page on the website, which makes the process feel a little lengthy, but the experience is great.
Pros
Comes with a personal support manager

A perfect choice for businesses and individuals

The free plan offers most features with fewer limitations
Cons
Contains ads that may appear when you print the QR code.
QR.io
A flexible QR code manager and generator is QR.io. Make unique static or dynamic QR codes with possibilities for branding. Enjoy ad-free browsing, quick code production, and GDPR compliance. With QR.io's user-friendly design and robust capabilities of QR.io, you can streamline data exchange and improve marketing campaigns.
Price
Starts at $35 monthly with unlimited QR codes, and going for an annual plan gives 2 months free, meaning you pay 10 months price to use for 12 months at $350.
User Friendliness
It has a friendly, user-friendly user-interface design but seems slightly less attractive for the price.
Pros
Supports creating dynamic and static QR codes

You get complete customization, even for the landing pages

No coding is required, and it completely works with GUI
Cons
Not the most budget-friendly option for individuals
Part 3. FAQ
What information can be contained in a QR code?
A QR code can contain various types of information, including:
Links or URLs

Contact information

Basic text

WiFi network credentials

Restaurant menu

Geolocation links

Calendar events

Payment information, etc.
Does a QR code Expire?
Once you generate a QR code, the data encoded in this code stays unchanged and unique unless someone modifies or deletes it. However, it may stop working if the link it contains does not stay functional, the event encoded in the QR has passed, etc. So, the QR code itself does not ever expire, but the time-sensitive information it contains may become useless.
Which is the best QR Code Generator?
Our top 3 picks for the best QR code generator online free are:
HitPaw Online QR Code Art Generator

ForQRCode

QRTiger
These options provide the best features and user experience. So, ultimately, these options provide a complete package of services anyone would expect when they generate a QR code online.
Conclusion
A QR code is applicable for several use cases in our daily life. You can use a QR code for better efficiency, whether it is about sharing a WiFi password, your contact information, a link to an online meeting, or the restaurant menu. However, regarding your efficiency when working with this code, the QR code generator free online that you pick matters a lot.
Since there are many options, we shortlisted and compared the best ones to provide a better overview. HitPaw Online QR Code Art Generator is one of our best picks. Hopefully, now you can easily select the online QR code generator that brings you the best value among all options.
---
You may be interested in: Scanning QR Codes: How to Stay Safe