Our understanding of the size of the TV screens has changed dramatically with the transition to flat panel technology. Large diagonals are no longer a rarity, and TVs have become quite "slim" and light enough to be hung on the wall. You can forget about the old mantra, that "you need to sit at the N diagonals of the screen." We offer a selection of 5 unique historical TVs, where the size – be it small or gigantic – was unmatched.
Sony XEL – 1 (11 Inches)
Model Year: 2007-2008
The Sony XEL-1 TV is a real "baby," you can't call it any other way. The diagonal is only 11 inches (27 cm); rather, it is customary to see on a tablet or laptop. But this TV has left a mark in history much larger than its size! The Sony XEL-1 became the World's first organic LED panel (OLED), which went on sale at the end of 2007 in Japan and 2008 in other regions. The mass production of 11-inch OLED TVs was a breakthrough, and along the way, the XEL-1 was "the biggest in the world."
The model, fabulously expensive for its size ($ 2,499 in the USA), of course, did not gain popularity, but it was an excellent demonstration of OLED capabilities. A deep, deep black, clean, and rich colors – all this could be seen on an 11-inch screen. The thickness of the panel, along with the body was 1 cm, and the entire filling moved to a massive stand. Looking at this wonder in exhibition showrooms and shops, each of us thought only of one thing: "I wish we could have done the same thing, only with a large screen!"
LG 77 EC970 (77 Inches)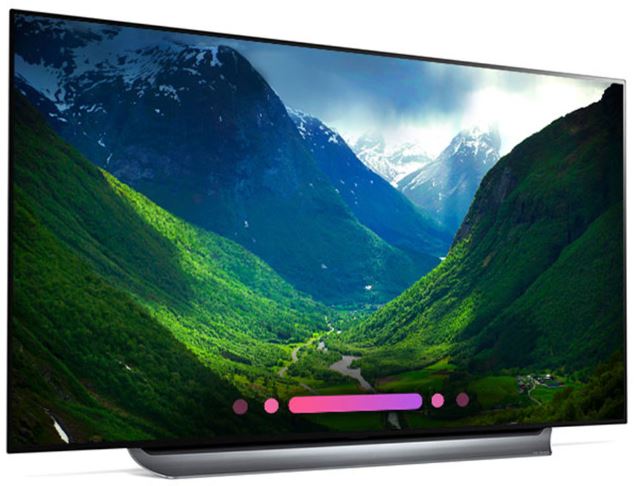 Model Year: 2014 – 2015
LG has successfully mastered the production of 55-inch OLED-TVs but does not stop there. Soon 65-inch OLED Ultra HD models will go on sale, and a little later (at least abroad) 77-inch Ultra HD OLED TVs will appear. There are simply no analogs for this novelty: other manufacturers, including pioneers from Sony, are not yet ready to mass-produce OLED, especially in comparable sizes and quantities.
Need I say that the 77-inch 4K OLED TV LG 77EC970V immediately became "the world's first and largest 4K OLED"? As you can see, exactly 7 years have passed, and a modest 11 inches turned into a solid 77. Not bad arithmetic! And in plans, there is a "bendable" version of the TV. It can change the radius of curvature at the wave of the console. But what can I say, if you believe the plans of LG, then completely flexible OLED displays are just around the corner.
Samsung UE110 (110 Inches)
Model Year: 2013
While manufacturers tried to establish an efficient production of OLED, the more straightforward and more conservative LCD technology captured virtually all segments of the television market. Samsung has continued to lead in terms of production and sales of LCD TVs for several successive years Naturally, from time to time, you have to play an image "card" in order not to disappear from the list of hot headlines containing loud words "the biggest" or "first in the world."
So, at CES 2013, Samsung showed a huge 110-inch model UE110S9 – this is the World's largest LCD TV Ultra HD, consisting of one seamless panel. True, it was produced exclusively for the order at a modest price of $142,000 for the basic version. But you could still play with certain options that raised the cost even higher. This is actually similar to 100 inch TV which was also launced by Samsung (Just added some features and increases the size of LED)
Panasonic TH-152 UX1 (152 Inches)
Model Year: 2010
In its legendary model. It is enough just to read a huge amount of comic reviews from fictional "owners" around Runet to understand what is being said. Plasma panel Panasonic TH-152UX1W – the holder of absolute record size, and the point. Just think: the screen size is as much as 152 inches (386 cm). This TV is so big that plasma panels for it were made from piece blanks in a separate workshop. For obvious reasons, happy buyers had to think separately about the installation of the TV, because with such dimensions it simply did not fit into most openings. Well, at least the delivery of the TV client to the Panasonic took over.
The panel had a physical resolution of 4096×2160 (4K), supported 3D, and generally demonstrated an outstanding image. The plot of any film took a truly rampant on such a screen. The same can be said about the cost of this pleasure: about 30 million rubles (at the old rate).
C Seed 201 (201 Inches)
Model Year: 2011
If 152 inches seemed to someone too small, then the direct road to the stadium technologies is further. In mid-2011, C SEED, with the support of Porsche Design Studio, introduced a 201-inch LED TV (511 cm). The panel consists of 787760 individual LEDs (LED), 262586 for each RGB color – the technology resembles advertising displays on buildings or colored scoreboards on stadiums. It is logical that this model is designed for installation on the street. This is where the fun begins.
In about 15 seconds, the waterproof and weatherproof "TV" leaves the special underground mine when folded, and then for 25 seconds the screen of 7 massive LED fragments unfolds to full size. The sound system has 12 wideband speakers (12×250 W) and 3 subwoofers (3×700 W).
Which TV impressed you the most? Vote and share your views in the comments, dear readers!