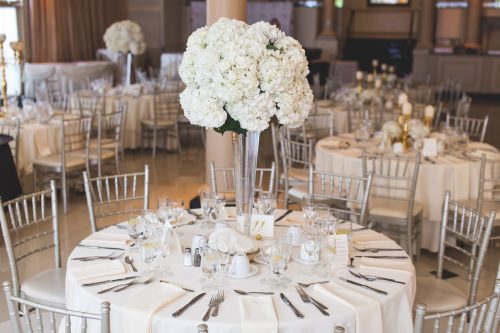 A wedding is a festive and important event everyone will remember forever. That's why brides and grooms want to create an unforgettable atmosphere and make the venue as luxurious as possible. Most importantly, you don't have to spend thousands of dollars on designers to make your event pompous and expensive. You can easily decorate the place without professional help.  This will be a short guide on how to make it tastefully and for cheap.
Here are the most memorable wedding decor trends you should try.
Letters and words
The guests need to understand whose event they are visiting, that is why decorating a venue with words and initials will be a successful idea. They can be made of wood or plastic, and sometimes you can come across letter decorations made of foam.  You can easily customize the color by painting the letters with simple paint or varnish. If you are good with a brush, creating intricate patterns should be no problem. The more customized –  the better. You can form names made of individual letters and put these decorations on the table or the walls. Additionally, these can be combined into words and mixed with flowers or balloons to create a photo zone. If you want to unite the decorations artistically, cut the same words or letters out of cardboard and place them on straws or napkins.
Intricate tableware
One of the main points of a successful wedding design is table decoration. Almost every banquet table is draped and has decorative elements on it. Although you can keep it simple with a white tablecloth and some bright accents, it will be spectacular to use more colors instead. For this one, you will need any pastel fabric to top it off with a white lace tablecloth. Not only will it create a contrast, but your décor will look more expensive.
Of course, a wedding is not a wedding without flowers. If you don't want to use fresh flowers because you are afraid they are going to wilt during a ceremony, simply pin decorative rose petals onto the tablecloth. You can buy them in any art store. If you want to go fancy,  create garlands made of large fake pearls and attach them to the sides of your table as draping.
Balloons
If you think that balloons are a cliché idea, think again. The main aim here is to be creative and original during the decoration stage. For this one, you will need to purchase a couple of dozens of helium balloons in a similar color palette. Tie them to a ribbon and attach the ends to the pillars. You can drape these pillars with fabric, flowers, or lace and put this construction at each corner of the table. Using several pillars will create an improvised tunnel.
And if you want to create a festive mood, inflate a large balloon with helium and attach colorful ribbons to the bottom of the toy. Use weight to keep the balloon steady and place it at the center of the table. It will float in the air, looking like a small hot air balloon.
Festive lights
Your wedding decor will be ten times better once you add candles. They will instantly create an atmosphere of magic coziness and a festive mood. Using massive aromatic candles or small tablets is up to you. If you are afraid of ignition, cover your candles with a flask or wine glasses.
Chalkboards
Chalkboards remain one of the hottest trends of the last couple of years. Not only can you create a photo zone, writing the newlyweds' names, but you can also add romantic quotes or important dates. Add something personal or leave the chalkboard as it is so that the guests can write down their best wishes. Chalkboards can be used to show what's on the menu.
---
Interesting Related Article: "5 Simple DIY Ideas for a Wedding Chair Covers"