Are you dissatisfied with your home's foyer? Although foyers are common in many houses, they may be difficult to paint and decorate. But with the correct approach, you can spruce up your entryway and address a number of issues with something as simple as a new coat of paint. Here are five of these issues and how to use paint to fix them. 
A big home's spacious entrance may be both a gift and a pain. On the surface, it seems dramatic and imposing. But on the other side, it may be overbearing and monotonous. 
Contrast should often be used into color schemes for large foyers. The top and bottom parts of walls may be broken up and made to seem smaller by using contrasting colors—light and dark—in the top and bottom. On trim, wainscoting, molding, and stair components, use several hues. On an accent wall on the other side, you could also be able to use a contrasting hue to make the space seem cozier and closer. 
The entryway sets the tone for guests' experience since it is the first room they see when they enter your house. How does yours reflect the design and aesthetic of your home? If it's missing, think about using a more striking color scheme that expresses your individuality. Bring in colors, patterns, and textures from other rooms to create a tiny version of your overall design scheme.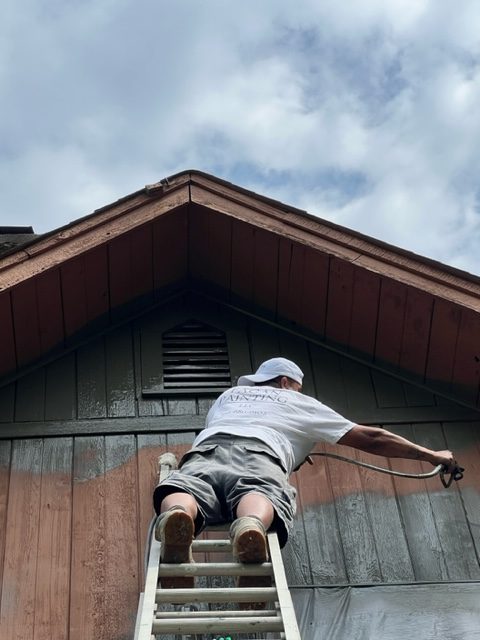 Foyers in difficult weather regions, especially back foyers in particular, must withstand the elements and heavy usage. For these, you may wish to pay greater attention to the paint's own endurance and capacity to maintain its look. Look for paints that are moisture- and stain-resistant. When selecting colors, consider hues that are less prone to smudge or fade; for example, choose darker neutrals like beige or gray rather than brighter ones. Learn more about this on our blog. 
The entryway could be situated in an area of your house with limited natural illumination, depending on its arrangement. It may not have any windows of its own if it was cut out of the living room or placed in between two other rooms, for example. Additionally, you may be unable to add any additional light if there is a solid door or second story. Then, what can you do? 
First, rather of using darker hues that will make the area seem smaller, you could choose to go with brighter ones that will assist open up the space. High-gloss paints on the ceiling or walls also aid in reflecting light that is already present off the walls. Metallic paint and accent colors may also make a space seem brighter and more shimmering by reflecting light. 
Perhaps the issue isn't a large entryway, but rather one that is just a little nook with a coat rack. If so, use a slightly distinct color scheme in the entryway to make it stand out even if it is really a part of the living room. This color scheme should use one or two colors from the adjacent rooms while adding one or two distinctive colors to make it somewhat different. 
No matter what challenges your foyer faces — from size to lighting to functionality — working with interior paint professionals will help conquer them. Be sure to check for professionals in your area; for example, Fagan Painting LLC is ready to help Pittsburgh area homeowners. They will assess your foyer and help you find the right combination of colors, glosses, and durability that will make it into the best space it can be.