If the modern human civilization was a motor vehicle, then the software development industry would most certainly be its engine. The last decade has seen significant changes, disruptions, and innovative advancements in the tech industry. Most of the changes happening around the world are a result of the software development industry, which has since become an integral part of nearly every sector.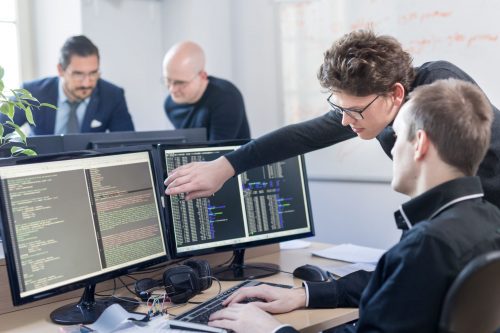 Predicting what lies ahead for the tech industry—and in software development—can be complex. However, shifting consumer preferences, changes in development methods and new technologies in the industry can help software developers determine which areas to focus their skills.
The truth is that there are several trends already changing or rather influencing the software development industry and you can expect them to continue. As a developer, you need to stay on top of the latest industry trends so you can future-proof your skills. Here's a look at five important trends changing the future of software development:
The Rise of 'Self-Taught' Developers
A 2016 developer survey found that 69 percent of today's programmers don't hold a computer science degree and are primarily self-taught. Interestingly, this trend has been increasing over the years. More and more people are learning to code by either teaching themselves, going to coding boot camps, or attending industry certification programs. They're learning how to maneuver Goproxy, Github, and cloud tools completely independent of official institutions.
The barrier to entry in the computer programming field is expected to lower in the next decade to accommodate self-taught developers. In fact, many companies are already thinking beyond traditional learning paths and redefining their recruitment models to keep up. The rise of online learning platforms and coding boot camps are also contributing to the shift in the industry. More and more people will join the world of software development without having to wait for a four-year computer science degree.
Rise in Cybercrime
Today's businesses rely on digital technology to market their products and services, grow their operations, and deliver superior customer experiences. Unfortunately, as businesses increasingly adopt new technologies, higher incidences of cybersecurity breaches are reported. Leading digital technology trends such as e-payments, Big Data and analytics, Internet of Things (IoT), e-commerce, progressive web apps, and cloud computing, dramatically increase the risk of cyber-attacks.
IBM's Cost of a Data Breach Report 2020 indicates that the average total cost of a cybersecurity breach tops $3.86 million for a business enterprise. Statistics also show that about 58 percent of all malware attack victims are small businesses. And as you may have seen with attacks in the recent past, a cybersecurity breach can be devastating: it not only cripples a business financially but also deeply impacts its reputation and customer trust.
Cybercriminals are determined, organized, and committed to continuously upgrade their capabilities. And as a professional in the tech industry, you need to prove to merchants, business organizations, and other interested parties that you can manage their projects well by proactively mitigating application security risks.
Analytics Everywhere
The modern digital economy is a world of data and businesses that collect the right data, analyze it, and act on it are more likely to achieve higher levels of success. However, it's important to note that the amount of structured and unstructured data businesses have to handle and manage is ever increasing. In fact, it's projected that the world will generate 463 billion GB of new data every day by 2025. And 80 percent of this data will be unstructured, according to the International Data Corporation (IDC).
Data analytics is an important trend that's enabling businesses to navigate the world of data and leverage digital technology to target their customers and deliver a superior customer experience. This trend is seen across all industries and you can expect it to accelerate in the future as more and more data becomes available and accessible to companies. Data analytics provides a solution to the problems related to managing and handling data. As such, software development teams should expect every development project to involve data analytics going into the future.
Growing Remote Work Population
One of the most defining digital technology trends in the past decade has been the growth of remote work. The rise of ultra-fast internet connections, project management tools, video conferencing and messaging platforms, cloud-based SaaS solutions, and other supporting technologies has been instrumental to the rise of remote work popularity. And now, about 55 percent of businesses around the world offer some capacity for working remotely.
According to a Gartner survey, 47 percent of companies plan to let their employees work remotely full-time post-COVID-19, and 80 percent will let their staff work from home at least part of the time. Remote work is here to stay as organizations are willing to offer flexible work-from-home options to not only lower overhead costs but also attract the best talent.
Though it's difficult to predict the future, you can expect to see many software and DevOps teams working remotely, either part-time or full-time. Furthermore, software developers will take the lead in improving the remote work experience by building the much-needed agile, customizable technologies and solutions in virtual workspaces.
The Rise of Transformational 5G
5G is already here powering up for worldwide uptake. You've probably already heard or read about its capabilities and can't wait to see how it will revolutionize connectivity. The impact of this new technology is much more than more responsive internet connections, high-speed wireless connectivity, and greater bandwidth availability.
The deployment of consumer robotics, self-driving vehicles, virtual reality (VR), augmented reality (AR) and other new technologies is now a realistic proposition as 5G begins to replace 4G wireless systems. All these will open endless opportunities for software developers, especially in the development of digital tools and platforms.
With the right security infrastructure, software development teams will be in a better position to handle the complex demands of IoT using 5G. Additionally, there will be more opportunities for mobile developers, thanks to 5G's latency and high-speed wireless connectivity.
---
Interesting Related Article: "5 Ways to Reduce Software Development Costs Without Losing Quality"