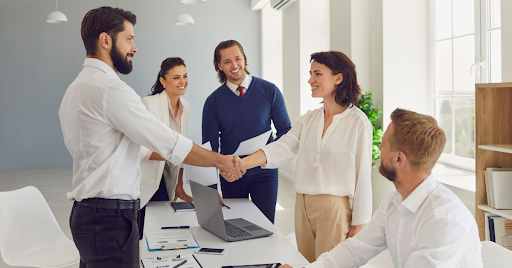 Businesses thrive on growth, as it sustains their vitality. Without nurturing and progress, companies become stagnant. The same principle applies to learners. Implementing dedicated programs for learning and development establishes a culture of ongoing education, injecting new energy into teams.
An organization's L&D model makes or breaks a company's ability to develop and scale. According to a survey, almost 50% of 300 companies increased their L&D budget, highlighting the growing importance of upskilling employees to gain a competitive advantage. From employee skill enhancement, and necessary reskilling, to talent retention, investing in L&D programs is no longer optional – it's a must. 
These programs go beyond mere checkbox activities; these are the cornerstone for tangible growth, specifically designed to nurture and harness the talent present within an organization, enabling its maximum potential.
Today, 5 learning & development startups are leading the pack in revolutionizing obsolete L&D models, focusing on honing every employee's skills with measurable and proven results:
Growthspace
Growthspace was founded on the belief that learning and development is a critical function for businesses. Their skills mastery platform provides participants with 1:1 coaching and mentoring, team coaching, cohort-based workshops, training, and internal mentoring programs – all with measurable results. 
Growthspace provides superior flexibility to allocate budget between the different services and customize the programs, measurement, and taxonomy. They offer unprecedented accuracy in matching the right expert to each individual or group and the efficiency of a unique sprint model that guarantees over 95% completion rates and demonstrable results.
zick learn
zick learn is a digital platform that enables the creation and distribution of visually appealing and easily accessible text messages-based training courses across various chat clients available in the market. 
zick learn offers the most advanced creation suite for learning designers, empowering them to compose text-based courses, coordinate their distribution, and gain in-depth insights about the learners. The platform eliminates the need for learners to download additional apps, and it provides delivery options on multiple messaging platforms such as WhatsApp, Slack, Teams, and others.
eTrivium
Based in Madrid, Spain, eTrivium connects people and organizations and facilitates their learning and development in dynamic and innovative environments. Their goal is to accelerate learning by integrating it into the mission of companies through a global model of e-learning solutions that prioritize personalization, monitoring, and measurement. This model is specifically tailored to empower small and medium-sized enterprises (SMEs) to leverage the full potential of their workforce.
With eTrivium 3L, organizations can invest in talent through a technology that embraces diversity and inclusion. This inclusivity is not only reflected in the platform itself but also the training content, encompassing message types, templates, inclusive language, avatar options, and more.
AQ AI
AQAI offers evidence-based adaptability assessments, certifications, and training programs tailored for consultants, coaches, and HR professionals. They provide AI-driven adaptability assessments, upskilling, and coaching services. Utilizing a distinct conversational chatbot interface and a digital insights platform, they offer a personalized user experience.
Their mission is to enable organizations to foster healthy relationships with change, resulting in improved change and transformation outcomes, enhanced innovation, increased employee retention, and the development of employees' skills.
BetterUp
BetterUp brings powerful transformation to individuals and workforces globally and assists people everywhere in pursuing their lives with greater clarity, purpose, and passion. The BetterUp experience is a combination of world-class coaching, cutting-edge AI, and expertise in behavioral science with the goal of driving large-scale change. 
The company's comprehensive approach enhances personal and organizational resilience, adaptability, well-being, and productivity. The outcome is the convergence of individual transformation with organizational growth. By utilizing a proprietary algorithm and research, BetterUp creates hyper-personalized experiences that motivate and inspire individuals.