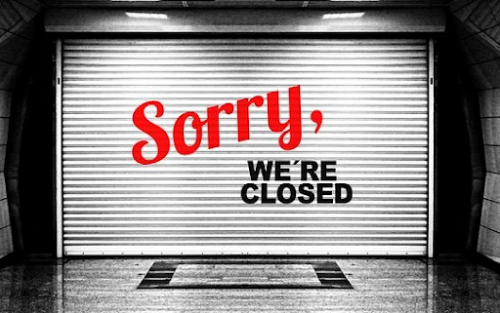 Perhaps you've got a lucrative job offer, you're starting a new business, or you've just realized that your storefront shop is no longer as profitable as you envisioned. Perhaps you even want to move your brick-and-mortar business entirely online.
Whichever the case, closing a brick-and-mortar business is not as simple as turning off the lights, locking the doors, and walking away. A lot of nitty-gritties are usually involved, and taking the right steps can make the process easy and less stressful regardless of the size of your business.
With this having been said, here are 5 crucial steps you should take when closing a brick-and-mortar business down.
1. Consider If Dissolution Is Necessary
One of the first important considerations to make when closing down a business is whether a dissolution process should be involved. 
Of course, this will largely depend on the structure of the business. You may not necessarily need to file dissolution documents with your state or local business registrar if your business has been operating as a sole proprietorship.
However, it is a legal obligation to do so for businesses that are registered as a corporation, partnerships, or LLCs. Doing so also helps prevent continued taxation requirements. It also helps to cancel other elements that could affect your reputation and finances, including permits, licenses, and even resolve pending tax issues
2. Figure out What to Do with Inventory 
If you're closing a business and selling it to another person or company, you always have the chance to negotiate with the buyer about buying the business premises, its name, and inventory. 
Dealing with inventory may also not be so hard when switching your business to eCommerce.
But it becomes a whole different story if you're simply shutting down for good. 
Some popular options to consider in the latter case may include:
Consider a Public auction sale

Going-out-of-business sales

Sell it to similar businesses

Distribute it to owners if it's a partnership or LLC
3. Sell off Equipment That Still Has Significant Value, e.g. Trucks
Besides inventory, closing a brick-and-mortar business may necessitate having a plan on what to do with equipment and other assets that the business owned. Of course, some of these assets could be transferred to a new owner or new business if you intend to have or intend to start one. 
But if you have equipment that still holds value, such as a used commercial truck, it can always be sold to willing buyers in case you're simply shutting down the business for your own reasons. The money received from this high-value equipment could even be enough to fund another business activity if not support a portion of your retirement!
4. Determine Your Financial Standing 
Before closing your brick-and-mortar, it is vital to thoroughly analyze your business's financial standing. Evaluate your current liabilities and know your current assets, and if your business has any outstanding debts. 
If your business has outstanding debts with your current and/or previous lenders, it is important to find a suitable exit strategy. Common options here may include renegotiating payment, seeking other financial avenues, or even filing for bankruptcy.
5. Keep Your Employees In The Know 
If you have any, it is also imperative to notify your employees in advance of your plans to close down the business. This helps to keep them prepared and allows them to plan their next step in life. In case it's a sale, it also helps shed light on what will happen to your employees' salaries and benefits, alongside other specifics about the closure.
Finally, it's sometimes also essential to tell your customers you're going out of business. Besides protecting your reputation, doing this can also help prevent a plethora of inconveniences and headaches. 
You don't want your loyal customers coming to your storefront, like 3 times in a row just to be told that you closed shop a while ago! On the same note, you'd rather not receive calls every day from your clientele requesting services or placing orders weeks or months after you shut down.
---
Interesting Related Article: "What to Do If Your Business Bank Account Gets Shut Down"