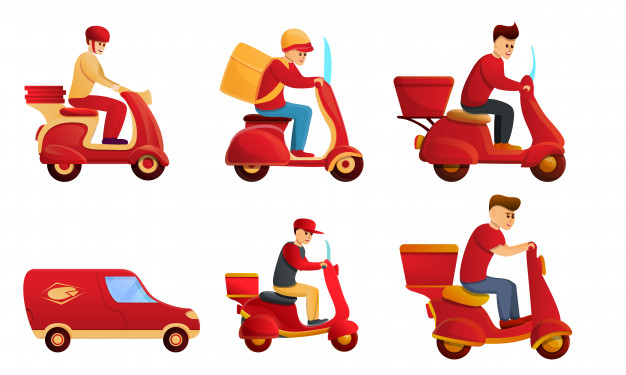 The food delivery trend that helped restaurants survive the pandemic is here to stay. With the explosive growth of restaurant e-commerce in the past years, offering delivery services has become a common customer expectation. Customers want warm, delicious meals delivered directly to their doorsteps, and restaurants must find a way to fulfill this need. 
Good thing countless food delivery services have mastered the art of bringing restaurant-quality dishes straight to hungry customers. However, they are not all created equal, and choosing the right delivery partner is critical. 
We've listed five things you should consider when looking for the best food delivery service: 
An Optimized App

Reasonable Commission Rates

Delivery Speed and Reach

Platform's Performance

POS Integration
An Optimized App
Online food delivery depends on convenience. A great food delivery partner has an intuitive app that's easy for customers to use and navigate. It must be optimized for a smooth user experience that helps customers quickly find the meals they like, order and pay for them, then track their delivery status.
Some apps can also retain an order history, making it easy for customers to place repeat orders. The app should also make it easy for customers to discover new restaurants. This will give you confidence that your brand will gain visibility in an otherwise crowded platform. 
Along with a smooth and easy-to-use app having an accessible restaurant e-commerce platform is much more important in growing your brand.
Working with a food delivery partner with an optimized app increases your sales, brand recognition, and brand loyalty. Be sure to go for one with excellent reviews, an intuitive interface, and a great user experience. 
Reasonable Commission Rates
Food delivery partners charge 20 to 30% per order as their fee. This covers the cost of delivery and exposure in their food app. Some will charge extra if you want to run special promotions within the app. 
You can either accept these fees or charge higher prices for online orders. Charging higher may not sit well with some customers, especially if you sell to a price-sensitive market. However, others may be willing to pay extra for the convenience. 
If you decide to accept these fees, make sure you've calculated their impact on your restaurant's profitability. More sales aren't always good if you're not making money out of it. 
A good practice is to compare the rates of various delivery partners covering your location. You can ask other restaurant owners or scout your neighborhood for the most commonly used food aggregators. You should also take the time to read the terms and conditions of your delivery service contract to understand what justifies the cost of these commission rates.
Delivery Speed and Reach
Like any logistics service, food delivery services have different areas that they serve better than others. When choosing a delivery service, take note of their reach and speed in completing food deliveries. Research where your target customers live and look for the best food delivery aggregators in their areas. 
Check their service level and how customers are satisfied with their speed and quality of service. Of course, you should do your part and make sure your meals are packed properly. Investing in quality food packaging for delivery will ensure customers get their meals hot and presentable. 
Platform's Performance
To maximize profit and minimize risk, many restaurants partner with multiple delivery platforms. However, not all platforms perform the same, and some may work better than others. 
Before engaging with a food delivery service, check how they run promotions to attract customers to their platforms. Food delivery is a competitive niche, and there are lots of players vying for the same customer's attention. Ideally, go for a platform with a wide user base and ongoing promotions to attract new customers. 
Once you've signed up with a platform, regularly check your sales and take note of customer feedback. Don't be afraid to drop a non-performing platform. It's still your business, and you should let the numbers decide on the best course of action. 
POS Integration
Most food delivery services have their own terminals and partner-specific devices to manage orders. However, manually entering these orders into your POS takes valuable time and effort. 
Ideally, your food delivery partners should be able to integrate easily into your POS to help save time, increase efficiency, and reduce errors. Integrations will also help with accurate order processing and streamline the kitchen's preparation. This will also lead to better sales reports and business insights. 
The best cloud-based POS system contains multiple food partner integrations allowing restaurant owners to run a cohesive business. 
Final Thoughts
Food delivery is here to stay, and choosing the right partner is crucial when venturing into this exciting territory. Food delivery partners are the face of your brand for new and existing customers, and their experience with your partner will translate into their perception of your brand. 
Consider the factors outlined above carefully before deciding on a food delivery partner. Who knows? This may be the big break your restaurant is waiting for. 
---
Interesting Related Article: "Start a Food Business Without Owning a Restaurant"