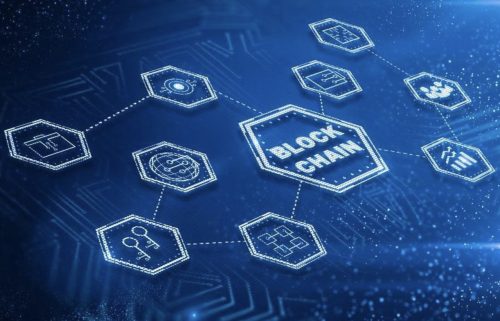 In today's competitive market, small-scale businesses need to buckle up and incorporate the latest tools and technologies to stay ahead of the competition. Business owners need to stay ahead of the ongoing market trends to get well-versed with the emerging technologies offering the slightest edge and use the best tools for better business growth.
Blockchain has gained huge popularity among all technological advancements invested to date and will continue to win the market in the coming few years.
Talking about small-scale businesses, blockchain is offering tremendous benefits, right from reducing costs to improving business efficiency and more. Well, there are ample ways in which blockchain development is reducing business costs. Let's look at them one by one.
Blockchain Current Market Stats & Growth
The blockchain market worldwide was valued at $4.67billion in 2021, and the figure is undoubtedly expected to increase in the coming time, i.e., $163.83 billion by 2029, at a CAGR of 56.3%.
The financial sector accounts for around 30% of the blockchain's market value worldwide, but the technology is slowly spreading to all sectors, including healthcare, agriculture, and more. One of the major factors contributing to the growth of the blockchain market is the increased venture capital funding and investment. This ever-growing rise has also increased the demand for a mobile app development company in the coming time.
In 2018, blockchain protocol generated around $4.2 billion worth of investment in its ICO. Although bitcoin is one of the largest technologies generating huge business revenue, other cryptocurrencies, including Ethereum and Ripple, drive a huge profit. So, businesses that recently stepped into the business industry and want to gain huge profits should get in touch with a leading blockchain development company provider. You can experience ample benefits while integrating this amazing technology with your business processes.
How Can Blockchain Applications Save Your Business Money?
The following are the different ways blockchain applications contribute to better business growth, as mentioned by blockchain development services experts. 
Reduces Overhead Cost
One of the major benefits of blockchain apps is that they offer a quick reduction in overhead costs. When you use a blockchain system within your SMB, it can assist in decreasing overhead costs and lowering overhead costs.
Peer-to-peer networks handle cryptocurrency payments, which eliminates the need for centralized validation. As a result, SMBs can accept payments made using Bitcoin or any blockchain platform with low merchant processing costs. Another amazing technique to reduce the overhead cost with blockchain applications is automating services like accounting or drafting contracts.
Deters Theft
One of the biggest advantages of creating a blockchain-based app or website for a small business is the deterrence of thievery. It is very easy for thieves to steal cash or credit and debit card information which could be a great loss for businesses. Right? But, if you have digital currency through blockchain, it is not at all easy to steal the data, and your business will not experience much theft.
All the monetary exchanges through blockchain can be forged easily. You can keep your business safe and secure while incorporating blockchain development solutions into your business system.
Minimize Operational Cost
Centralized authentication is unnecessary since cryptocurrency transactions are carried out on a decentralized network. As a result, businesses can accept digital payments in cryptocurrency, which minimizes operational costs. A well-developed and integrated blockchain system can help businesses reduce transactional costs and assist in reducing overhead expenditures.
Additionally, you can automate transactions using smart contracts, which further reduces the cost to a great extent. So, if you plan to develop a revenue-generating business application, hire blockchain developers with the best expertise and technical knowledge.
Better Compliance
To create simple identity verification platforms for various enterprises, some organizations need digital identification technologies, which results in improved business compliance. Better transparency, cost management, and improved data access aren't possible without the integration of blockchain technology.
Businesses must take great care to protect operational data because any infringement could negatively affect the company's reputation, which could be a huge loss. To overcome all of this, blockchain technology comes in handy for all-scale businesses. Blockchain provides businesses with the capability for encrypted data storage, which makes the data extremely secure.
More Security in Less Investment
Finally, coming to the last yet one of the major benefits of blockchain in reducing business costs is that the technology offers more security with less investment. You can simply search for the cost to hire blockchain developers and decide as per your business budget. It means businesses only have to make a huge investment once in incorporating blockchain technology and reap the benefits for years to come.
No other technology offers more safety and security to businesses than feature-rich blockchain development solutions. So, think about it.
Blockchain development has its own perks, as you have noticed while reading this blog. Now that you are well-versed in the different ways how blockchain technology reduces business costs think of incorporating it into your business system.
How Much Does Blockchain App Development Cost?
The cost to develop a blockchain app completely depends on the type of application developed, as discussed below.
NFT Marketplace
Investors who are interested in contemporary business are becoming more and more familiar with NFT marketplaces. A well-developed NFT marketplace cost lies between $30,000 to $50,000.
DApps
DApps leverage decentralized technology to offer user-focused functionality. Developing a DApp might cost around $35,000 to $50,000.
Cryptocurrency Exchange App
This blockchain-based application provides users with a safe and reliable application infrastructure that helps businesses grow. The cost to develop a cryptocurrency exchange app might cost you somewhere between $50,000 and $100,000.
Summing Up
Blockchain technology has won the maximum market, and now every business, regardless of size and domain, is leveraging this amazing technology into their business system. While reading this blog, you must have already understood how blockchain technology is helping businesses grow while reducing costs significantly; now it is your turn to step into the market.
You can turn your small business into a well-known brand with the right set of tools and hiring dedicated blockchain developers.
Interesting Related Article: "Top 14 Blockchain Developer Tools You Should Know"