5 Ways to Keep Your Holiday Plans Safe This Winter
A lot of our holiday plans have been disrupted thanks to covid 19 recently. Even with restrictions easing up a little, it might still not be possible to enjoy all the activities you normally would with your family. 
So, whether you are planning to head to a sunnier destination for the winter or are looking forward to celebrating the holidays at home with friends and family, here are five tips to ensure everyone stays safe and healthy while having a great time. 
1. Spend Time Outdoors Where Possible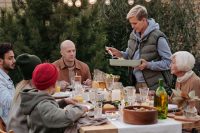 Depending on where you live, spending a lot of time outdoors over the holiday season might be the last thing you want to do. But keep in mind, it's a lot safer to meet friends and family outside to reduce the spread of coronavirus. 
You can still have fun outdoors in the cold – wrap up warm in lots of layers and enjoy some warming food and drinks with your family and friends. You could also grab a big box of blankets and start a fire pit or even light an outdoor heater if you have one. 
Why not plan some fun games and activities that involve moving around to help everyone stay warm? Just make sure to wash your hands when using shared equipment. You should also take care when sharing food with members of other households – perhaps everyone could bring their own to reduce the risk. 
Remember, you can still wear masks and practice social distancing if it's required in your area or if it will help you feel safer. If time allows, you could quarantine for a while before the gathering takes place to ensure the chance of a COVID outbreak is completely minimized.
2. Be Prepared for Quarantine
It's something no one wants to think about over the holiday season, but it's a great idea to have a plan in place in case a member of your household, unfortunately, tests positive for COVID-19. 
While there's no need to stockpile months' worth of supplies or panic buy the last items on the shelf, it's worth keeping enough supplies at home for 10-14 days just in case anyone has to quarantine unexpectedly. 
You should also consider where you can get tested if you develop symptoms of coronavirus and make preparations to work from home if necessary. 
3. Think Carefully About International Travel
Before planning any international travel, you should check the current restrictions in the country you are leaving from and the one you are traveling to. Even if you are allowed to travel, carefully consider the risks, and remember that restrictions can and do change often, so getting home safely could be difficult. 
To keep your travel as safe as possible, there are a few things you should do. If it's possible to drive to your destination, do so rather than taking public transport. If you have to fly or take public transportation, you should wear a face-covering for the duration of your journey. Finally, try to choose a transport company which keeps passengers from different groups separated from one another. 
Even if it's not a requirement, you might like to consider quarantining before and after traveling internationally to help keep everyone safe. You could also take a test before leaving and stay at home if the result comes back positive, even if you feel well. 
4. Have Fun at Home With Your Family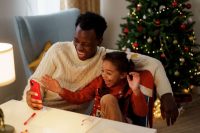 If you've decided to play it safe and stay at home for the holidays, you don't need to miss out on the fun. There are loads of great activities you can enjoy with your partner and kids from the comfort of your own home. 
Start by having a brainstorming session with the kids to develop some activities they'd like to do over the holiday season. Then, write them down in a list and think about ways to make sure they are safe to do during the pandemic. It doesn't have to be anything too big – how about a pajama day at home where everyone gets to pick a movie to watch? You'll also find loads of resources online filled with ideas for passing the time at home with the kids.
If you feel like getting out, why not do a Christmas drive-by? Head to the neighborhood with the biggest and best lights display and admire them from the warmth and comfort of your car to stay safe. Or, you might even find a professional lights show nearby that you could attend. Kids and adults alike are sure to love this cheap, safe activity. 
5. Plan a Virtual Christmas Gathering
Even with more and more people getting vaccinated, it can still be a bit risky to meet up in large family groups at home for Christmas. But, thanks to the wonder of today's technology, staying home doesn't mean you can't have fun with your extended family. 
It might not be quite the same as your traditional family Christmas gathering, but you can still enjoy many of your favorite festive activities by using technology. Just about everyone has used Zoom at some point over the pandemic for everything ranging from doctor's appointments to trivia nights. 
So, why not organize a Zoom meeting to watch a movie together with the family? Or, prepare some fun family games like Charades or Bingo. You won't even notice everyone isn't in the same room! You can enjoy crafting activities with the family over Zoom. Send out craft kits or even gingerbread decorating kits, and you can all get creative together and share your creations at the end. 
Having your Christmas party this way means you don't have to get dressed up if you don't want to. Why not have a festive jumper or pajama party instead! You could even send everyone a party hat and some decorations ahead of time, so it feels like you're all together. You might never want to have a traditional family Christmas gathering again!
---
Interesting Related Article: "Navigating family stress during the holidays"