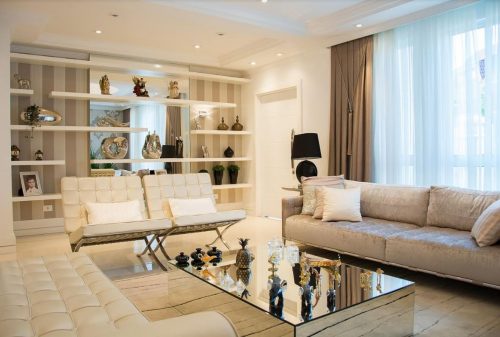 Are you looking for some outstanding interior design ideas for your living room? Well, this article will acknowledge all your queries. Here we will talk about some affordable interior design ideas and their benefits.
Don't you agree that a living room is the most favorite part of your house? Undoubtedly, the living room is the most stunning part of every house. It's the place for a get-together, relaxation, and the best place to spend time with your near and dear ones.  It is the centre of attraction in any way. In some way, your living doom also decides the look of your house.
Decorating the living room is a dream of every person. All you need is a little creativity and a handful of budget-friendly items. We have ample tips and tricks straight at your doorstep. Keep on scrolling and get your hands on these amazing interior decor ideas without making a hole in your pocket.
Let's take a sneak peek at some various types of living room ideas-
Modern living room
Contemporary Art living room
Traditional living room
Rustic living room
Transitional living room
Beach style living room
Without further delay, let's check them out-
Modern living room
The word 'modern' itself signifies how the framework will look like. The modern look is very trending in today's time. It includes simple elements but still loses no chance to make sure to surprise you.
Contemporary living room
Wait, if you want a dual-tone of black and white and a simple touch of loveliness in your living room then no one can stand next to this. Being basic and simple also it still misses no chance to flabbergast you.
Traditional living room
In case you want to give a warm and bold look to your living room? It's the best choice. It is the epitome of elegance. Although it's as old as the sea, still one look is enough to fall in love with its beauty.
Rustic living room
If beauty has a face then the crown must be awarded to this look. If you are still wondering why? Then why don't you take a look at it? It never fails to astound you. It's an ancient form of framework that easily increase the warmth of your living room
Transitional living room
If you are stuck in between traditional and contemporary looks, then you are safe. Because you've got a choice here. This look is a perfect blending of both of them. Yet it looks simple but it has a uniqueness that's enough to go gaga over.
Beach style living room
If you love to get lost in the realm of blue and want to discover yourself near some seashore then you again have a choice, amigo. This look mainly focuses on peace and calmness.
Haven't you asked yourself a zillionth time: why it's so important to invest time and money in Interior Design for your living room. Now let's take a look at its benefits-
The living room is the most favorite part for the majority of the people
When you decorate your living room, it gives a grand look to your house. In some way, your living doom also decides the look of your house
Sticking to a particular theme works well to decide the trend for the rest of the house
A new and refreshing look brings peace and calmness
If you are struggling to come out with a conclusion, Interior Designers can make this task a cup of tea for you.
---
Interesting Related Article: "The Importance of Incense Holders in Interior Designing"