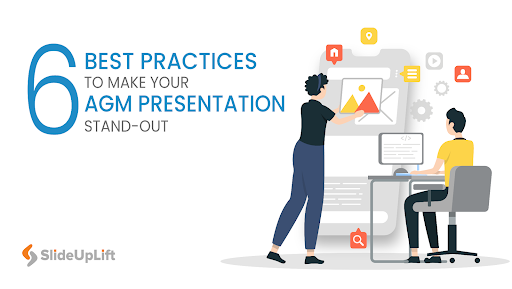 Your investor relations strategy might be critical to your organization's success. Indeed, 91% of investors value companies that offer board-level interaction because they believe it is the most effective approach for them to influence board policy.
The Annual General Meeting (AGM) is an excellent chance to engage your shareholders, which is why we have produced this list of AGM presentation ideas to assist you in communicating with your investors more successfully.
Rather than treating an AGM as a tedious annual obligation, businesses can utilize it to demonstrate their commitment to shareholder transparency and to build ever-closer connections with people who invest in them.
After all, operating in a way your investors approve of is unquestionably helpful to the company. The only way to find out what they support is to connect with them deeply and meaningfully.
Why Is An AGM Important?
An AGM allows shareowners and management to communicate openly. It is an opportunity to hold people in power responsible for their activities over the last year and to ensure that decisions are made in the best interests of all stakeholders. Shareholders take an active part in shaping the destiny of their assets by attending the AGM.
An AGM is also an opportunity for businesses to foster relationships with their shareholders. A well-run AGM demonstrates that the firm values shareholder participation and is committed to transparency. This fosters trust between shareholders and management, which ultimately helps the organization.
How To Create a Worth-remembering AGM Presentation?
A successful session can be achieved by effectively holding an AGM. Here are some pointers to help you prepare an outstanding AGM presentation:
1. Start with an Exciting Story
You should refrain from constraining yourself to dry facts just because you have a set of findings you want to explain. If this is your objective, you could present your annual report to the guests and ask them to read it. Instead, create a story about your company to engage and fascinate your audience. You can take the help of roadmap presentation templates to showcase your story in a proper flow!
What were the actual victories of the last year? What caused them to occur? What did you discover? Let customers see the company's real beating heart, not just the topline stats. They invest in results and provide an emotional bond by taking people on a trip.
2. Try Mixing up Your Presentation Formats 
Even better, strive to break up the business presentation with various information. Continually catching your audience's attention through variations in rhythm and style is part of keeping them interested.
Maintaining attention is considerably simpler when your brain is continuously busy by adapting to various situations rather than listening to a presenter speak at the same tempo for an hour.
Different formats also aid in the reinforcement of your messages. The beautiful thing is that after you've created the content, you can reuse these important components for future social media marketing.
3. Work on Your Slides and Template
Looking at how you present your slides as a straightforward approach will quickly renew your presentations. Rather than simply filling blank slides with information as you think of it, use some free PowerPoint templates to work with.
This gives your presentation a sense of continuity and consistency. It also enables you to create a professional brand style that sticks out to the audience.
Remember that this will be viewed by individuals you want to impress, including existing and future investors. It is worthwhile to devote effort to finding the relevant templates for data displays, videos, testimonials, informative presentations, and other media. 
4. Make it Visually Appealing
Visual performance is an essential aspect of an AGM. Your speaker/speakers will take the stage in front of an audience and attempt to engage them with the topic. You want participants to be visually stimulated whether your AGM is held online, in person, or a hybrid format.
Powerful visual aspects in your presentation must support this. Many businesses make the mistake of copying the script and putting it on a wall of text on the slide. For example, if your slide and your presenter discuss the same thing, one of them is redundant.
The slide decks should show rather than repeat your message. How do you convey your message in a way that catches the attention of the shareholders? Make your info relevant to your audience. It is your responsibility to communicate company updates and enhance comprehension.
5. Invite a guest speaker
Guest speakers can enhance the AGM by presenting an intriguing, thought-provoking, and relevant perspective on the important messages or a topic connected to your field and the problems and exciting opportunities ahead.
This transforms the meeting into an event and adds value for attendees, making it a more engaging and meaningful experience. It can be someone from your business with knowledge of a new product or an industry thought leader.
In any case, this breaks up the presentation and provides the audience with information to take away.
6. Think hybrid
Making AGM presentations more accessible is one method to enhance involvement. Many occur throughout the workday, making it difficult to clear a window long enough to attend if someone must drive a great distance to a physical venue. This becomes much more of an issue if they have many meetings to attend.
Presenting an AGM in a hybrid format, in which both online and in-person guests have the same experience, encourages more investors to watch and engage with the event. Removing the requirement for travel time and overnight housing can boost attendance.
The investor merely has to set a meeting time and participate from their workstation. This strategy allows you to reach a larger audience.
Wrapping It Up
Engaging your shareholders helps you to build a solid relationship with them. They are more inclined to support your organization in difficult times if you keep them interested.
These AGM presentation ideas will assist you in presenting the main data from the annual report in an engaging presentation that holds their attention and provides mutually helpful feedback.
---
Interesting Related Article: "The Power of Video Presentations"