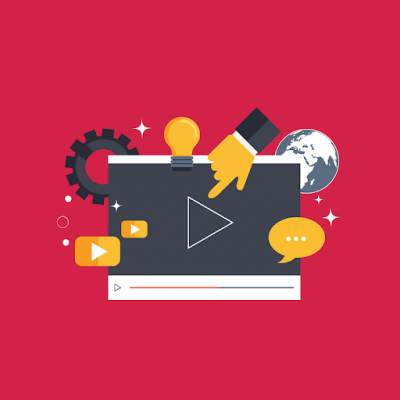 In the 2020s, the old adage "content is king" can safely be replaced with "video is king". Video is becoming a primary channel for consumers, and brands are scrambling to build and execute their video marketing strategy. Video advertising is becoming a major part of advertising budgets. This makes it more important than ever to conserve costs on video production.
In this article, I'll present the amazing growth and compelling marketing benefits of video advertising, explain the video production process, and describe six hidden costs marketers should be aware of as they plan their video advertising strategy.
What Is Video Advertising and Why is it Important?
Video advertising enables brands to display promotional content in the form of video across multiple channels and devices. Brands use video advertising to extend their reach and increase engagement with existing and potential customers. 
Studies indicate that most marketers believe video advertising produces a positive return on investment (ROI), and 90% of consumers think video content can help them make a purchasing decision. 
Here are several additional benefits of video advertising:
Reach mobile users

—people like watching video content on the go, while using their mobile devices. Research indicates that mobile users watch a large number of short ads (spanning around 30 seconds per ad) all the way to the end.

Higher engagement

—video ads can help engage audiences that have become blind to text and banner ads. Video ads include sound, movement, and other elements that engage viewers. 

Tell the story of your brand

—brands use video content to tell their story in an effective, memorable, and engaging manner. Storytelling can shine in video format, creating an emotional impact. This can help viewers connect to a certain product or service. Video ads are also highly useful in promoting a sale and outlining a value proposition.
The Video Production Process
In order to understand video costs, let's briefly review what happens at each stage of the video production process.
Concept planning

—at this stage, the customer specifies the approach to the video, and discusses the subject matter and messaging with the videographer. The customer and videographer determine how many on-camera interviews or other scenes need to be shot, select a location, choose interviewees and discuss how to coordinate with them.
Pre-production

—once the customer settles on a concept, the videographer or video production agency develops a storyboard and approves it with the customer. The videographer then develops the list of video shots. At this stage the customer, or the videographer, schedules with interviewees and secures locations.
Video shoot

—the videographer gets equipment ready, including lights, cameras, and media cards. They visit each location and work according to the video shot list, shooting raw video of interviews and other live action they find helpful or relevant to the storyboard.
Post-production

—finally, the videographer will review raw video that was shot and perform video editing. In some cases, when interviews are a core part of the video, the videographer will transcribe interviews and rearrange them to create a script, approve this script with the customer, and use this script as a basis for video editing. At this stage, graphics or captions may be developed and added to the video. 
Approval and delivery

—the videographer delivers a preview video to the customer, accepts comments, and fine tunes the video to create the finished product. The videographer will then deliver the video in agreed formats—these may include high definition master files and compressed formats like MP4 for Internet delivery. 
1. Video Length
The longer the video, the greater the amount of work needed in post-editing, and consequently, the higher the cost. Video length also affects turnaround times, storyboarding, and production schedules.
Animated videos can be especially time-consuming. This is why video studios dealing with animation generally start the pricing discussion by considering the length of the video. Doing this lets the studio decide how many animators and designers they need to involve in the project. 
2. Day Rates
Videographers typically don't charge by the hour. This is because most of the work takes place outside actual shooting time. It is common to charge day rates for video production. For example, if a production studio with a $1,500-a-day rate predicts that your project will run for 3 days, your total cost will be $4,500. Day rates can be very different in different regions. The level of experience of the videographer will also affect the price.
A viable option to reduce day rates is to hire a semi-professional videographer. You can sometimes find a freelancer looking to build up their portfolio, or a student wanting to fine-tune their craft. You can sometimes find talented videographers for reasonable prices. You can expect to pay between $200-$750 per day for a semi-professional videographer. Just be sure that you look at their portfolio prior to hiring them.  
3. Video Rendering and Compression Time
Video rendering is performed during the video production process. It takes raw media like 3D models, graphics, and video shootage, and creates usable video frames. Video compression or encoding is the process of reducing the size of a video file and converting it into a usable format. Typically, encoding involves the transfer of footage to an editing system, where it is rendered into a format suitable for web broadcast, and then uploaded to a host like YouTube or Vimeo. 
Video compression and rendering processes are typically performed as part of the overall video production process. Since these processes occur in the background, the costs are often added to overall editing time. In some cases, video compression and rendering costs may be charged at a separate hourly rate. If you are streaming your video to viewers, consider cloud platforms like Azure Media Services and AWS Elemental Media Live, which let you upload videos and automatically prepare video for streaming. 
4. Music And Sound Effects
Music is a crucial element contributing to the feel of your video. Music sets the tone of the video and elicits certain emotions in the viewer. It can often be a major factor in the success of a video. 
Licensing popular music for use in videos can be costly, and is usually reserved for big budget productions. There are typically lower cost options for music that can provide the required ambiance for your video. Sound effects are more affordable—usually a few dollars for ready-made sound effects and hundreds of dollars for custom-made audio.
5. Formats
The format of your video has a critical effect on how and where it can be viewed, the quality of the video, and many other aspects that affect the general viewing experience and the cost of the production. Here are several key considerations:
The number of different formats the video needs to be rendered in

The device and screen size in which the video will be viewed

The number of versions of the video (for example, long and short versions)

The number and type of video players you expect viewers to use

The level of user control—if you break the video into short segments, you can offer users more control over the video

The size and aspect ratio in which to deliver the video (for example, 16×9 for desktop viewing, 9×9 for Facebook and Instagram, 9×16 for mobile devices)
The more formats you need to adapt the video to, the higher cost the videographer could charge. Added costs for video formats can range between 5%-10% of the overall cost of the job. If you have access to programming skills, an alternative way to create multiple video formats is platforms like IBM Watson Video or the Cloudinary video API, which can create multiple versions of a video in different formats and form-factors fully automatically. 
6. Influencer Fees
Managers, agencies, and tools will also form a component of your costs. Here are some other things you will need to factor in:
Distribution fees 
This is the cost of featuring sponsored content on the social media account or website of an influencer. The price will differ according to the follower count, content quality, popularity of the influencer, engagement, demographic and niche. Costs can also be affected by the quality of the influencer's audience. 
Talent fee
Some campaigns demand that influencers develop content that is exclusive to the brand. The fees will depend on the influencer's popularity and demand for their services. 
Videography costs
In some cases you will need to undertake the costs of a photo shoot with the influencer, which can include location, outfits, props, travel, and videographers. 
In general, an Instagram post by an influencer with 100,000-500,000 followers can range from $250-$2,000. For an influencer with over a million followers, the same post will likely cost you $10,000 or more. 
For a full photo shoot, distribution and talent fees for an influencer with under 500,000 followers will typically cost under $5,000. For an influencer with over a million followers, these costs will typically be over $15,000.
Conclusion
Video advertising is complex and has several production elements not present in other forms of online advertising, such as text ads or banners. In this article, I covered several hidden costs of video advertising, including:
Video length

—every second of video has a measurable cost, and many video suppliers charge according to the length of your video.

Day rates

—videographers typically charge by shooting day, making it important to determine how many "days" will be needed to complete a video.

Video rendering and compression

—a commonly overlooked part of video production work, which may or may not be included in editing costs.

Music and sound effects

—these can have a major impact on the success of your video. Costs are typically low, but can increase if you use popular music or custom sound effects.

Video formats

—the number and type of formats in which you need your video delivered can add 5-10% to your total video production cost.

Influencer fees—including a social media influencer is a surefire way to make videos successful, but influencers charge for their participation and for shooting time, and this can become one of the largest components of video cost.
I hope this will be of help as you plan an efficient, lower-cost video advertising strategy.
Author Bio:
Gilad David Maayan
Gilad David Maayan is a technology writer who has worked with over 150 technology companies including SAP, Imperva, Samsung NEXT, NetApp and Ixia, producing technical and thought leadership content that elucidates technical solutions for developers and IT leadership. Today he heads Agile SEO, the leading marketing agency in the technology industry.
LinkedIn: https://www.linkedin.com/in/giladdavidmaayan/
—
(Twitter: https://twitter.com/gilad_maayan)
(FB: https://www.facebook.com/gilad.maayan)
Email address (linked to a Gravatar.com account) – [email protected]
---
Interesting Related Article: "The Importance Of Video Advertising"