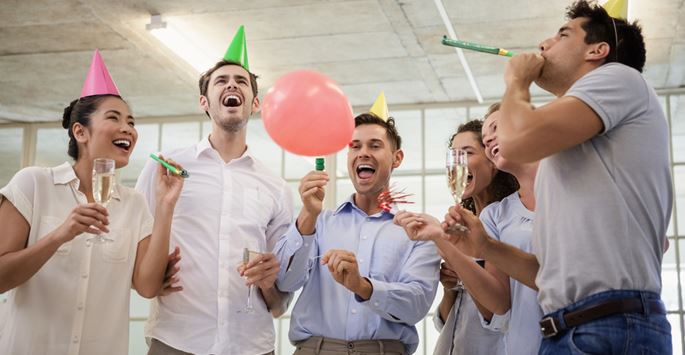 Hunting for fresh ideas to make your company's yearly workplace party more thrilling? Lots of supervisors are having a hard time finding creative solutions to make the gathering an unforgettable one. Worry not! Here are six fantastic tips to liven up your next corporate celebration!
Photo Booth Fun
Photo booths at your workplace party? Absolutely, a must-have! Integrating a photo booth into your corporate celebration not only adds a dash of fun and excitement but also creates a vibrant space where memories are captured and cherished. Imagine your colleagues donning whimsical props, from oversized glasses to playful hats, striking a pose, and letting their hair down in a series of candid snapshots! The photo booth becomes a lively hub where genuine smiles, hearty laughs, and playful antics are immortalized in print. It's not just about the photos, though.
According to Selfie Booth Co, here's why photo booths are a must-have for parties:
Let employees express their creativity! Props, costumes, and all things fun – so they can let loose and enjoy.

Encourages socializing. Employees gather around the booth, sparking conversations and laughs. This builds relationships and creates a more cohesive work environment.

Captures priceless moments. Printed photos as souvenirs or digital copies shared with friends. Reminders of the enjoyable time spent together and positive associations with the company.
Don't forget the fun! Photo booths are a unique way to enhance creativity, encourage socializing, and create lasting memories. Your employees will love the chance to let go, bond, and take home keepsakes from the unforgettable event. So go ahead – make your next company celebration one that won't be forgotten!
Live Entertainment
Live entertainment brings vibrancy to any company workplace party. It captivates and engages employees, creating an unforgettable experience.
As you consider live entertainment to electrify your company's workplace party, why not host a Michael Jackson tribute? This act could be the centerpiece, offering a spectacle of moonwalks and classic hits that not only energize the crowd but also pay homage to a musical legend. It's a creative twist that aligns with the innovative spirit of your event, ensuring employees will be talking about the party long after the last song.
Anyway, here are six ways to incorporate live entertainment:
Interactive Performances: Magicians, comedians, or improvisation groups.

Music Band or DJ: Get everyone on their feet with live music or a DJ.

Cultural Performances: Invite ethnic dance groups or musicians to perform traditional acts.

Game Shows: Interactive game shows with a lively host.

Silent Disco: Attendees wear headphones and dance to music from different DJs.

Virtual Reality Experience: Let employees immerse in virtual reality experiences, such as gaming or travel adventures.
Make it unique by adding augmented reality for more captivating experiences. Ensure the entertainment aligns with the party's theme and objectives. Create opportunities for employee participation and interaction. Amp up the event with creative details and witness epic battles in a dance-off contest!
Interactive Games and Contests
Give your company workplace party an exciting twist by incorporating interactive games and contests!
Trivia games to show off knowledge on topics related to the company or industry.

Minute-to-win-it challenges that require teams or individuals to complete tasks in a minute.

Talent show to showcase hidden talents and build confidence.

Scavenger hunt to improve collaboration, problem-solving, and relationships.
Personalized prizes and trophies make the experience extra special. Plus, keep it inclusive, provide variety, emphasize teamwork, and create buzz beforehand. This will make the environment engaging and promote camaraderie and team building. For fun, let colleagues unleash their inner Picasso in a DIY decoration corner!
DIY Decoration Corner
Innovate your company workplace party with our DIY Decoration Corner. Elevate the ambiance and add a personal touch to your event! Try out these 5 creative ideas:
Transform ordinary jars into dazzling candleholders with paints and glitters.

Create a vibrant paper pinwheel backdrop for a pop of color.

Design a photo booth area with homemade props and handmade frames.

Personalize the space with custom banners and posters.

Brighten up the atmosphere with DIY fairy lights from recycled materials.
Make your DIY Decoration Corner even more unique by adding interactive elements like games or art displays. Provide clear instructions and examples for participants to follow.
Don't miss out on the chance to turn your workplace party into a memorable experience. Embrace your creativity and bring life to your event with our DIY Decoration Corner ideas. Start planning now for the ultimate celebration!
Culinary Adventures
Spice up your workplace party with culinary delights! Surprise your employees with innovative food experiences that will tantalize their taste buds. Incorporate adventurous flavors, exotic cuisines, and interactive cooking stations for a memorable event.
Organize a company party food festival in your office. Transform it into a vibrant marketplace with street food and gourmet delicacies. Let your employees embark on a culinary journey.
Hire a celebrity chef for live demonstrations. This entertains and educates your employees about cooking techniques and ingredients. It inspires creativity and fosters team bonding.
Organize a friendly cooking competition among teams. Provide ingredients, recipes, and limited time. This interactive activity encourages collaboration, communication, and healthy competition.
Recently, a dessert-making workshop led by a renowned pastry chef was organized. Employees learned to make desserts but also had fun experimenting with flavors and decorations. The workshop sparked newfound interest among colleagues and created lasting memories.
Incorporate culinary adventures into your company's workplace party to engage employees and create a vibrant atmosphere. Unlock their taste buds with unique flavors, embrace cultural diversity with global cuisine offerings, and let the joy of cooking bring coworkers closer together. Get ready for an unforgettable experience!
Theme It Up
Let your imagination go wild and take your company party to the next level! Choose a unique theme like masquerade, beach bash, or retro disco night. Get creative and think of something unexpected, like a superhero-themed party.
To really get into the spirit, encourage everyone to dress up. Decorate with themed props and accessories. Include entertainment that ties in with the theme-like professional dealers or live performers. Serve food and drinks inspired by the theme. With thoughtful planning and ideas, you can have a memorable party without breaking your budget. Eventbrite's study on corporate events found that 86% of employees said themed parties boost morale and job satisfaction.
---
Interesting Related Article: "5 Types Of Businesses That Could Benefit From A Simple Trade Booth Design"