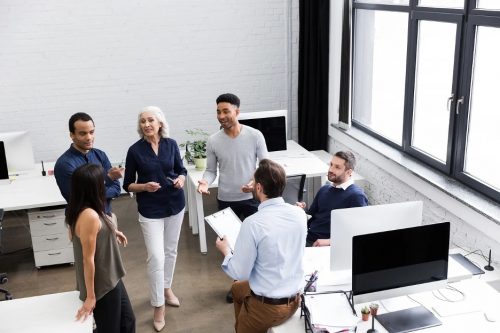 While many believe that leadership skills are innate, this belief couldn't be farther from the truth. Leadership skills can be developed with time by gaining industry exposure and testing your mettle. In today's time, honing leadership skills has become indispensable to excel in your career and achieve prominent positions. With evolving industry practices, changing dynamics, and unpredictable market patterns, employers seek individuals who possess leadership capabilities. Whether it's an internal organizational challenge or external market threats, organizations rely on leaders to steer them in the right direction. Therefore, regardless of the industry or sector you work in, leadership skills will ensure excellence. So, if you're willing to hone leadership skills, have a look at the list below:
Management skills
Managing time, resources, projects, teams, the workplace, and even crises is indispensable to leadership. The key to becoming a successful leader in any industry is knowing how to control external and internal factors, both controllable and uncontrollable ones. Management is an essential leadership skill, whether you're in the social work domain, entertainment industry, healthcare field, or education sector. For instance, educators work in an environment where they have to exhibit exceptional leadership and management skills to guide students and head entire departments. It's their foremost responsibility to manage entire classrooms consisting of students with differing backgrounds, multiple intelligences, and special needs. And that's why you'll see many educators pursuing Master of Education Online Program in Leadership and Management to hone leadership and management skills. This online program instills essential skills in education leaders, keeping them informed of the latest trends and developments in the education sector.
Effective communication
Communication is the backbone of every industry and sector in today's era. From managing public relations to building key partnerships and attracting potential clients, communication plays a vital role. An organization depends on effective coordination and communication to accomplish its goals and objectives. A leader with strong communication skills can help achieve those goals by keeping every stakeholder engaged and well-informed.
Moreover, leaders with exceptional communication skills are well-versed in handling workplace conflicts, boosting organizational reputation, and keeping workers engaged. A competent leader listens to the feedback and suggestions of employees, ensuring their input is heard and implemented.
Critical decision-making
If there's one task a leader has to perform every hour, it's making decisions, whether tactical or strategic. They are tasked with producing results, which requires making rational, calculated, and sound decisions. Not everyone has decision-making capabilities, but this skill sets a leader apart from others. Taking the initiative, responsibility, and stepping out of the comfort zone allows a leader to push forward and generate lucrative outcomes.
Decisiveness is one of the most valued skills in a leader that helps improve efficiency while minimizing risks.
Negotiation and delegation
Being in a leadership position doesn't mean you'll have to do everything yourself. To ensure success in your field, you'll have to identify the skills and capabilities of team members and assign tasks accordingly. What's more, delegating tasks allows you to focus on the core objectives and goals while ensuring every team member stays on the right path. A visionary leader knows when and whom to give responsibility according to their skillset and expectations.
Along with delegation, the art of negotiation and persuasion is also a critical skill that marks a strong, capable leader. Negotiating towards a win-win situation and influencing all the parties to agree on desired outcomes is a prominent leadership trait.
Innovation and creativity
The way leaders tackle unforeseen and challenging situations says a lot about their leadership acumen. An incompetent leader will always come in with the blame-game strategy holding external forces responsible for undesirable outcomes. On the other hand, a visionary leader will devise innovative and creative techniques to deal with external market forces. They focus on developing unique ideas in response to changing dynamics instead of sticking to traditional practices. Innovation is the key driving force for any organization, and leaders are well-aware of this.
Additionally, leaders induce innovation in others by giving them a stress-free and positive work environment. They practice a sound balance of power, responsibility, camaraderie, and motivation.
Honesty, integrity, and empathy
When speaking about leaders, people often consider them authoritative figures who throw around orders and duties. On the contrary, a competent leader practices honesty and integrity in both personal and professional matters. They exude honesty which allows them to win the trust of potential partners, key stakeholders, and the general public. Most of them also engage in social welfare programs and sustainable practices.
Moreover, leaders who are empathetic towards their team members and subordinates boost workplace engagement and productivity.
Conclusion
In today's era, leadership skills and capabilities are expected from the entire workforce, not just top management. Employers and organizations alike eagerly hunt for professionals who possess leadership skills such as management, effective communication, honesty, decision-making, innovation, and whatnot. Therefore, honing these skills will prove beneficial if you're striving for career success and growth. Alongside instilling leadership capabilities, these skills will make you a valuable asset to your employer.
---
Interesting Related Article: "How to Display Positive Leadership"