If there are two Bs that are significant in a house, they are Bedroom and Bathroom. While the bedroom always receives its fair share of due importance when it comes to interior designing, it's always the bathroom that is forgotten.
But these days, people have shown an inclination towards making their bathroom look just as majestic as any other part of the house. Maybe that is the reason why the results of the survey that follows next will blow your mind. A recent research revealed that in the U.K., a luxury bathroom designing may cost you as much as 7000 Euros!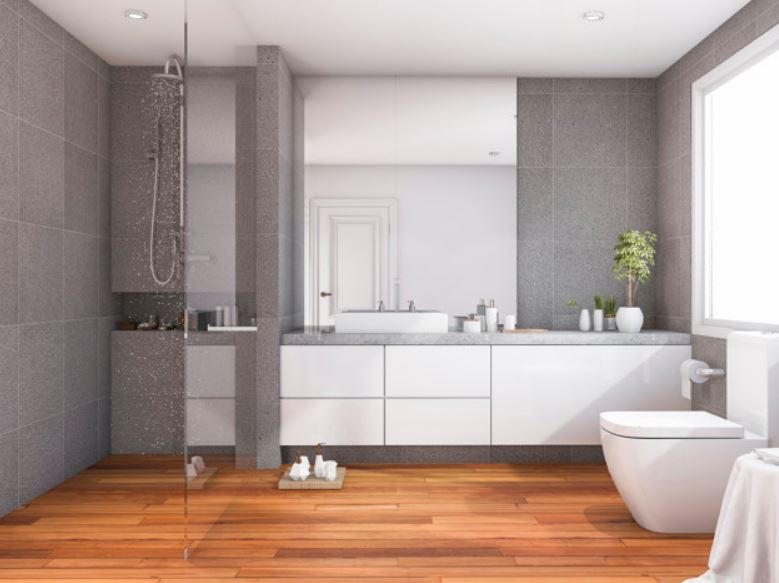 We know you didn't see this coming. But trust me, this amount is totally worth it because the modern bathroom trends are amazingly beautiful. So, if you are looking forward to getting your bathroom revamped, stick with this article. Let us show you 6 fabulous bathroom trends to look out for in 2021:
1. Futuristic featured bathroom
We are living in the era that constitutes all things smart – from phones to homes. So, why should bathrooms be left behind? In 2021, the most awaited bathroom trend of all has to be the futuristic bathroom trend!
In fact, Japan is one of those few countries that is already hooked to it. From lights to water temperature, everything will be automated. This is indeed one of the most high-tech bathroom trends to have ever existed. No wonder why this is our top pick.
2. The beautiful jungle bathrooms
Jungle bathrooms are a different level aesthetic and there is just no denying this. Like, who would not want to step inside the bathroom and immediately reach the state of nirvana? Yes, jungle bathrooms feel exactly like that – peaceful and effortlessly stunning.
With little natural perks and quirks here and there, this bathroom trend gives your space a very nature-centric, glorious look. This trend is definitely famous for all the right reasons!
3. Nude tones everywhere
We all know this by now – the 21st century is for the nude palette to rise and shine. And why not, you say? Nudes are so pleasing and soothing, it's almost impossible to say no to anything nude. So, the same goes for bathrooms.
Stepping inside a nude-toned bathroom is a treat to the eyes. From sinks to the wall tiles, everything donned in pretty beige or warm coffee is an absolute favorite bathroom trend of the millennials. There is simply no way you can say a no to this. Reach out to Reece plumbing and bathrooms and get this done.
4. Patterned tiles for the glam
If you are a person who likes everything glam, this bathroom trend of 2021 will certainly be hard to ignore for you. Patterned tiles give your bathroom a very vivid look, making it look all glam and pop.
And just so you know, the market is filled with multiple choices when it comes to patterned bathroom tiles. From the classic, old-school geometric shapes to the typically abstract mindful patterns, the variety will surely blow your mind.
5. The classic white finish
The only reason why this bathroom trend is at the fifth position is that this is already too famous to mention. We all know – nothing goes wrong with white. This is why going for a bathroom designing that is dipped in white is the safest, yet the most classic choice.
And well, let's just face it – white indeed is a show-stealer. So, if the options listed above failed to appeal to you, we suggest you go for the evergreen white bathroom designing. Trust me, this trend is here to stay, even in 2021!
6. An absolute frenzy
If you love experimenting with everything, well then, this new trend is for you. In 2021, this Instagram-approved bathroom trend of everything in one is definitely worth a try. An absolute frenzy of shapes, colors, and interiors is sure to make your bathroom look as lively as the year itself. A little bit of this with a tad bit of that – this is by far the best bathroom trend to make way in 2021.
7. Motion sensor faucet
The motion sensor or touchless faucet is an innovative and advanced technology for your bathroom. The Touchless bathroom faucet is one of the most trending styles for both home and commercial use. It's a vital part to pick a durable touchless bathroom faucet on a budget with all features such as temperature control, battery power, and deck thickness, etc.
Conclusion
Redesigning your bathroom is not easy, especially with so many options around us. Here, we listed the top 6 bathroom trends to look out for in 2021. If you are going to get your bathroom remodeled, this guide is for you.
---
Interesting Related Article: "Here's A Quick Way To Increase Your Homes Valuation Through DIY Projects"