Having a tailored B2B SaaS marketing plan will increase your chances of attracting more paying customers for your software as a service app. This post offers a detailed guide on how you can create this digital marketing plan for your business.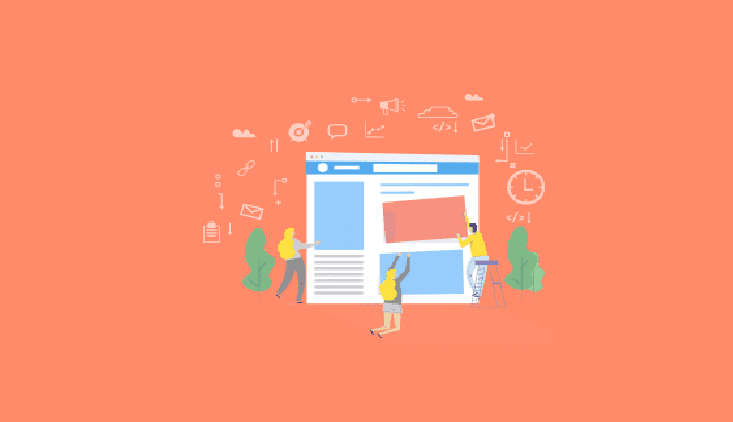 Alternatively, you can hire an expert B2B SaaS digital marketing agency to handle the entire process.
Now, let's get to the steps.
Step 01. Know your customer.
Rather than building a marketing funnel first or starting with content creation, you should start by understanding who your ideal customer is. The first step is to create your ideal customer profile, which will comprise the following details about your customers:
Their needs, for example, high customer acquisition costs;
Their common traits, for example, what questions they ask and where they ask them;
Their gathering place, for instance, review sites for marketers or publishing platforms for content publishers.
Step 02. Select a digital marketing media that helps you acquire attention.
Content marketing remains a major strategy for most B2B SaaS marketing plans. Content marketing can position you as a thought leader to your potential and existing customers while improving your lead generation and conversion rates.
There are two common strategies you can use to reach your lead generation goals:
Content Marketing Strategy – Content Creation and Email Marketing
This involves publishing answers to common issues your audience faces or publishing customer success stories on review sites.
Paid Promotion and Content
You should also include paid promotion and content in your marketing budget, especially if you are interested in link building and content syndication. Position your website to become a source of exclusive content to increase your chances of attracting quality links.
Step 03. Streamline your leads.
Having your leads focusing on a free trial, email list, or demo can be counterproductive. Instead, let your leads concentrate on one task. For instance, you can create a sign-up form for a free trial or demo. It is important to have these calls to action at the right places so you don't lose potential customers who find it difficult to call.
Here are some tips to improve the effectiveness of your CTA:
Attach a deadline to your free trials – rather than "Free Trial," use "30-days Free Trial."
Introduce social proof – for instance, be part of 1,000 other businesses we have helped.
Send follow-up emails after a successful sign-up. It shouldn't stop at the sign-up confirmation email. You can send a welcome email with a clear guide on opening an account or whatever your next step is.
Step 04. Create a Sales Process to convert potential customers to paying customers.
This step is crucial to your business model. Your free trial users will not automatically become paying customers; you need a sales process to drive this transition. Let's see how free trials and non-free trials work for customer retention.
Free Trial or Lower Price Tail Approach
Here, your prospect already knows the value proposition you are bringing to the table because they have used your product. There are a few things you can do to convert them into paying customers.
–  Introduce a 7-30-day expiration on their free account.
–  Offering a low pricing plan, especially if the conversion rates are low.
If there is a high demand for a free trial without a corresponding increase in the rate of actions, you can give your prospects an easy win. For instance, allow them to use the product in full scale for 1-2 days to see how it really works and experience customer satisfaction.
Sales Process
This is also called sharing your value proposition using the high touch approach. It focuses more on presentations and discussions and less on convincing customers to buy the product using their credit card. You may encounter a couple of pain points from prospects, but your sales team must be ready to address them.
Another important point here is the pricing. You may struggle to put up a good sales team if you are offering a low-cost SaaS product. It is even more difficult to look for sales talent in neighborhoods like New York, known for their high living cost. In this case, you are better off choosing the free trials or "freemium" accounts option to drive your customer acquisition process.
Step 05. Track your progress.
It's not enough to generate leads. You must create a mechanism that constantly delivers new customers. Having a predictable source of leads is the only way to reduce your customer acquisition cost metrics.
There are a few components of measuring your marketing outputs, as discussed below:
It is now easier than ever to leverage data and statistics to see how well you are doing with your marketing plans. Platforms like Google Analytics offer such data conveniently. However, in this case, the ideal metric should be relatively easy to measure, for instance, the number of email list sign-ups or free trial sign-ups.
You should also focus on the leading indicators rather than the lagging indicators. The former positions you to clearly predict the future, for instance, free trial sign-ups and demo requests.  Likewise, it is advisable to opt for marketing measurements that you can directly influence – choosing a metric beyond you can be frustrating.
Finally, produce a periodic marketing report to assess the chosen marketing metrics and how they have changed. These deliberations should involve every team involved in marketing, including the marketing team, the sales team, and the management.
Step 06. Optimize your B2B Marketing plan to boost conversions.
Optimization is the last step in creating an excellent SaaS digital marketing plan. The dynamic nature of customers' preferences and competitors means you must continuously adjust your marketing plan to meet the current demands.
Start by assessing your monthly performance, and use your findings to find rooms for improvement. For instance, understand what worked well and what didn't work well in the outgoing month. This will help you determine what you need to do or not do in the coming month.
Conclusion
There is no quick fix for an excellent B2B SaaS marketing plan. You have to put in the work and be patient., especially if your team is small or you have only limited resources at your disposal. Start by understanding your target market – knowing what your customers want will help you determine how best to help them and help your business.
---
Interesting Related Article: "Why are B2B Companies bound to use AI, Machine Learning, and Big Data? "