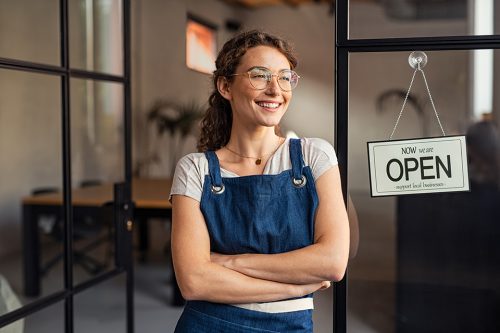 When a business is still, finding ways to bring customers is the responsibility of its owner. However, not all business owners have the knowledge or prior experience in marketing and selling their services or products. 
Customers should have the motivation to visit your store. Therefore, to do that, you must implement the following strategies to get people in the door and keep them doing business with you. 
Deliver Excellent Customer Experience
Customer experience is essential in satisfying customers. When it comes to providing services or selling products to the general public, businesses must be accurate and reliable. You must have the ability to meet your customers' expectations and pamper them with care and support. 
Creating wonderful experiences can help you retain customers, and if you do a good job, you end up promoting your brand as well. The more relationships you build with your customers, the easier it will be to keep them satisfied.  
An excellent customer experience will keep them coming back for more. But remember that negative experiences can drive customers away for good. So, getting it right is very critical as it will ultimately impact your bottom line. 
Point Customers To The Right Direction
If your local store is a little off the track, make sure that you have complete signposts directing people to your premises. Put up signs that point customers in the direction of your store, especially if it's in a busy area. 
Signposts are simple, affordable, and effective in helping people find your shop. The key here is to pick signs that are appealing to the eye. To make that possible, you must go beyond just sticking a simple 'SALE' signage on the door or windows. It's better if you put up a sign outside advertising your latest products or offerings. You can even use signs to inform people about any promotions your business is currently running. 
Use Google Maps
Another way of getting more customers through your store's door is to utilize Google Maps marketing. One of the biggest benefits that Google Maps has to offer is that it helps people find your business quickly. 
Millions of people use the app every day to get directions to local businesses, shops, or stores. If used correctly, Google Maps marketing can provide a shortcut for you to boost your company's presence in the local search results. Aside from that, you can increase your reputation and establish yourself as a local authority in your industry. Then, you will become the go-to place for local customers in need of specific products or services. 
Give Something To Entice Customers
Giving out free stuff may not be the ideal business strategy for a startup, especially if you're starting out with a limited budget. But this is one of those instances when it pays to invest a little more capital so you can get more returns later on. 
Handing out free stuff or offering discounted products is one of the best ways to bring customers to your local store. One way of doing this is offering a discount for first-time customers or incentives for existing customers who can refer new ones. 
By doing so, you can have new customers coming in while enticing your existing customers to keep coming back. 
Promote Your Expertise 
You can generate interest for your new local business by showcasing your expertise in your chosen industry. Participating in and collaborating with other local businesses can help establish goodwill, and partnerships, boost sales and get your new shop noticed by the public. 
Participating in industry panel discussions, conferences, webinars, or other related events can help reach a wider audience. This not only helps to promote your expertise but it also helps to establishes your reputation in the community. It'll help get your name out there, which will help you bring in new customers. 
Have Convenient Store Hours
Are your local store's hours of operation convenient for your customers? This could be one of the main reasons why people can't find your business. For example, if you close your store every 5 p.m., customers who want to find your shop won't have the chance to come and visit.
Remember that most customers prefer to shop in their free time which is usually after work or on weekends. So, it's important that your store is open when your customers want to be so they can find you. 
Final Thoughts
There are numerous things you can do to help customers find your local business. But all of these will eventually pay off as your customer base grows. 
Simply be flexible and patient as you try different things to see what works. Once you devise a winning strategy, your bottom line will immediately reflect it!
---
Interesting Related Article: "How to Empower Customers and Create New Markets"